As China PR met South Africa in the Parc des Princes, it was the 1999 FIFA Women's World Cup runners-up who sealed the vital three points. A scrappy game was settled on 40 minutes as China's Li Ying diverted past Kaylin Swart in the Banyana Banyana goal. It leaves South Africa needing to cause a major upset by beating Germany in their final group game to have any chance of progressing to the last 16.
South Africa's attacking star Thembi Kgatlana, captain Janine Van Wyk, and young midfield talent Linda Motlhalo gave their thoughts after the match.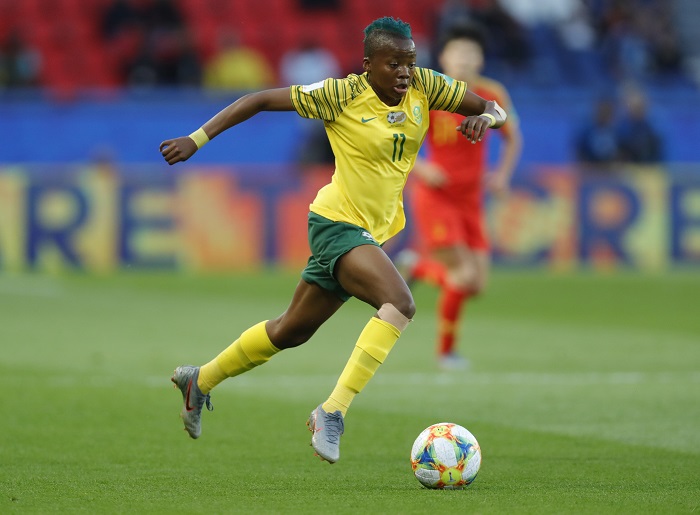 Thembi Kgatlana
On positives and negatives from the first two matches:
I think the positive thing is we fight until the last minute. We get opportunities, we're not discouraged, we always want to try and try until we get things right. Going forward, we have one more game, against Germany, which is going to be tough, but we're still willing to go there for 90 minutes and fight.
On what she wants to see from them in that Germany game:
I think every game is different. Spain was different, China was different, and probably Germany is going to be different. So it's one step at a time; we took the Spanish game one step, the China game one step, and we're going to do the same with the Germany game, because all the games are different.
On how much encouragement it gives her to reflect at 23 on playing in the US, China and now a World Cup:
It does give me a lot of courage and excitement, because there are a lot of people who would have loved to be here and they didn't make it. There are others who had their dream of going to a World Cup, so being here, I carry a lot of hopes, not only my hopes but the hopes of people that were before me, and people that are going to come after me.
On the overall mood in camp since arriving in France (Focused? Fun?):
It's been mixed. With us, when it's time to work, we work, when it's time to have fun, we have fun, when it's time to relax, we do that, too.
On whether her friends or family have been here at the tournament:
Yeah my friends flew in yesterday and they're gonna stay until Monday.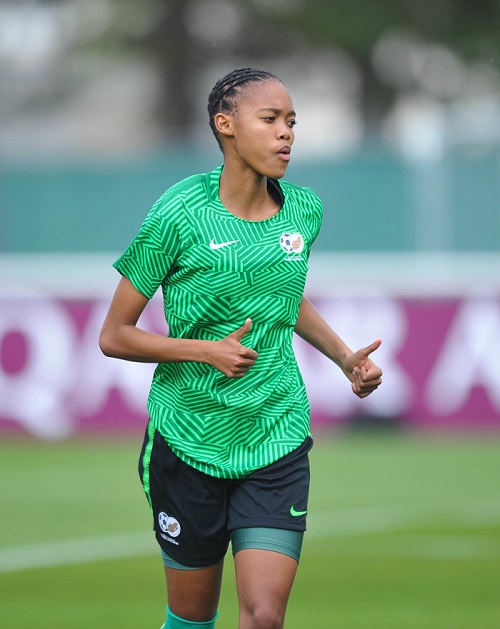 Linda Motlhalo
On her main feelings after the opening two games:
With Spain, we had a chance to actually win the game, and I don't know where we lost that, but it happens, it's part of football. Our focus was on China, we planned for them, we trained and you could tell that we fought as a team. It was just unfortunate that we couldn't convert our chances.
On whether she had an injury, having started the Spain game but come on as a sub against China:
I was actually injured, but it wasn't that bad, so I could play.
On what the World Cup experience has been like for her, especially at just 20 years old:
The feeling of being in the World Cup for the very first time, it's amazing, but it's so unfortunate that we couldn't go through to the next stage. We wanted to go through to the next stage, it's just unfortunate. That's the sad part, but other than that, I think we enjoyed ourselves and it was a nice experience for us.
On what the approach needs to be against Germany:
I mean we've lost two games, and we all know that Germany are second in the world. I think we should just redeem ourselves and try to win against them. A win for us will do.
On whether she has had loved ones make it out to France to see her:
I actually have friends that we here for this game. It's amazing to have people that support you all the time.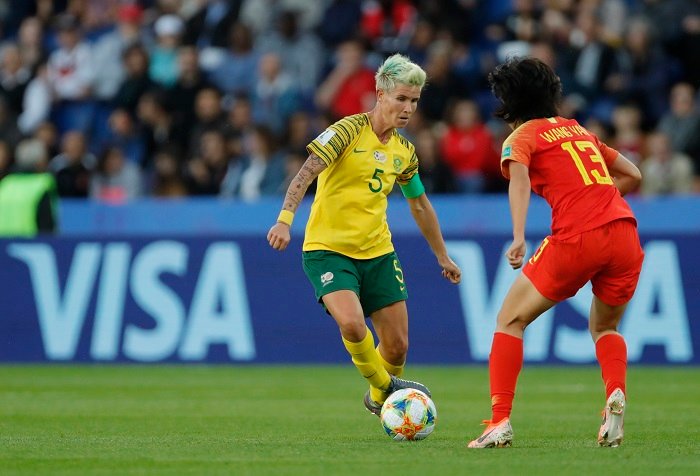 Janine Van Wyk
On her assessment of what worked well and what didn't against China:
I think obviously disappointed with the result, but I really couldn't have asked more from the players tonight. We really gave our everything; maybe we could have been a little bit more clinical in front of goal when we had opportunities, especially in the first half. Second half, we pressed a little higher, and we really hoped that we'd get maybe set-pieces or something where we could capitalise, but overall we've done exceptionally well. We didn't want to come here and get beat 4/5-0, especially against a team that is so clinical and effective going forward. It's disappointing, but in terms of football that we displayed, I'm quite happy.
On how she has approached this tournament as captain, a first World Cup for everyone, in terms of communication with the team:
Yeah, of course today we knew that we needed a very good result to help our chances to progress to the next round, which was our initial aim to do. We just sat them down and said 'it's not about us any more, it's not about you or me, it's about our country and representing so many young girls out there and making a difference, or trying to make a difference for women's football in our country.' We knew that if we had a good result today then something might have changed back home in terms of development. I think everyone can be really proud in terms of how much we have worked tonight; everyone just worked their socks off tonight and we have to be happy with that.
On any noticeable differences in awareness and support back home since qualification:
Since we've qualified, people have been taking notice of us; we have been broadcast on television, all over the newspapers. You walk in the street and people recognise you, whereas five years ago, people didn't even know what women's football was in our country, they didn't even recognise the sport. Right now, there's so many girls participating in it, looking up to us as role models, and it has changed. Hopefully after displaying such good football we've made the country proud and they could actually see that they need to put development structures in place for us, because we don't have many. If we can get that right then we are able to compete against teams and possibly beat them.
On striking the balance between savouring this historic tournament and achievement, with being very focused:
Yeah I think there was a bit of balance of that. Obviously, coming here, celebrating the moment, the experience, once in a lifetime opportunity possibly for some of us, and of course coming here with a mission to do well. To progress to the next round and just play the kind of football that people can remember us by, not just play and get thrashed six or 7-0 any more. If you look at the rankings, a 49th team against a team like China that's ranked 15th or 16th, people expect a USA/Thailand score, but we take pride in our performance and our dignity. We go out and fight for everything that we can, and try and get the best result that we can. That's everything that we've asked for from ourselves, but within that, just looking around us and enjoying every single moment on that field.
On the key messages to take into the Germany game:
We still have a slim chance to get to the next round, and we have to give it everything we've got. It's gonna take 90 minutes of another hard-working effort, from everyone. We've got to plan, and get it right this time. We have to go all out to get a win for us. Even if it doesn't put us through we can go home saying we fought hard and got something out of this World Cup experience.
On family who've made it out to see her play:
I've had some family come over; I've had an uncle from the US over. Some of my friends back home came to see us and support us, so it's great to have them around, but it's fantastic to have all kinds of South Africans around. Even people that are non-South Africans cheering for us, so it's fantastic to see that we actually won some kind of hearts here in France.