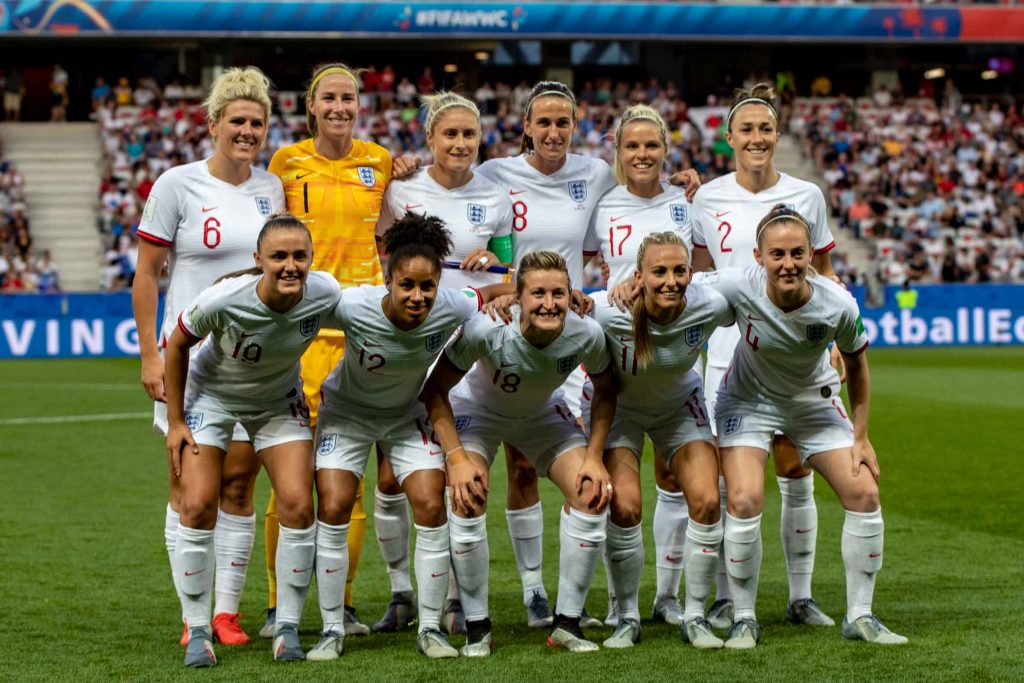 England's 2-0 win over Japan against Nice on Wednesday (19th June) night meant the Lionesses progress as group winners. It was a highly satisfying victory over an elite-level opponent they certainly have history with, though Japan posed Phil Neville's team more than a few problems.
It is Cameroon up next for England in the last 16 in Valenciennes this Sunday (23rd June), but before that, here are the thoughts of four starters from Wednesday's win.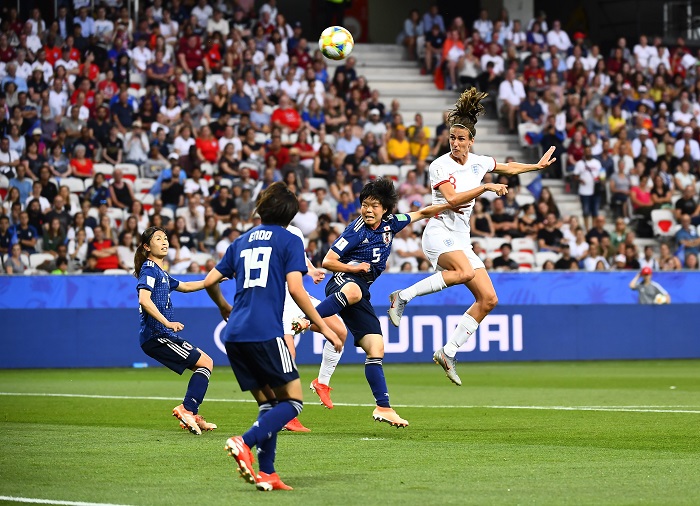 Jill Scott
On what was working well in the Japan game and any warning signs to be mindful of:
I think obviously Japan are a very good team, so to come away with the win, I think we're very pleased. If you look at the group, nine points, it couldn't have gone better for us. In terms of performance, I'm sure there'll be things to work on, I don't think anybody ever gets that perfect performance, but I think we've grown well as a team.
On what is similar/different about Japan as an opponent in 2019, compared to previous meetings, such as the 2015 World Cup semi-final:
I think it's difficult to say, isn't it? Because back then we had a completely different team, but I think Japan, credit to them, they always try to play football, no matter how much pressure they're under. I think that's something that I admire. They've always been a top nation in women's football and I'm sure they'll go on to have a good World Cup.
She has had a reputation as a joker through the years, but when it comes to games of this magnitude, does it work best for her to be fully serious leading up to it, or more relaxed?
Yeah I am seen as a joker, but one thing is I'm probably a totally different person off the pitch to on the pitch. When I'm on it, I'm definitely not joking around and I mean business. Hopefully that's what people will see when I put the shirt on; I'll always give 100 percent. Just happy that the team got the win today and two great goals from Ellen as well.
On what has been unique about this World Cup and all that has surrounded it, compared to previous tournaments she's been involved in:
It's been fantastic. When I was in the line-up, a moment for me was just seeing how enthusiastic the volunteers were. That was as I was singing the national anthem, and I said to myself, 'if I can take half that enthusiasm into this game then it'll be good,' so I think how much work people are putting in behind the scenes, it's fantastic to see. We really appreciate it and hope we're putting on a good show for women's football.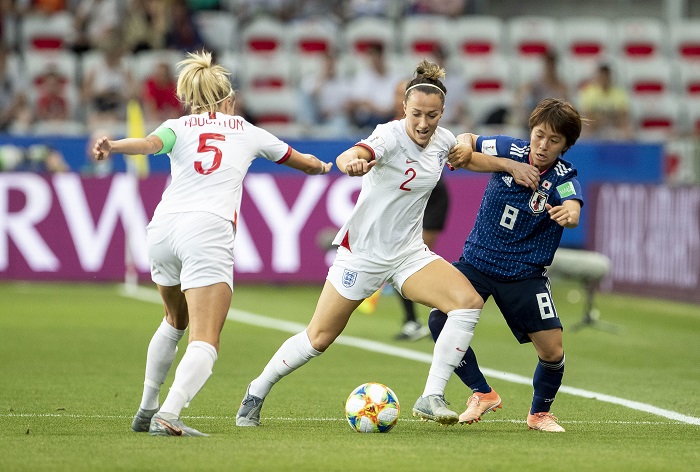 Lucy Bronze
On her assessment of the first three games – positives and areas to work on:
I think it's good that the majority of our squad have played a game, started a game; there's only three players that haven't, unfortunately for them. For the squad in general, we're in a good place; rested players, played players. I think we're in a good place going into the next game. We've only got one yellow card, which is obviously in our favour as well. We've got a winning momentum now, but for the next match, like with a few matches recently, we've had a few chances and maybe need to score a few more goals, relax a bit more in the second half and keep the ball a little bit more. The first half, we kept the ball really good, and second half, sometimes we lost the momentum a little bit.
On Japan as an opponent:
I think Japan, the way they play, the way they set up, never changes. The personnel in their system changes, but they're very set in a 4-4-2, the passing and the movement that they make has always been pretty similar, they're very calm and collected on the ball, composed, like to do lots of intricate passing. We know it's what they've done every time we've ever played against them, but for us, I think we've changed the way we play a bit; we like to get the ball down and pass a bit more, a little bit more like the Japanese, maybe, but we've still got that hard, strong, defensive English side of us as well.
On whether she feels different at all coming into this World Cup, compared to previous tournaments, with differing club season schedules in the past:
Going into the Euros (2017), we hadn't played that many games, but we were so sharp. This season, I don't know how many matches I've played, but a lot – a lot, a lot! Myself and Toni Duggan (as Champions League finalists) have played a tremendous amount of games this year, so yeah, physically we're prepared a little bit different. It's about resting and recovering, but for us, we've got some amazing staff in the England team. We do everything, we have every single thing we could possibly need to recover, to improve and to analyse our performances.
On her mindset/mood before huge games like this (is it Carli Lloyd 'game face' or does she prefer to be more relaxed?)
I think people think I probably need to be a bit more serious! It's always myself and Kaz Carney at the back of the warm-ups; we like to chill out. Steph (Houghton)'s more the serious head and I'm probably more the chilled, relaxed one. I never take myself too seriously and I'm never too flustered with pressure or with big games.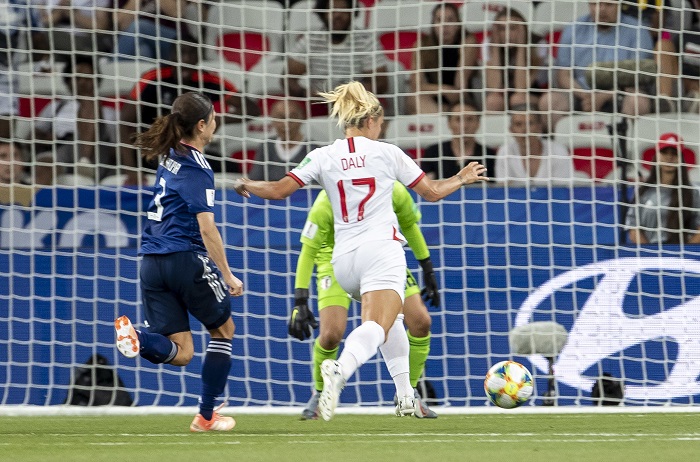 Rachel Daly
On how she reflects on the group phase and what has been most pleasing:
Three wins. I think that's what we set out to do from the beginning; we wanted nine points, we wanted to finish the group as the leaders and be big contenders to go on all the way.
She has said before (in SK Issue 53…) that Phil Neville uses her versatility instead of abusing it, but playing in an attacking role against Japan, racing on to a through ball and trying to score, is that when it feels most natural to her?
Yeah, I agree. I think (Phil) gives me the freedom to express myself. He doesn't criticise forwards to take chances like that and go one-v-one, runs in behind. So for me, it was enjoyable to get up there, but wherever I'm needed, I'll put a shift in and do the best I can do.
On how the experience has been, now her first tournament has finally arrived:
It's been a bit of a whirlwind. I think you don't really realise what it feels like until you actually step out onto the pitch. Obviously, off-the-pitch stuff is still wild; you've seen all the fans, and people stopping you in the street, stuff like that. As soon as you cross that white line, I think that's when it really kicks in that you're at a World Cup.
On whether she plays best when she's happy, or if a bit of a spark and some anger also helps her sometimes:
Yeah, I think I play better when I'm angry! So I sort of wind myself up, give myself a bit of a kick, but I like to be free and to express myself, and I think especially Phil, he gives us that freedom to do that.
On who's been keeping everything light-hearted behind the scenes, the standout jokers:
Me and Millie (Bright)!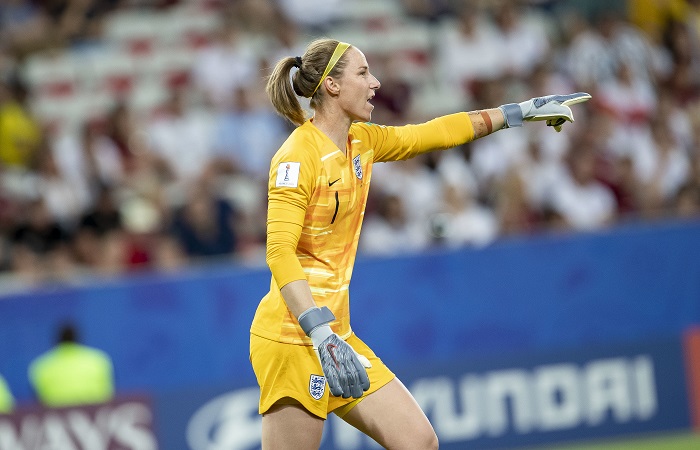 Karen Bardsley
From her position as goalkeeper, seeing everything in front of her, how does she think the first three games have gone, in terms of areas working well and other aspects to be mindful of?
It's hard because you have to deal with the opposition that you're playing against, and so far, each team has been completely different. We've faced a low block in Argentina, we've faced a mid-block in Scotland, and a relatively good counter-attacking team and high-pressing, technical team in Japan. So it's tested our preparation, it's tested our game management, our tactical awareness, but we definitely want to keep building, in terms of possession, playing out from the back when we can, when it's safe. I think overall, we need to shift the ball a bit quicker, to shift the opposition, but at the end of the day, building on what we started with the Argentina game, we were more clinical in this particular game, and I think that's what our focus is going to continue to be on, being more clinical in the final third.
On what's been different/unique about this particular tournament, being here with this group:
I love our group. I think there's a lot of fun people in the team, lots of experience, lots of enthusiasm, and we've got old heads, new heads, new experiences and older experiences, stuff like that. The mood in the group's been fun, we have a very diverse group of strong characters but good people. We're always having a laugh and up to something silly on our days off and our downtime.
And who's been on the tunes in the changing room – her or Leah Williamson?
Oh, Leah all the way! I'm keeping them to myself on this trip!