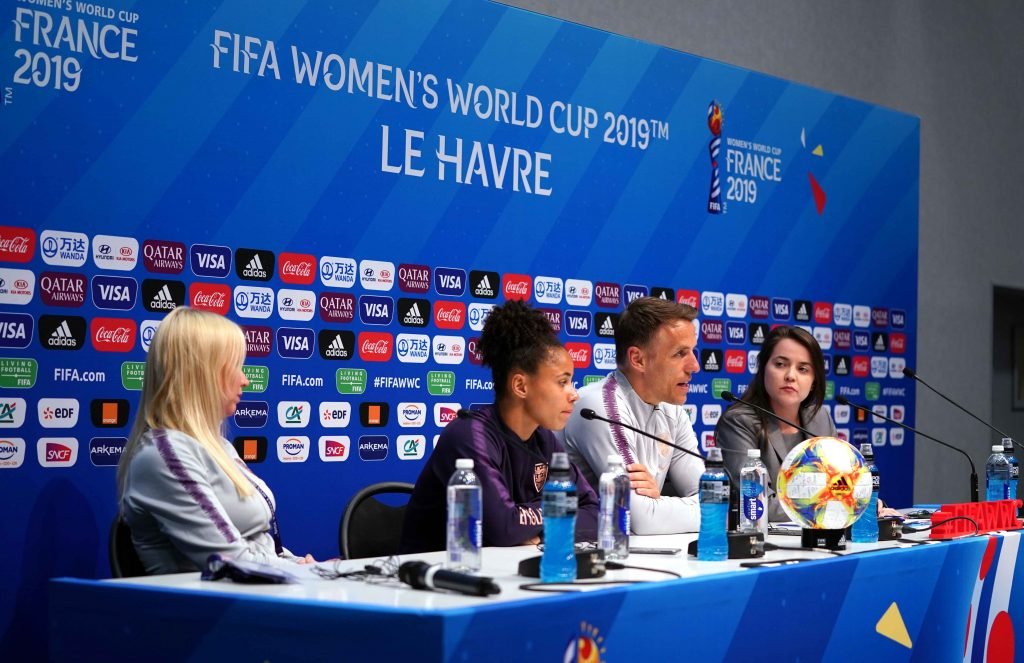 Phil Neville and Demi Stokes were in good spirits at last evening's press conference, having a chuckle when the FIFA official pronounced Neville as 'Nev-vile'. Demi has trained with the squad over the past few days and is, "looking really good, so it's good to have her back," says the boss, while confirming that today's game is just a day too early for Toni Duggan but she should be available for the Japan match.
Here's a little summary of what they had to say, ahead of tonight's big game…
Phil Neville on whether we can expect changes for the Argentina game:
No, same 11 again. [Laughs] I think there will be one or two changes. Couple of positions we just want to freshen up in. But it'll probably be much of the same. I was really pleased with the way we played against Scotland and those players deserve the right to go again.
On whether they have identified why the performance level dropped in the second half v Scotland:
There wasn't really that much that went wrong, my disappointment after the game was that the scoreline said 2-1 and it was never a 2-1 game. I thought the football that we played in the whole game, apart from an 11 minute period in the second half, was probably as good as we have played in my time as manager. But there was an 11 minute period where we dropped our levels, gave the ball away a little bit, we started to play 'stand-still' football. But I never felt the danger that we were going to draw or lose the game. The result didn't reflect our dominance or the way that we played. 
On whether the Argentina v Japan result surprised him or altered his preparation:
No, it didn't really surprise me. It was around that time when there were you looked at a couple of games, with New Zealand v Holland, Canada v Cameroon and after the influx of goals early on in the tournament, all of a sudden you saw some really tight games. I've got to say that in the games we have studied with Argentina, I don't think I've seen them as organised and determined as we saw against Japan. I think they probably caught Japan by surprise. So we are under no illusions that this is going to be a tough game. Tough because it will be difficult to break them down, South American opposition means man-to-man marking, defenders that want to defend and be aggressive and we are going to have to show the same kind of quality as we did against Scotland, to get a result. 
Demi Stokes

On being unlucky to miss Canada 2015 and how big of a moment it is for her personally:
It's obviously an absolute honour to be here. I was disappointed to miss out but that's been and gone now so it's just focussing on this world cup and being the best player that I can be and the best team mate I can be. I'm obviously delighted to be here and embracing it and enjoying the moment.
On Argentina's struggles and their result against Japan:
Like very team they have fought hard to here, for starters, it is a joy to see and it was nice to see how excited they were when they got their first point. So, going into tomorrow's [today's now] game, it's going to be no different, they want to get points and it won't be an easy game. They're determined, they're a very proud country, so I think that they will bring that tomorrow.
Much of the conversation with coach Carlos Borello and player Ruth Bravo centred around the struggles that the side have had in terms of a lack of support and funding over the years (even in the build-up they have lacked equipment and video footage to look at) and of course how signification the draw with Japan was on Monday. He puts so much of that achievement down to the heart and strength of his growing team and players.
Schoolchildren in Argentina were given the 90 minutes off to watch the game and the reaction across the country and in the media, to the result, was unprecedented for the women's game there.
As delighted as the camp are, they are also realistic that it is only the start for them and that there are other big tests still to follow:

Carlos Borello on the Japan result and the reaction back home:
This is only the beginning of the road for us. It [the coverage] means everything for everyone in the women's game and for us this is a really important success but of course we know our position and we also know who we are facing next.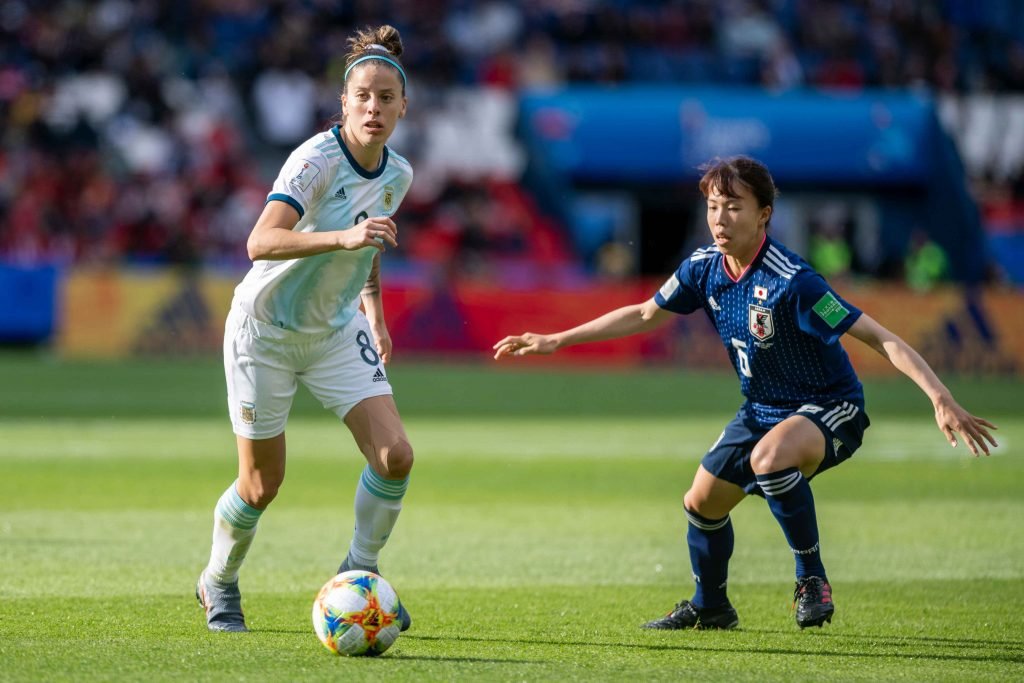 Ruth Bravo added:
We know we are pioneers and that we are opening the way for generations to come. We are very, very grateful, especially in schools, we are very grateful to the people that are supporting us and that have helped us all along the way to get here. We are making history in our country but this is only the first step and we have a long way to go. We entered the Copa America [qualifying tournament] only with hope but now we are getting better support from the AFA and building a path for the future.
Borello on the difference between Japan and England:
England are very powerful. England does things one way, they play much more direct, with respect to Japan, and they are quick. England are a great team, we know this, but we also have things up our sleeves, we have passion and we will give it our all.