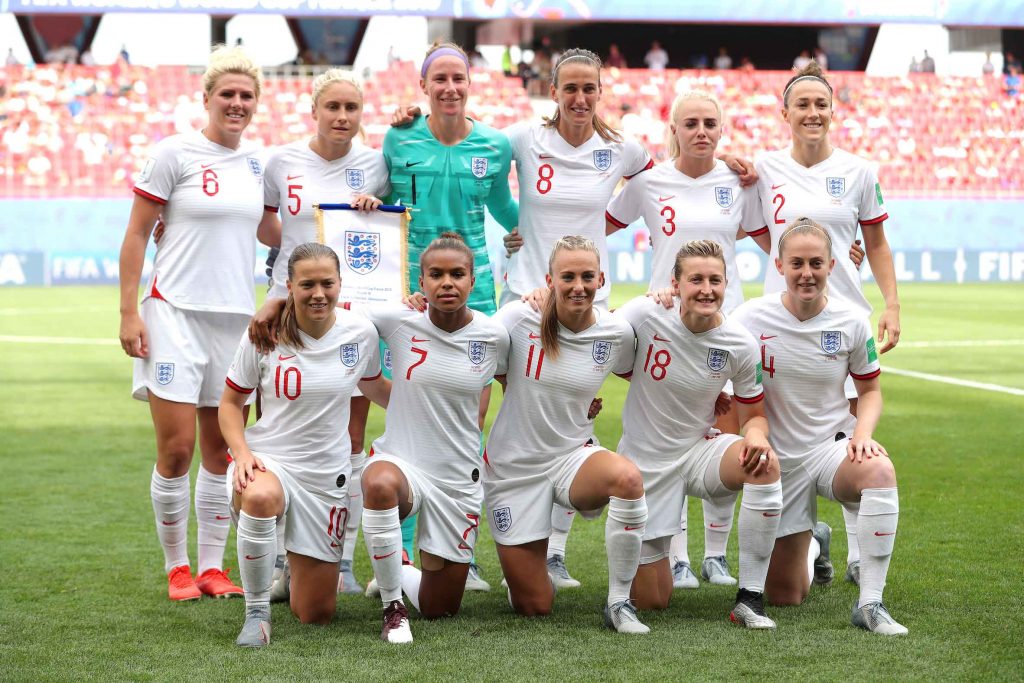 A day that will live long in the memory, with England's progression to the FIFA Women's World Cup quarter-final just one of the reasons why. In the Sunday heat of Valenciennes, the Lionesses overcame Cameroon by three goals to nil, but there were talking points galore. VAR would work in England's favour twice, with Ellen White ruled onside for 2-0, and a goal from Cameroon's Ajara Nchout chalked off in the second half. Alain Djeuma's side delayed the restart more than once as emotions reached boiling point on a stifling day, and among the further incidents were potential red cards not given for challenges on England players.
Ultimately, England found their way past a team who had caused them no shortage of problems on the day, and midfield duo Keira Walsh and Jill Scott expressed their delight, as well as providing some extra insight, as they spoke after the game.
Keira Walsh
On what the game was like to play in:
Yeah, obviously it was a bit stop-start, but that's what happens with VAR. Now we're through to the quarter-finals against Norway, which is the main thing, so full focus is on that game now.
On how much of a challenge the heat was:
Yeah, especially when you're from Manchester, you're not used to that sort of heat. We did some strategies before we came into camp, we spoke about it, and I think the girls have dealt with it really well. I think that's something we tried to focus on today, keeping the game at that pace throughout, because we've faced a bit of criticism that we've not finished the games as strong as we've started, so that's something that we really focused on today.
On what the surface was like to play on, with some players losing their footing:
I slipped a few times, to be fair! I probably should have put my studs on, but on the whole, it was nice to play on. I think every pitch so far has been incredible and hopefully that can carry on. The standard of the venues and everything has been absolutely amazing.
On how she's felt so far in the tournament, on and off the pitch:
On the pitch, obviously a little bit nervous; first World Cup. A few of the games I've been a little bit nervous before, and I think some of the older players have had to have a little chat with me, but my first World Cup, my best friend's just made her debut today (points to Leah Williamson), so on the whole, I'm absolutely buzzing to be here and enjoying every minute of it.
On whether it is a benefit to have faced and come through the mental challenge that the game ultimately brought:
Yeah, I think so. When the game's stopping like that and starting, you've really got to focus and I think we've got such a great team spirit that things like today don't tend to affect us. We got a lot of goals today and we created a lot of chances, and that's something we're going to be focused on going into the next game.
On who's come to support her from home:
My mum's gonna be upset now! She tried to come out to this game but she couldn't because of the flights and stuff. She really wanted to come out, so hopefully they'll be out for the next one.
Jill Scott
On how energy-sapping the conditions were during the game:
Yeah, it was hot, but I think on a hot day we kept a cool head…that's probably a good headline, to be fair. I think we dealt with the heat well; we knew that we'd have to move the ball. Didn't want to get in too much of a physical battle with them, because we knew that was a strength. Obviously we were gonna have to take some tackles at times, but I think we did really well, in the game and mentally as well.
On what Phil Neville's message was to the team when they came in at half-time (2-0 up, but having just gone through the prolonged drama of the VAR decision for Ellen White's goal, and a delayed restart):
I think he's really good in the moment. He didn't actually reflect on much that had happened, because it's a lot of things that you can't change; there's no point talking about instances that have happened in the first half because you can't change them in the second. He just told us bits about the gameplan that we probably had to do a little bit better, and I think he was very good at just putting that to bed and moving on to what we could control.
On how valuable it may have been to face a game like that, with its unique circumstances:
Obviously, I've been around a long time now, 130-odd appearances for England, and I've never experienced something like that. For the younger players to go through that and learn from it, it'll be really good, but I thought we were fantastic, I really did. We all kept our head, we all just kept cool, and we stayed very logical. The aim of coming here today was progress to the quarter-final, and we've done that, so we'll go to bed with a smile on our face tonight.