Ellie Roebuck is not in Phil Neville's 23-woman squad for the World Cup writes SUZY WRACK. "I set high standards. So, initially, to not be in the squad was disappointing," says the 19-year-old goalkeeper, who missed out to club teammate Karen Bardsley, Wolfsburg's Mary Earps and Chelsea shot-stopper Carly Telford.
Perhaps that says it all. At 19 years old the Manchester City keeper's inclusion would not have shocked. Because this season Roebuck has shared duties with the experienced 34-year-old Bardsley, the former having played 16 games in all competitions and the latter 17, primarily in the cups.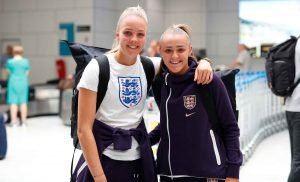 Meanwhile Earps has been a number two in Germany and Telford is not a regular starter for Chelsea. Roebuck's credentials are strong, yet her rise has come fast. Perhaps too fast for this tournament. But she was on the plane and is sharing the journey. Because it has become a sort of unofficial protocol at all levels of England women's football for a fourth keeper to travel with the team as a training player and for the experience.   
"I take a step back and realise that I had my debut just before Christmas and then had my first start on the last camp," reflects Roebuck. "When I put it into perspective, and the fact that I'm only 19, I kind of think it's a pretty good achievement that I'm actually here for the experience.
"There's a lot of other goalkeepers that have had brilliant seasons. So to be recognized and be brought along above them is a great achievement."
The chasing pack of young talented English keepers includes; Yeovil's Megan Walsh, Bristol City's Sophie Baggaley, Manchester United's Emily Ramsey and Birmingham's Hannah Hampton. 
In women's football, goalkeeping often bears the brunt of the most brutal criticism [smaller goals debate anyone? •rolls eyes* and hold that thought…]. But that criticism lacks context. Goalkeeper coaching has lagged behind every other area of coaching. The senior generation have only benefited from proper, professional, specialist goalkeeper coaching within the last five years. This newer generation have benefited from it from a much earlier age.  
"We're in a much more fortunate position than the ones who are older," agrees Roebuck. "I can only speak on behalf of myself but the goalkeeper coaching I get from City is next level and something that I've never experienced before, same with England.
"And I'm pretty sure that the likes of KB haven't had that quality in previous years, which may have hindered the progression of women's goalkeeping in general."
For that reason Chelsea manager Emma Hayes's recent call for smaller goals has been heavily rebuffed by those between the sticks. 
Bardsley said: "Do you change the size of the pitch, change the size of the ball, to keep the same ratio? It is an interesting theory but I don't really know.
"What are the social implications? We have fought so hard to change the perception of female athletes in this country and across the planet and I am not sure that would be beneficial. We are trying to keep it on a par and drive equality."
Roebuck echoes her mentor: "We're in a much more fortunate position and the level of coaching is at such a high level that there's no excuse really.
"The level of goalkeeping is improving. And that's simply because we've got better goalkeeper coaches and better access to facilities. And we're full time. 
"I just feel like there's a lot more factors to women's football that you could say needed to be changed. We're never going to be the same as men's football. But I think the foundation of football is: that's the size of the pitch, that's the goal. I wouldn't necessarily want it changed, I think that kind of maybe even belittles the idea that we're good enough. 
"I kind of get where she's coming from, there are differences in women football."
It would be easy to assume that either Roebuck or Bardsley would be frustrated by their battle at club level, yet both recently signed new contracts in the same week.
"The fact that KB is also agreed was a big factor," says the junior of the pair. "Which people will be surprised by. 
"It's actually a big factor in why I stayed because I think we have a good level of healthy competition and we're really good friends, which helps make it a fun environment to train in.
"If I look at how have improved over the last three or four years training alongside her? If I can continue at that rate, it's only going to benefit me and hopefully keep pushing KB to continuously be the best she can be. 
"That's going to benefit not only City but England as well."