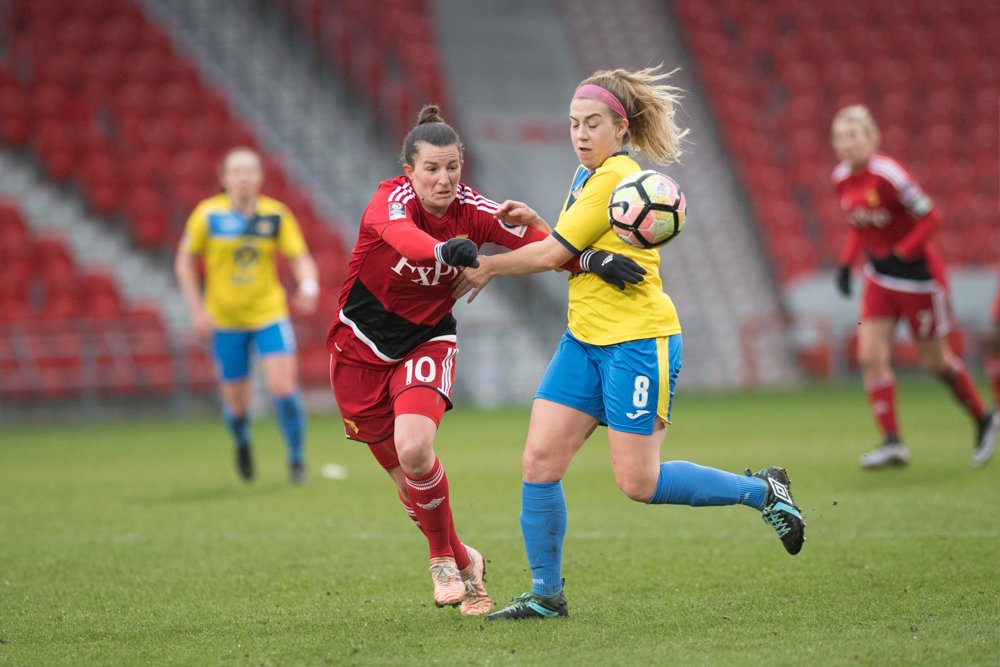 Three first-half strikes were enough to see Doncaster Rovers Belles beat Watford 3-1 and remain unbeaten in the FA Women's Super League 2.
Goals from Jess Sigsworth, Sam Tierney and Maz Pachaco were too much for the visitors, who scored a consolation through Anneka Nuttall.
The result leaves Watford without a league win and keeps Belles at the top of FA WSL 2, six points ahead of Millwall Lionesses.
Maz Pacheco fired a warning shot after eight minutes, with Watford defender Sydney Hinchcliffe deflecting her effort against her own post.
Belles striker Jess Sigsworth went one better a minute later, poking in from close range after Watford failed to clear Pacheco's cross.
Sam Tierney scored her first ever senior goal on 12 minutes, nodding the excellent Kirsty Hanson's cross in off the crossbar.
A defensive mix-up between Sophie Bradley-Auckland and Leandra Little allowed Helen Ward to go through for a rare Watford chance, but she her misjudged attempt to chip Bethan Davies went straight into the keeper's arms.
The Belles made it three through Pacheco, who beat several Watford players on a slalom run through the middle before sliding a low finish past Fran Kitching.
Watford pulled one back just a minute before half time, with captain Anneka Nuttall's attempted cross flying over Davies' head and in off the far post.
Doncaster thought they'd made it four through captain Little midway through the second half, only for the lineman's flag to rule it out for offside.
Another goal was ruled out on 70 minutes as Sigsworth went clean through the middle, a late linesman's flag ruled it out for a foul on Hinchcliffe.
Attendance: 410
WHAT THEY SAID:
Belles head coach Neil Redfearn said: "First half that's as good as I've seen us play, if I'm honest. I thought the touch and the passing and the movement were good. We got three and we could have had more – we could have had double that.
"Their goal was a poor goal from our point of view, in terms of the play leading up to the goal which led to the corner, and it's a fluke – it's a cross which drops in at the far post, and obviously we're not happy about that.
"After that we just sort of wobbled a bit, we stopped doing the things they normally do. The second half was just a war of attrition.
"But 3-1 is pretty convincing. I thought the girls were superb and I was really pleased with that first half.
"Kirsty Hanson in particular was unplayable – like tackling smoke. I thought her ball into the ball for Sam's goal was a great ball in and a great header as well."
Watford head coach Armand Kavaja added: "We tried our best. We've had a long journey and have a lot young players in the squad and a lot of rotation since the last time we played them.
"It was a bit of a shock at the beginning for us because they're a good side. They try and play out of the back and they do that well, but it was a good performance from us in the second half.
"We've got a lot of young, inexperienced players in there and that has a lot to do with their confidence, so when they do get a goal it does give their confidence a bit of a boost. If they had a bit more experience they could manage the game a little bit better in terms of when they go down 1-0, but it was a bit of a better performance from all of the side after we got that goal."
To buy tickets to an FA Women's Super League match near you click here: www.fawsl.com/tickets