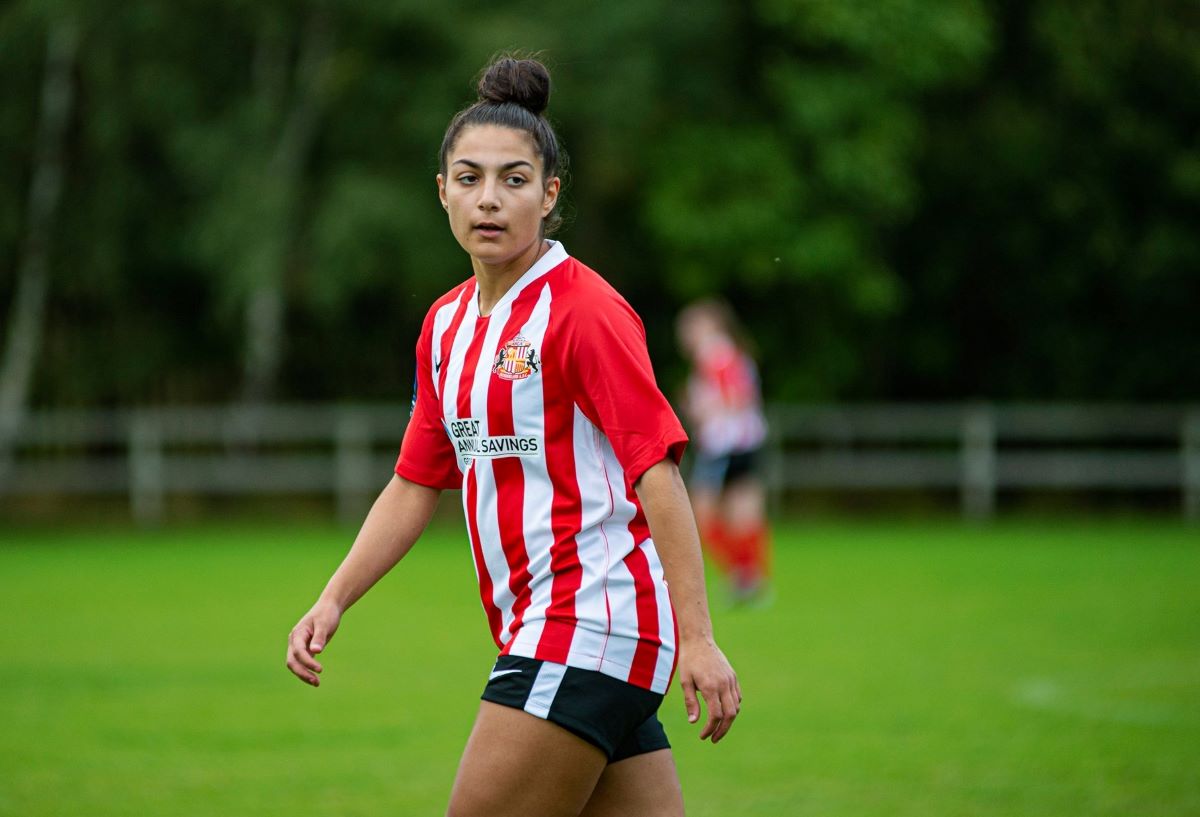 West Brom went top of the FA Women's National League Northern Premier Division, while Sunderland won the Wear-Tees derby.
FAWNL results for Thursday 1 October
NORTHERN PREMIER
Derby County 3-1 Stoke City (Att: 231)
Loughborough Foxes 0-3 West Bromwich Albion
Sunderland 3-2 Middlesbrough
Nottingham Forest 4-1 Sheffield FC (Att: 164)
SOUTHERN PREMIER
Cardiff City LFC P-P Keynsham Town
DIVISION 1 SOUTH WEST
Brislington 3-6 Larkhall Athletic (Att: 130)
Buckland Athletic 1-6 Exeter City (Att: 112)
Swindon Town 3-2 Cheltenham Town (Att: 60)
Northern Premier – Albion on top
West Brom lead the table on goal-difference following a 3-0 victory at Loughborough Foxes. Albion were ahead at half-time with a Fran Orthodoxou header, Leigh Dugmore converted from the spot and Jade Arber scored in added time.
Nottingham Forest are level on points with the leaders in second, having sent Sheffield FC to a 4-1 defeat. Lucy Johnson buried a free-kick, Hannah James got the second before the interval, Rosie Axten and Rachel Brown also finding the net and the visitors then getting a consolation.
Sunderland got a necessary boost to their campaign after two losses, beating Middlesbrough 3-2 at the Stadium of Light. Nieve Herron had the Black Cats ahead but Jasmine McQuade equalised. Maria Farrugia fired the hosts back in front and Keira Ramshaw got their third, with Danielle Brown bagging Boro's second in stoppage-time.
Derby County also registered a first win with a 3-1 result at the expense of Stoke City. Hannah Keryakoplis headed home and Jade Formaston's 25-yard strike made it 2-0 by the break, Jodie Michalska volleyed in from a corner before Stoke pulled one back.
Div 1 South West – Grecians go second
Exeter City made it back-to-back wins when coming from behind for a 6-1 result at Buckland. Anthea Kaptein and substitute Megan Robinson each scored twice and the hosts lost Hana Bennett with a suspected broken collarbone.
Swindon Town are goal-difference behind the Grecians in third following a 3-2 win over Cheltenham. Megan Attenborough's opener for the home side was replied to by Amy Beavan but Helena Diaz-Butcher and Jess Graham gave them a two-goal cushion before Charlotte Criddle scored direct from a free-kick.
Larkhall's first win came with a 6-3 scoreline away at Brislington, where Rhian Robins hit a hat-trick in a flying start for the away side.