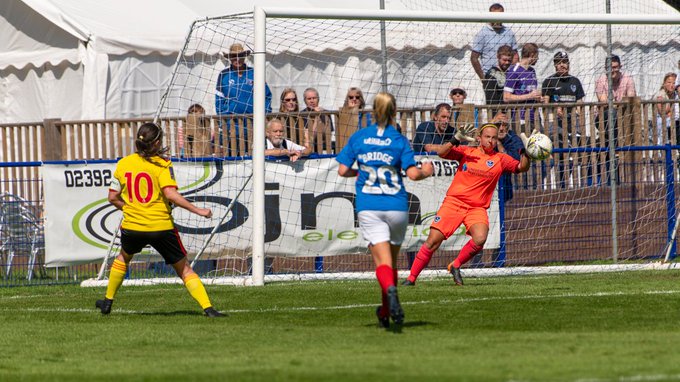 There were big opening day victories For Yeovil Town and Loughborough Foxes, while Burnley and Crawley Wasps both won on their Premier Division debuts.
FA WOMEN'S NATIONAL LEAGUE – Opening day results 
NORTHERN PREMIER
Burnley 3-2 Derby County (Att: 188)
Huddersfield Town 2-2 Fylde (Att: 107)
Hull City 3-7 Loughborough Foxes (Att: 120)
Middlesbrough 5-2 Nottingham Forest
Stoke City 3-0 Sheffield FC (Att: 225)
West Bromwich Albion 0-2 Sunderland (Att: 76)
SOUTHERN PREMIER
Cardiff City LFC 0-1 Gillingham (Att: 100)
Chichester City 0-3 Milton Keynes Dons (Att: 90)
Crawley Wasps 2-0 Plymouth Argyle (Att: 91)
Hounslow 0-9 Yeovil Town (Att: 50)
Oxford United P-P Keynsham Town
Portsmouth 0-2 Watford (Att: 207)
DIVISION 1 MIDLANDS
Bedworth United 2-2 Sporting Khalsa (Att: 50)
Doncaster Rovers Belles 0-3 Leafield Athletic (Att: 198)
Leicester United 2-0 Burton Albion (Att: 75)
Long Eaton United 3-1 Solihull Moors (Att: 80)
The New Saints 1-5 Birmingham & West Midlands (Att: 40)
Wolverhampton Wanderers 3-1 Lincoln City (Att: 112)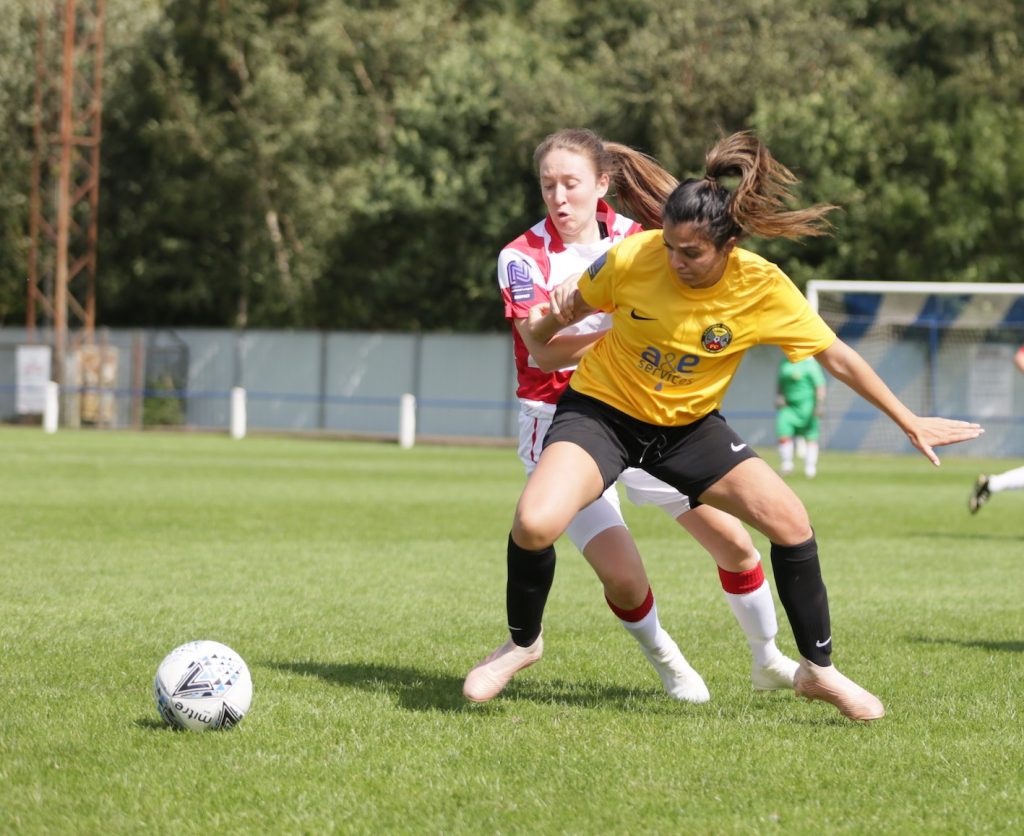 DIVISION 1 NORTH
Barnsley 2-0 Newcastle United (Att: 100)
Bolton Wanderers 1-0 Norton & Stockton Ancients
Bradford City 3-2 Durham Cestria (Att: 44)
Brighouse Town 3-0 Chorley (Att: 50)
Leeds United 1-0 Liverpool Feds (Att: 120)
Stockport County 0-2 Chester le Street Town (Att: 40)
DIVISION 1 SOUTH EAST
AFC Basildon 2-4 Norwich City
Billericay Town 5-2 Kent Football United
Cambridge United 1-2 Enfield Town (Att: 81)
Ipswich Town 1-1 AFC Wimbledon (Att: 150)
Leyton Orient 5-1 Cambridge City
Stevenage 1-2 Actonians
DIVISION 1 SOUTH WEST
Brislington 2-5 Southampton WFC (Att: 48)
Cheltenham Town 2-0 Poole Town (Att: 92)
Chesham United 2-5 Southampton FC (Att: 40)
Exeter City 3-0 Larkhall Athletic (Att: 85)
Maidenhead United 0-4 Buckland Athletic (Att: 61)
🎥 We catch up with Levi Rathburn who got two goals in today's opening fixture… pic.twitter.com/WT5sufjHI4

— Burnley FC Women (@BurnleyFCWomen) August 18, 2019
Northern Premier – Seven-goal Foxes in first
Loughborough Foxes won the goal-fest at Hull City 7-3 to be the first leaders of the table, Becky McGrother to the fore with a four-goal haul.
Katie Barker's second half goal along with Bridget Galloway's first half finish gave last season's runners-up Sunderland a winning start at promoted West Brom.
Burnley's debut at this level came with an impressive 3-2 defeat of Derby County in which Levi Rathburn bagged a brace for the Clarets.
There was also a perfect start for Stoke, with Alison Hall, Tanisha Smith and Roisin Kivel scoring a 3-0 win over Sheffield FC.
Another three-goal margin of victory was achieved by Middlesbrough over Nottingham Forest, Eleanor Dale with two of their tally.
Georgia Payton scored a stoppage-time goal to earn Fylde a 2-2 tie at Huddersfield.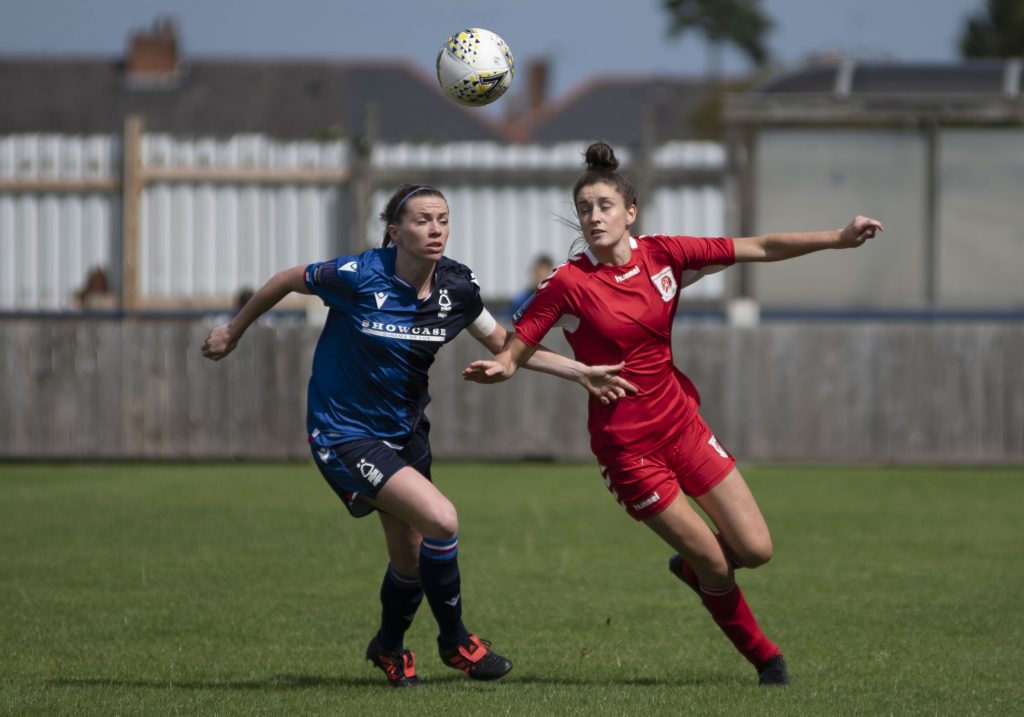 Southern Premier – Glovers hit nine at Hounslow
Regrouping after a two-tier drop, Yeovil took it out on Hounslow in a 9-0 thrashing and Sarah Wiltshire marked her return to the club by notching a treble.
Cardiff now know being a welsh side will not stop them qualifying for the Championship but Gillingham dampened their dream with a 1-0 away win. Grace Harrison got the goal while keeper Cara Davies kept City at bay.
Crawley's new challenge began well with a 2-0 defeat over Plymouth, Sam Pittuck and Tash Stephens on target.
Watford had a good win at Portsmouth thanks to Helen Ward's first-half double.
MK Dons went one better at Chichester where Dominika Netschova scored twice, Emma Kirby saved a penalty and Shauna Munnelly was sent off.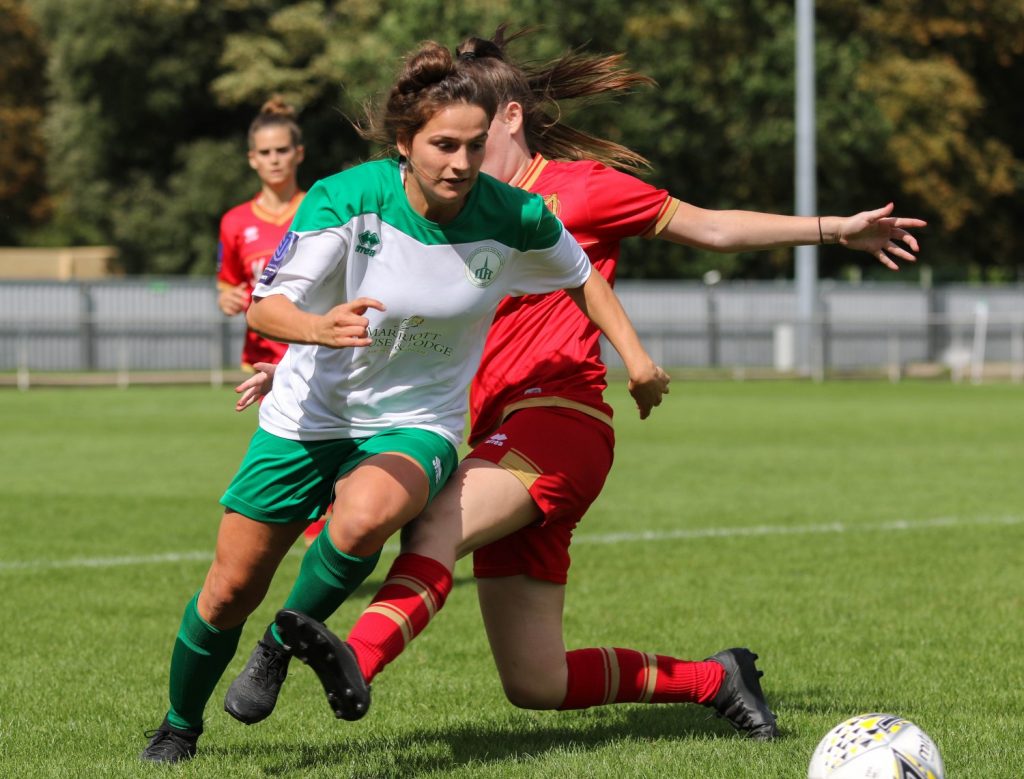 Division 1 Midlands – Leafield beat Belles
Doncaster had almost 200 in for the visit of Leafield but a Daisy Clements double helped the away side to a 3-0 win. Lois Jefferies got a couple as Wolves won 3-1 against Lincoln, Leicester United made a winning debut 2-0 over Burton, Birmingham & West Midlands struck five at TNS wit two each for Holly Rogers and Jade Grove, Long Eaton saw off Solihull 3-1 and four goals were shared between Bedworth and Sporting Khalsa.
Division 1 North – Brighouse early leaders
Brighouse got all three goals in the game with Chorley, Laura Bartup with one of them and also an assist on her debut. Barnsley began well with a 3-0 result over Newcastle. Promoted pair Durham Cestria and Stockport lost out to Bradford and Chester-le-Street respectively, Bolton got the only goal against Norton, as did Leeds at home to Liverpool Feds.
Division 1 South East – O's on top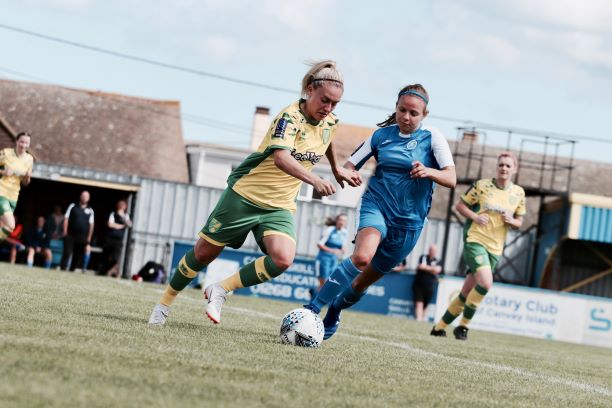 Defeats for both debutants in the division as Cambridge City went down 5-1 at Orient and Kent Football United lost out 5-2 to Billericay. Norwich netted a 4-2 victory at Basildon, there were 2-1 successes on the road for Enfield at Cambridge United and Actonians at Stevenage, while Ipswich were held 1-1 by Wimbledon.
Division 1 South West – Southampton double
Southampton Women were one of two sides from their city to win 5-2 away, their result came despite ending the game at Brislington with nine players, with Jane Yeates getting a hat-trick, a spell in the sin bin and a red card. Southampton FC's first FAWNL match was a 5-2 scoreline at Chesham where Shannon Sievwright twice fond the net for Marieanne Spacey-Cale's team. Elsewhere Sarah Stacey got three of Buckland's four goals at Maidenhead and Exeter City returned in style with three unanswered goals against Larkhall.