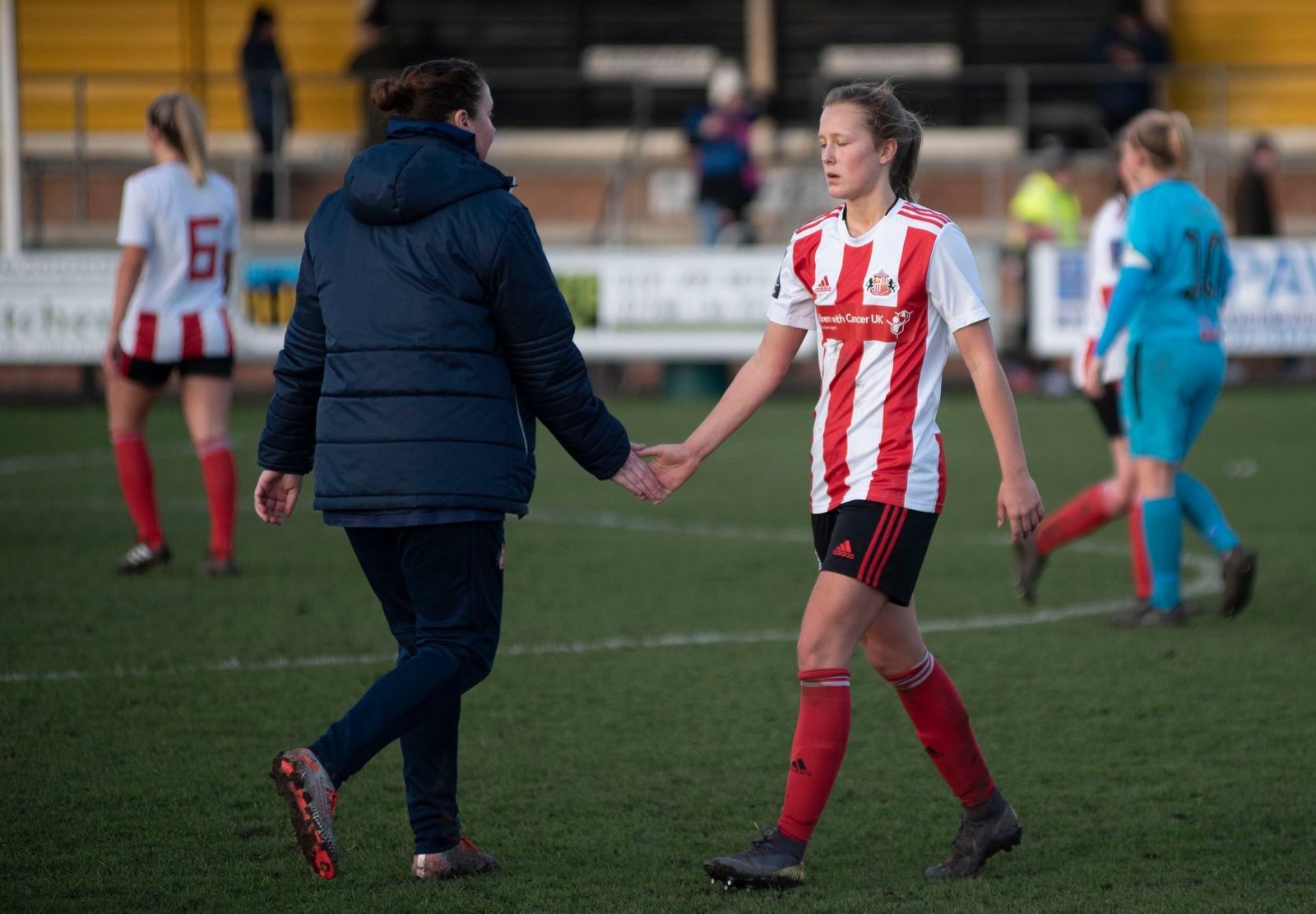 The 2019-20 FA Women's National League season was yesterday ended and records expunged but here is how things stood when the campaign was halted.
Sunderland were 11 points clear of Derby County in the Northern Premier and were set to play Stoke City in the League Cup final, while Hull City and Sheffield FC get something of a reprieve having occupied the relegation places.
Crawley Wasps led the Southern Premier by nine points from Watford, who had three games in hand and a Plate final due against West Bromwich Albion, while Hounslow and Chichester City had not won any of their games.
Wasps captain Naomi Cole tweeted: 'It'll be a memory of what we can do at this level instead of factual. I'm proud to have played a part in such a competitive league.'
Wolves led Division 1 Midlands by nine points from Birmingham & West Mids, Solihull Moors and Burton Albion (the latter without a point) were the bottom two.
Wanderers manager, Dan McNamara. told wolves.co.uk: "I'm heartbroken and devastated for the girls because they have worked so hard this season. Although I believe the FA's decision has been made too early, we must accept it, as it has been made based on the safety of everyone at this present moment in time."
Barnsley, whose reaction to the decision was one of 'dismay and disbelief', were just goal-difference ahead of Leeds United in Division 1 North but with three games in hand, third-placed Brighouse Town had also been in contention. Stockport County and Bradford City were fighting to get out of the drop zone.
Ipswich Town had just a single point advantage over AFC Wimbledon at the top of Division 1 South East, newcomers Cambridge City and Kent Football United were eleventh and twelfth respectively.
Southampton FC were first in Division 1 South West with neighbours Southampton Women's close behind them, Poole Town and Swindon Town were separated by goal-difference as they tried to avoid the one relegation place.
Top scorers (league games only)
Northern Premier: 17 Bridget Galloway (Sunderland) & Precious Hamilton (Nottingham Forest), 13 Hannah Keryakoplis (Derby County), 11 Ellie Gilliatt (Derby County), 10 Faye McCoy (Stoke City)
Southern Premier: 15 Natasha Knapman (Plymouth Argyle) & Sarah Wiltshire (Yeovil Town), 9 Emily Allen (Oxford United) & Helen Ward (Watford), 8 Andrea carid (Watford), Annie Heatherson (Yeovil Town) & Cheryl Williams (Oxford United)
Div 1 Midlands: 20 Jade Cross (Wolves), 16 Jamilla Palmer (Wolves), 15 Abigail Murrell (Lincoln City), 14 Kirsty Farnsworth (Bedworth United)
Div 1 North: 13 Laura Bartup (6 for Brighouse Town, 7 for Barnsley), 12 Rebecca Hunt (Leeds United), 10 Nichole Havery (Chester le Street Town)
Div 1 South East: 16 Kelly Wealthall (AFC Basildon), 13 Chelsea Garrett (Norwich City & Amy Makewell (Stevenage), 11 Holly Turner (AFC Basildon)
Div 1 South West: 14 Gemma Fraser (Chesham United), 12 Sarah Stacey (Buckland Athletic), 11 Shannon Albuery (Southampton FC)
Season ended for tiers three to seven of women's football pyramid