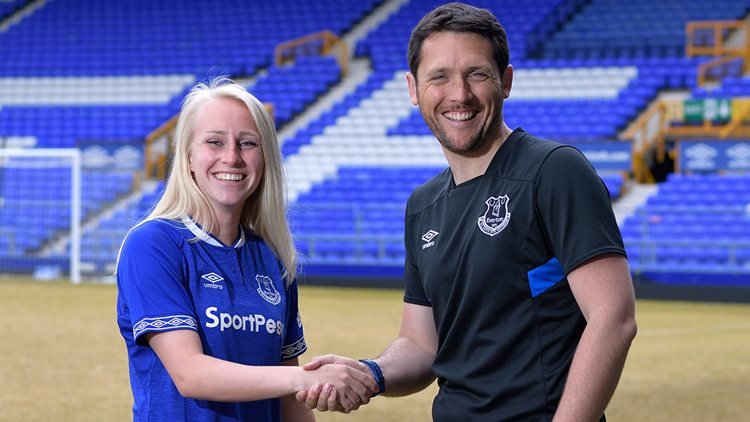 The 22-year-old midfielder will link up with the Blue Girls when the squad returns for pre-season training in July.
Capped by the Netherlands from U-15 through to U-19 level, Kaagman made her senior debut for Ajax against Club Brugge in August 2013.
She played an integral role as the Dutch giants retained the Eredivisie title this season, contributing 11 goals and 18 assists.
Kaagman has also lifted the Dutch Cup twice and played in Ajax's maiden Champions League campaign in 2017/18.
She is now looking forward to linking up with her new teammates and testing herself in English football.
"I spoke to Marthe Munsterman and Siri Worm and they said it is a big step but a good one to make," she told evertonfc.com. "They told me that the league is very good and is better than in Holland. They gave me a great impression and it is an exciting prospect.
"Everton is a very big club. When I spoke to (head coach) Andy Spence I felt like one of them so they made me feel at home.
"I have seen some English games like the FA Cup on television. I have seen it is faster and more physical than in Holland.
"I don't know the team very well yet but I hope to help them by scoring goals and attacking. I am not a defensive player but I hope to help as much as I can."
Kaagman will replace Munsterman in the Toffees' midfield ranks – after her fellow midfielder made the opposite move to Ajax.
And having developed her game in Holland and tasted European football, the Hoorn-born youngster is ready for the challenge.
"This season was my fifth year at Ajax which is quite a while," she added. "Now I think it is time for a new challenge and to get even better.
"I hope my experience in the Champions League will help me. It was a good learning curve because it was our first season in the competition. I think it will help me adapt to England. Those little experiences can help.
"I want to push on into the Holland squad. It is a goal for me and I hope the coaches here can help me. Hopefully I can improve and earn selection."