The ESFA's Schools' Football Week is taking place from 3 – 7 February and has encouraged playing opportunities for over 22,500 pupils across 300 venues.
The English Schools FA expect more than 2,704 teams (boys, girls and mixed) to be taking part, with over 150 schools holding coaching or training sessions, while others will integrate football into history and geography lessons as well host challenges for both pupils and teachers to take part in, such as cross-bar challenges, beat the goalie and penalty shootouts. Some schools are holding charity events and inviting pupils to wear their favourite football shirt to school for the day.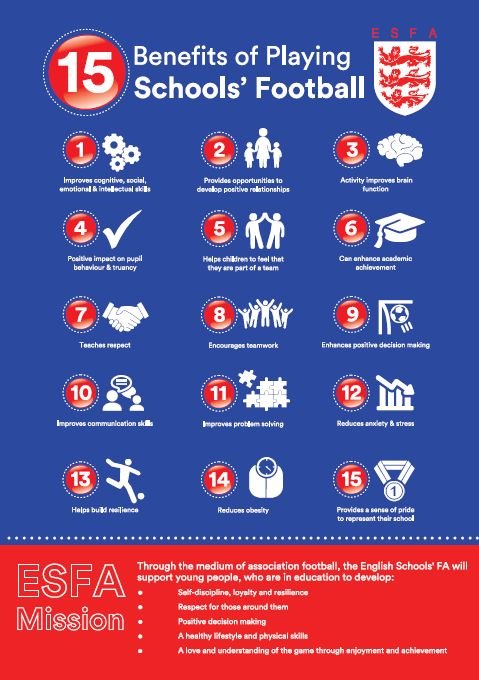 The ESFA will be marking the start of Schools' Football Week on Monday 3 February with the first ever Play
Station F.C. Schools' Cup Next Level Live event, taking place at West Bromwich Albion's Hawthorns Stadium. In conjunction with ESFA partners, PlayStation, the event will provide the opportunity for over 300 school pupils from secondary schools across England to take part in unique careers development sessions hosted by ESFA higher education partner, University Campus of Football Business (UCFB).
Thursday 6 February will mark the Schools' Football Week "Game On" aspect of the campaign, with all schools or teams who use  #SFWGameOn on social media that day going into a draw to win a framed Panini sticker mock up collection, featuring their own players.
ESFA Chairman, Phil Harding said; "We are delighted to see the impressive figure of school children in England who will get the opportunity to partake in some degree of Schools' Football thanks to the Schools' Football Week campaign. The ESFA's ethos is that of an educational establishment and it's incredibly important to us that we are able to provide new ways to give children in England the opportunity to take part in football related activity as part of a healthy lifestyle and educational balance."
Women's Regional League Round-Up: Millers fail to derail Posh promotion push