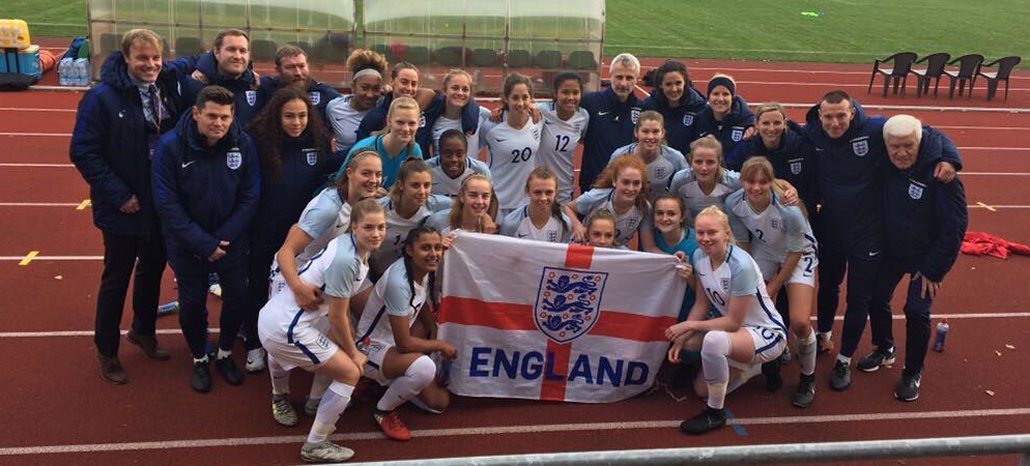 England and Scotland met in the UEFA U-17 Championship Group 2 Qualifying decider in Latvia this morning, with the Young Lionesses running out 3-0 winners.
Scotland had a period of possession which ended in a comfortable save by Frances Stenson, while Lia Cataldo's ball to the far post could not quite be bundled goalward by Annabel Blanchard.
The opening goal arrived in the 31st minute, as England worked the ball into the penalty area and Jessica Park fed it on to Blanchard, who finished tidily from six yards out.
Lauren James wasn't far away from the doubling the lead with a sharp turn and shot 25 yards from goal.
Park did get the second goal midway through the second half, turning her marker in tne box, she slipped the ball under goalkeeper Emily Mutch and into the net.
Scotland captain Kirstie McIntosh's drilled free-kick was turned over the crossbar by Stenson, before Park volleyed home when a cut back from James fell kindly for her.
Both the home countries had already qualified for the Elite Round (to be drawn on 24 November) and Slovakia beat Latvia 5-0 in Friday's other match to hold out hope of going through as one of the best third-placed sides.
Scotland: Emily Mutch, Tara McGonigle, Leah Fleming, Sara McWhirter, Jenna Clark, Rebecca McGowan (Cara Milne-Redhead, 65), Elena Santoyo-Brown, Kirstie McIntosh (C). Morgan Cross (Kathleen McGovern, 80 +1), Naomi Welch (Sadie Mitchell, 67), Laura McCartney
England: Frances Stenson, Kiera Skeels, Naomi Hartley (C), Lauren James, Asmita Ale, Lia Cataldo (Hannah Griffin, 50), Emma Brown (Phoebe Williams, 79), Paige Bailey-Gayle (Simran Jhamat, 63), Jessica Park, Annabel Blanchard, Ava Kuyken
Photo: @LFCLadies