Scotland's final friendly ahead of jetting off for #WEURO2017 on Tuesday, acted as a useful and uplifting send-off for the team as they took on Colin Bell's Republic of Ireland side at Raith Rovers' Stark's Park in Kirkcaldy.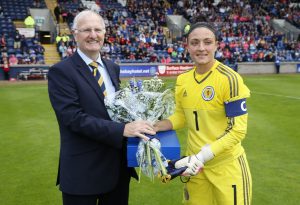 Just under 2,000 fans got to show their appreciation and help mark the milestones being made by a number of Scotland players, most notably Jane Ross's 100 caps and skipper Gemma Fay making her 200th appearance for her country – a considerable achievement. Outgoing Head Coach Anna Signeul was also thanked, this being her farewell game on Scottish soil, after 12 years of service in developing the national team and the wider women's game in the nation.
The ceremonial stuff aside, the crowd settled in the evening sunshine to watch an enjoyable encounter in which Scotland put together some nice moves and flirted with Marie Hourihan's goal several times in both halves. Substitute Christie Murray eventually beat the Manchester City keeper with a well directed, stooping header from Erin Cuthbert's centre in the 86th minute to earn a deserved win. Ireland weren't totally impotent themselves and created a couple of periods of pressure to test Scotland's defensive resolve, particularly from set-pieces, but marshalled by the continually impressive Player of the Match Vaila Barsley (who only received her first call up to the senior squad in April), Scotland were solid and ensured that skipper Gemma Fay could celebrate her record 200th cap between the sticks, with another clean sheet.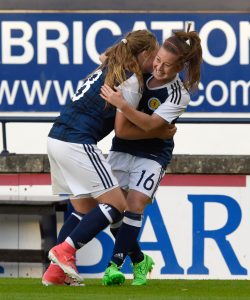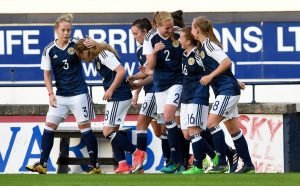 Cuthbert is a constant source of neat touches, of awareness, bustle and creativity in Scotland's midfield. Of course, she was not alone in putting in a positive display, both Caroline Weir and Fiona Brown on the left flank were particularly lively in the first half in particular. Lana Clelland also made a notable impact, coming on later in the second period and nearly created one and scoring one herself, almost through sheer will and strength.
But in a game that saw some of Scotland's more reliable figures remaining on the bench – Rachel Corsie, Lisa Evans, Jo Love and Joelle Murray didn't even appear to get stripped – and several changes made, Barsely and Cuthbert were the eye-catching performers. It was after Cuthbert's switch out to the left of midfield – linking well with Hayley Lauder who added threat when she came forward – that some of their best opportunities and ultimately the goal came.
Enough of my waffle, let's hear from the young Chelsea midfielder herself (in words or in audio, you can choose!) as she shared her thoughts after the game: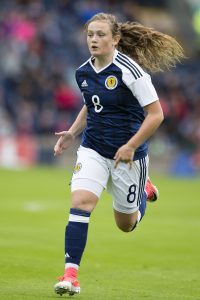 Erin Cuthbert
On enjoying the experience:
I loved it, it was nice to get 90 minutes under my belt for Scotland. That's my first 90 minutes for Scotland and it was my home debut as well so it was really nice that we topped it off with a win.
On playing in centre midfield for much of the game:
Yeah, I'll play anywhere on the pitch but that's where I've grown up playing, so it was nice to play there. I really enjoyed it and think I grew into the role, during the game.
On being a bit physical in that position:
That's a part of my game that I probably don't show a lot of the time but I've definitely got it in me.  If it is a physical game then I'm more than willing to step up to the challenge and play physical but I try to let my football do the talking. If you've got to do it though, you've got to do it!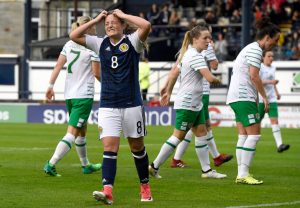 On being a part of a lot of chances, going very close herself and if she thought any were going in:
I thought the one in the second half, the cut back, but the girl just got the back of her foot on it and that put it wide. I thought that was going in. I was ready to celebrate and that was me: 'game over!' Only joking. I really enjoyed it though.
On the late goal:
We'd worked really hard and I think all in all we deserved it. We'd dominated possession, shown robustness in defence, where we were really looking to consolidate during this game as well. So it was really nice that did persevere and thought, 'so the goal isn't going to come in the first half but we're going to try and score in the second half' and I think our fitness levels really shone through tonight too. We're sharp going into Holland and we're really looking forward to it.
On the excitement of the Euros:
It's what I've dreamed of as a kid and to be doing it at 18, I didn't really expect that. I'm really relishing the opportunity and can't wait to get started. Everyone in this team deserves it. Some of them have been part of the journey for 12 years, so we're all at different stages of the journey. That combination of personalities really comes out on the pitch, we're really together and I hope that's going to make us successful.
On what Emma Hayes said before she left Chelsea to join up with Scotland:
Her main words were, "Come back fit." She said to enjoy the experience, you might never get this chance again, so just relish it and do what you do. But the main message was 'come back fit' ready to go for the next season!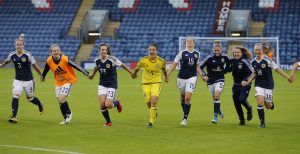 SHE KICKS – online community for women's football