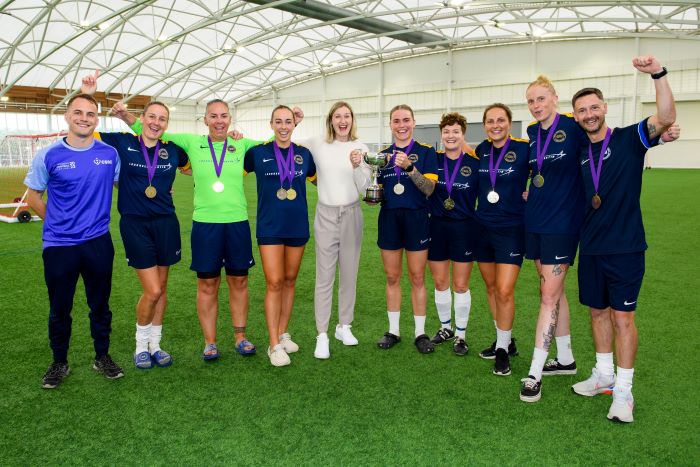 Lionesses' record goal scorer, Ellen White, joined 18 women's 5-a-side teams from across the Civil Service and Public Sector for the inaugural CSSC Duchess of Gloucester Trophy.
Organised by CSSC and named in honour of their patron, the Duchess of Gloucester, the tournament at St George's Park was created to drive participation amongst civil service and public sector workers.
Established in 1921 to support the civil service and public sector, CSSC is an exclusive not-for-profit membership organisation inspiring over 130,000 members to explore new ways to be active and healthy.
Teams from the NHS, Dept of Education, police, NHS, all branches of the armed forces, and more took to the pitch showcasing the high level of footballing talent from across all corners of the public sector.
White, who was on hand to provide teams with tactical tips and joined the Duchess of Gloucester on stage during the prize giving ceremony, said: "It's been amazing being here at the Duchess of Gloucester trophy and watching such a high level of competition.
"I'm hugely passionate about growing the women's game and event like this one, that allow women to bring together a team and just play football, are so important.
"It's been great to see over 150 women take to the pitch and the atmosphere has been electric all day. I can't wait to see how this competition grows in the years to come with CSSC's support."
The Royal Navy Women were trophy winners on the day. The team hailing from bases from across the UK came together to defeat a Goals Aloud, a team from Newcastle made up of teachers and NHS from the area, in a fiery final. West Midlands Police were winners in the plate competition overcoming the more experienced RAF Women's Vets side.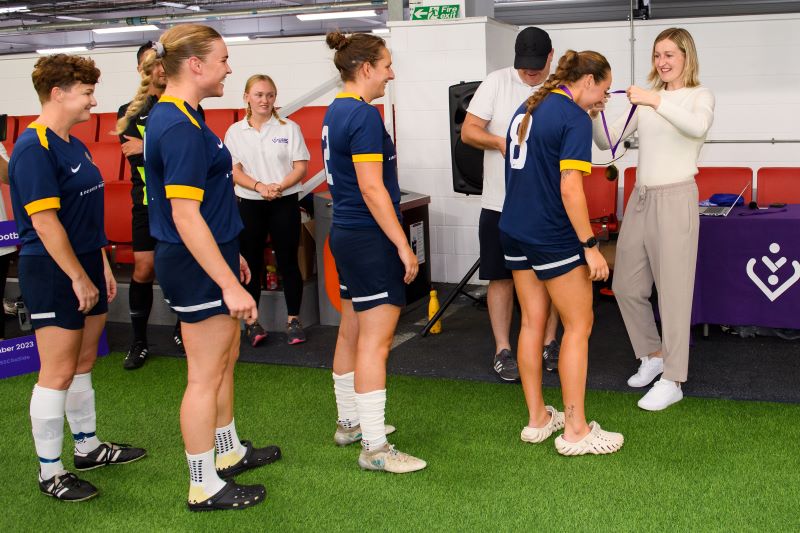 CSSC CEO, Matt Bazeley OBE, said: "The success of the Lionesses at last summer's EUROs and the recent FIFA Women's World Cup, has shown us the incredible potential and passion that exists within the women's game. We are delighted to be able to invest in our women's football and offer for our members and their colleagues and provides the chance for them to take up and continue playing the game with tournaments like today's.
"Thanks to the Duchess of Gloucester and Ellen for joining us, and congratulations to The Royal Navy on being crowd champions. There were some incredible skills on show and we're looking forward to growing the tournament in the years to come. "
Specifically designed for civil servants and public sector workers, CSSC inspires members to explore new ways to be active and healthy through – offers to get active, exciting things to do and numerous ways to save money. From helping you reach your fitness goals to maximising your leisure time, CSSC members have access to over 4,000 ways to save.
To find out more about CSSC and whether you are eligible for a membership, please visit: https://bit.ly/45Vux7Q