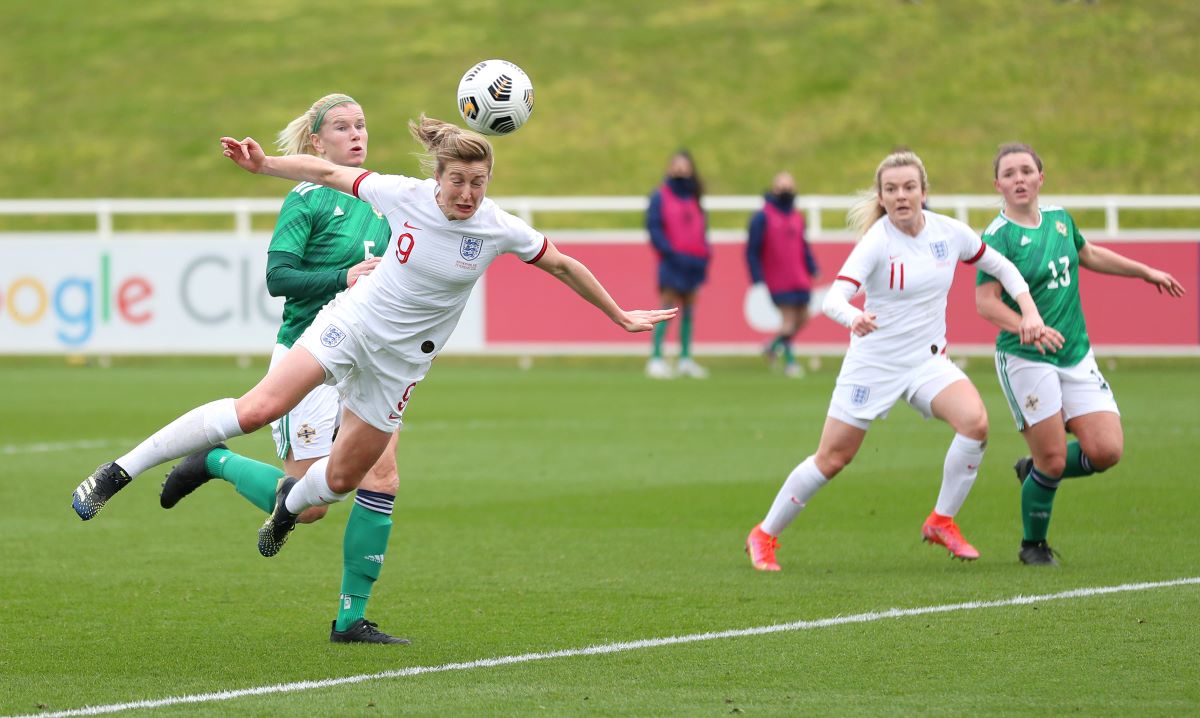 England defeated Northern Ireland 6-0 in the friendly match at St George's Park, where Jill Scott was making her 150th appearance for the Lionesses.
Becky Flaherty smothered an Ellen White opportunity and parried a Lucy Bronze header, before possession was gifted to White who found the far corner of the net.
White struck again midway through the first half, Lauren Hemp later squaring the ball for Bronze to tap in the third goal.
White completed her hat-trick three minutes after the interval from a Jill Scott pass and then had a fourth disallowed for offside.
Bronze cut the ball back for Rachel Daly to finish inside the six-yard box and it was 6-0 when Chloe Kelly was brought down in the box, debutant Ella Toone converting comfortably.
Toni-Leigh Finnegan deflected a Kelly effort over the bar to prevent a seventh for the hosts.
Ellen White on the win and first England game in almost a year
"To play for England again, to get my first England hat-trick, for Jill to get 150 caps and to see four debuts is pretty decent for an England game as well as getting the win and a clean sheet.
"We haven't played for so long and I'm really delighted with the result and the four debuts today."
Ellen White on Jill Scott
"Her career and the longevity of it has been phenomenal and I'm really proud to have been a part of her journey with England and Man City and I'm just so proud of her.
"There's definitely more to come and I hope everyone sees how much passion and desire she has for the game and how much she loves playing for England."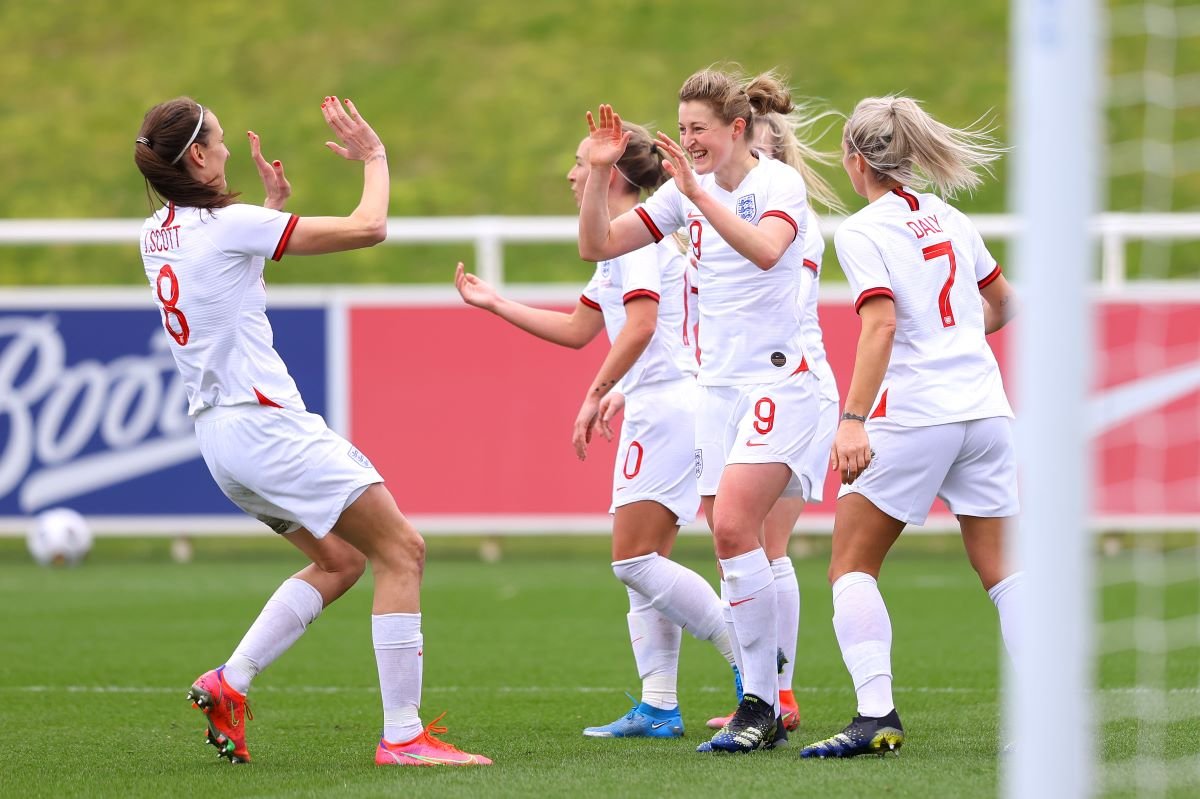 Jill Scott on 150 caps
"It's a big sigh of relief after waiting a year for it. I am so overwhelmed, I really am. The girls did a big presentation for me last night and it was so uncomfortable because I just had to sit there listening to all these plaudits. I can't believe it. I'm really happy.
"I had so many feelings going into the game. I was properly nervous, anxious… I don't know, I just obviously wanted to have a good performance as well. Don't play to the occasion and stick to the process – I was just trying to do that. The performance by the girls was brilliant and there were some stand-out performances from Ellen White, Lucy Bronze and Georgia Stanway had a great game as well. It was just a great day all round. Four debuts as well – I feel bad because I forgot Sandy MacIver's in my BBC interview so I do apologise to Sandy – but a great day all round.
"The kit men were really kind and printed us three shirts. I did actually swap one with Rachel Furness which I think is quite a nice thing. I know I have spoken to you loads of times about how football has ways of working out. Me and Rachel Furness have played against each other since about U10s in the local league. It was nice to have that game today. I said to her, 'that's for kicking us for 25 years' so I think she was happy she got that shirt! No I'm definitely not taking that [the match ball]. That's Ellen White's first hat-trick and she has been on absolute fire for Manchester City. I don't think there's a better finisher than her – just the way she gets her head up and sees where the keeper is. I'm just so pleased for her so she can keep the football!"
FA update on the safe return of grassroots women's football