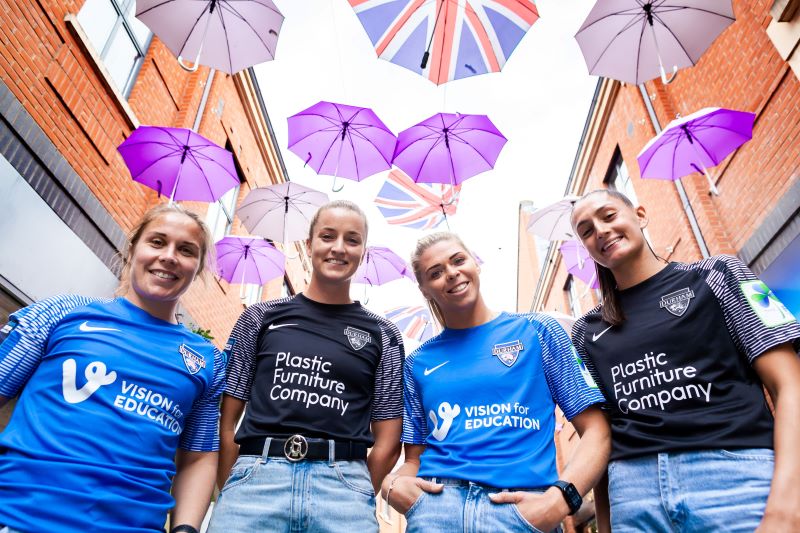 Durham Women have unveiled their 2023/24 season home and away kits, the first to be revealed following the ground-breaking partnership with Nike.
The home kit features the traditional blue and white colours, and once again features the logo of educational recruitment specialists Vision for Education.
It sees one of the longest-running shirt sponsorship deals in England continue – much to the delight of CEO Liam Roberts: "As the women's game is only now finally beginning to get the attention and credit it merits, I'm very proud to continue our partnership with County Durham's only full-time professional football team.
"To have been part of the Wildcats' growth story since the beginning has been a genuine privilege for all at Vision For Education.
"To see first-hand the impact the relationship has on the aspirations and opportunities of young people within Durham's schools has been inspirational.
"What's more, this is a family club; an underdog, punching well above its weight – which seeks to contribute to its community in a way few other clubs manage."
Meanwhile, the Plastic Furniture Company have extended their partnership to cover the front of the away shirt – which is a striking black and white design – and the back of the home shirts.
Patrick Connolly of the firm commented: "My own daughters have been involved in football for a long time, so I'm delighted to support the leading women's senior team in County Durham.
"The Plastic Furniture Company are so pleased to extend our sponsorship to the away shirt, as well as the home shirt."
And local charity The PFC Trust will also benefit from excellent exposure on the sleeves of both kits during the 2023/24 season.
It continues a partnership that will see Durham Women support the charity in a number of ways during the upcoming campaign.
Founder Frances Connolly said: "I'm so excited to see the club working so closely with The PFC Trust and having the logo on the sleeve in such a prominent position.
"It's absolutely fantastic and I'm excited about the joint projects we will do, and I love that the players are getting involved with the community and giving something back to the next generation who want to come along and get involved."
Katem Logistics have also extended their partnership with the club, and will see their distinctive logo on the shorts of both our home and away kits in the upcoming season.