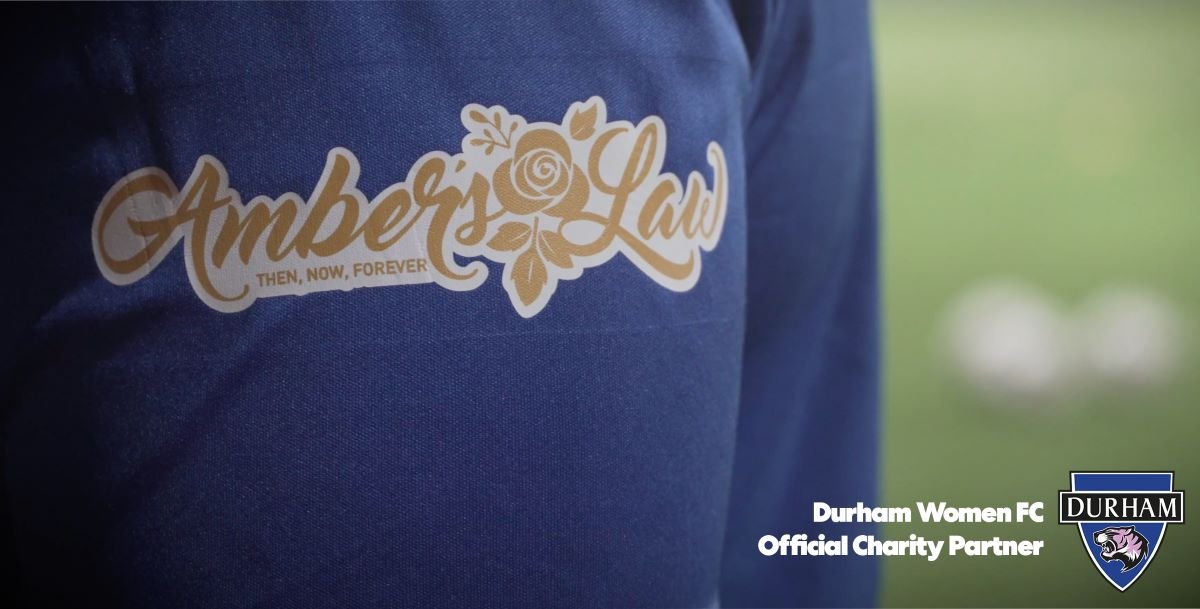 Durham Women FC have teamed-up with Amber's Law – who will become the club's first official charity partner.
The partnership will see the Amber's Law logo take pride of place on the sleeves of our first-team home shirts, while the club and the charity will work in tandem to raise awareness of this valuable cause in the local community.
Amber's Law is an ongoing petition to change the NHS guidelines around cervical screening so that it is available to high risk groups from the age of 18.
Amber went to the doctors multiple times and was refused a screening on all of these occasions because her age was below the NHS guidelines. She then went on to pay for a private screening at the age of 21 and found she had cervical cancer that had been there for between two and four years already. This, over the course of four years, spread to her lungs and her throat and Amber sadly died at the age of 25.
The charity was formed following Amber's death in January 2017, when those behind the petition were approached by long-running charity Hope4kidz – who are based in Sunderland and are a provider of help, gifts, holiday breaks and similar experiences for those under-25 who have suffered or are suffering from illnesses, health problems or disabilities.
Amber's Law have worked steadily over the past three and a half years to raise awareness of cervical cancer to young women, as well as providing funding for young girls under-25 to attend private smear tests – as the NHS refuse to test people under 25 as the law stands, even if they are showing symptoms.
Commenting on the partnership, Darren Cliff said: "We are very passionate at Amber's Law to get the message out there to girls of certain age groups, so that they are aware of how cervical cancer signs can be spotted and what they should do should they see or feel anything that is abnormal.
"Joining forces with Durham Women FC is a fantastic platform to do this and we are very keen to get this moving."
Durham Women FC captain Sarah Wilson added: "We're absolutely delighted to be working with a charity like Amber's Law.
"It's so important that we utilise the platform that we have to raise awareness.
"It's something that if we can get comfortable talking about, and even just help one person, then we've supported and done our job."