Portadown Integrated last night won the NIWFA Championship Cup Final, consolation for having so narrowly missed out on the League title to Derry City.
After their third-place finish in the league, Portadown met Killen Rangers at Moyola Park FC in the cup final and ran away 6-2 victors.
Although Rangers replied to Hannah Grieve's brace, Julie Henderson restored Portadown's two-goal cushion.
Marissa da Silva and Rachel McConnell then scored to send them out of sight, Killen getting one back before Aisling McKenna completed the scoring in stoppage-time.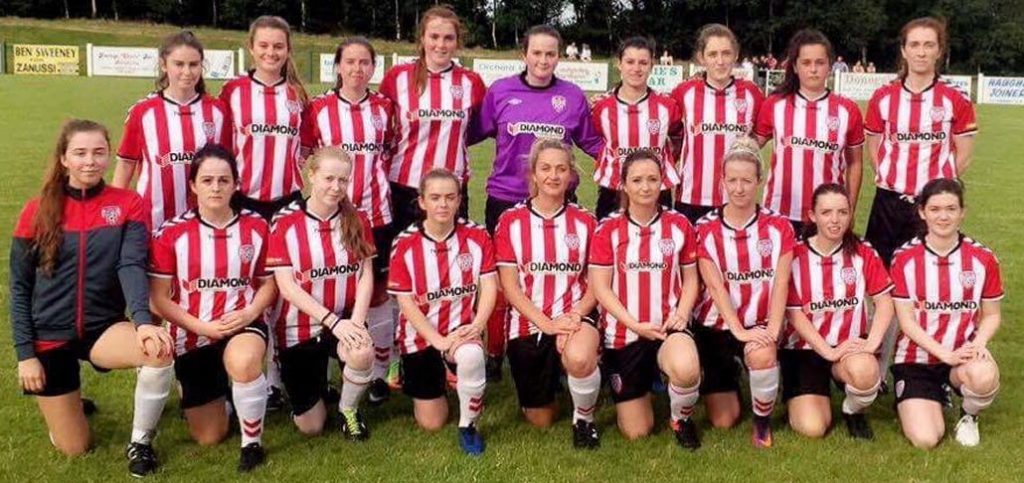 Photo: derrycitylfc
The league title had been settled in Derry City's favour just five days previously.
With a game to go each, the top three sides were set to finish on the same points total in the table.
Lisburn ended with an 8-1 win at Lagan, Portadown were just behind them after recording a 7-1 victory at Armagh City but Derry's 4-1 defeat of hosts Killen – aided by a Rachel Barnaby hat-trick – secured them the championship.
Derry will now compete in the Danske Bank Premiership next season, with the chance to play for a place in the UEFA Women's Champions League.
Elsewhere in the NIWFA League, East Belfast and Comber Rec won Division 1 North and South respectively, Crewe United and PSNI were champions in the regional second divisions.
Pictured top – PILFC with the NIWFA Championship League Cup  (@Portadownfc)