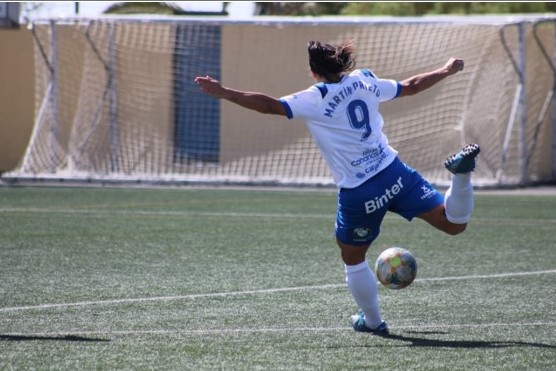 Currently plying her trade for Canary Islands outfit UDG Tenerife, it was at Sporting de Huelva where 27-year-old striker Cristina Martín-Prieto enjoyed the highest point of her career so far – when winning the 2015 edition of the Copa de la Reina.
Scorer of two goals against Rayo Vallecano in that year's quarter-final, plus another decisive double in the final against Valencia CF, Martín-Prieto – who began her career at hometown club Sevilla FC – took home the awards for the competition's best player and top scorer.
Shortly after it was announced that the 2020/21 season of the Primera Iberdrola will finally start on the weekend of 3rd/4th October, we bring you guest reporter Manu López Fernández's chat with to the talented No9 for She Kicks.
English translation by @onubacomms
Spanish version available here: https://manulopezfdez.wordpress.com/2020/09/08/a-fondo-entrevista-a-cristina-martin-prieto/
She Kicks: So Cristina, how did you first catch the football bug?
Cristina Martín-Prieto: Football's a big part of life in my family! I've got uncles and cousins who've played, but I got hooked on the game via my older brother. He's always played football so when my mum took him to training sessions I'd go with them, and whenever nobody was looking I'd run off with the ball at my feet!
SK: What advice would you give to girls who want to carve out their own path in the game?
CMP: I'd tell them to keep following their dream, not letting anybody take it away from them, and to keep battling and working hard so that one day they'll know how it feels to be a pro footballer.
SK: What memories do you have of your Primera División debut for Sevilla FC back in 2008?
CMP: It was a lovely feeling to make my debut with Sevilla. When you make your top-division debut at 15, at your hometown club and the one you support, then it's a dream come true.
SK: What would you say were you best and worst moments as a player thus far?
CMP: I don't think I've really been through any bad spells up until now in my professional career, but if you're asking me to pick out good periods then I'd definitely include my run of form between December and February last season.
That was a point when I really felt like I was getting back to being the Cristina Martín-Prieto who shone brightest at Sporting de Huelva. Let's hope that once the new season starts I can get that same kind of form and goalscoring run going again!
SK: Talking about the upcoming campaign, how has pre-season training gone at UDG Tenerife?
CMP: I think that pre-season training has got off to a positive start. As we didn't have a start date for the new season, the coaching staff worked us hard at the start of our preparations and then gradually took things down a notch. In general, I think that we're all in very good shape and I get the sense that, bit by bit, we're approaching the right levels of match sharpness.
SK: Do you have any individual goals for this season?
CMP: For this season I'd just ask to stay free of injuries, to be able to play at my best.
SK: One last question: what's your verdict on the growth of Spanish women's football in recent years?
CMP: Well, I think that the fact the 2019/20 season was not completed has forced us to take half a step back in terms of the growth that we had been experiencing in the last few years. Let's hope that in the future things change and that we women's footballers are treated the same as any other professional players.
Follow Cristina on Instagram and Twitter at @cmartiin9