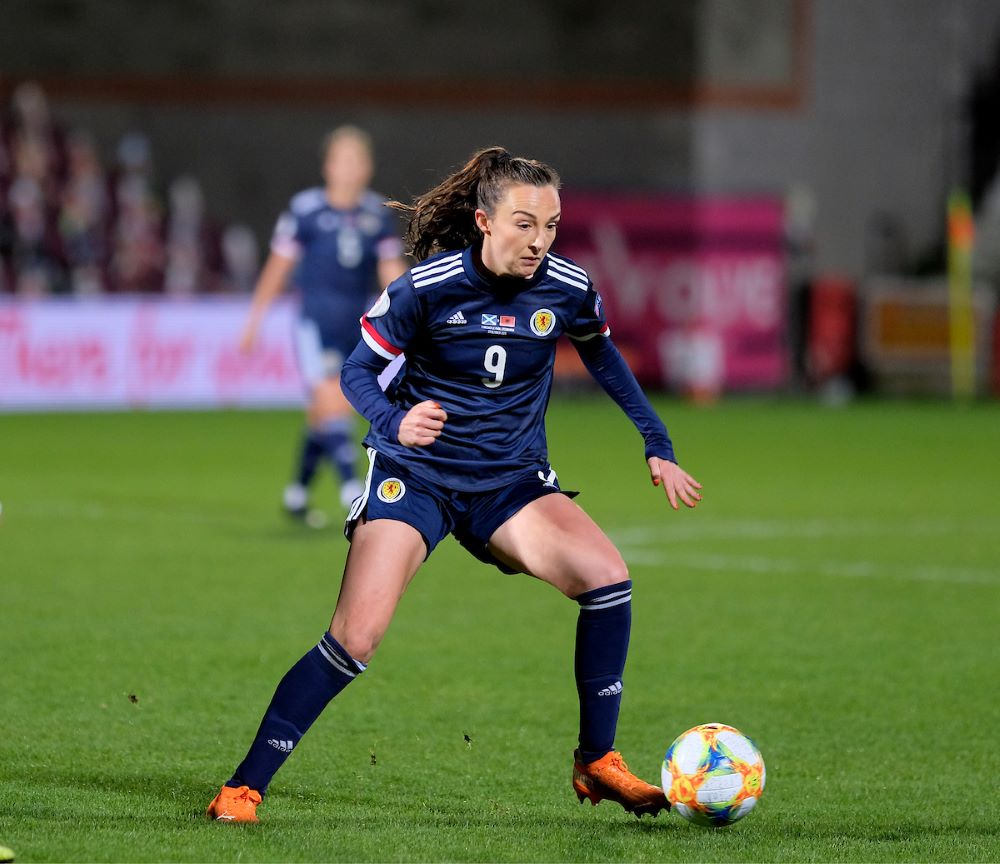 Scotland are all set for yet another big night in their history of play-off battles, this time facing the Republic of Ireland at Hampden Park in Glasgow.
It's a complicated process, but regardless of results elsewhere tonight, the Scots have to win to stay in the mix for a place at next year's World Cup, writes CATHERINE ETOE.
More than 10,000 fans cheered them on in the pouring rain last week as they secured an impressive 1-0 win over Austria in extra time. Ahead of this must-win encounter, She Kicks joined colleagues from the Scottish media for a round-table catch-up with Real Madrid's midfield maestro, Caroline Weir.
Here is some of what she had to say about tonight and there will be more to follow on her Spanish odyssey…
On what it takes to reach a World Cup:
It takes hard work. Nobody has a right to be there. We'll deserve it if we get there, especially this qualifying campaign. On paper we've got a good strong squad and it's just whether we can perform on the day.
On what they can expect from the Republic of Ireland:
I think they'll be a little bit more physical, potentially more direct. A confident team – they're on a really good moment in their run of games. They've not had a game this camp so they'll be fresh and they'll have watched our game. It's definitely not going to be easy.
On Republic manager and ex-Scotland boss Vera Pauw:
I've never met her, but obviously know about her. The girls who have played for her speak highly about her. I know she had a massive impact on the Scottish women's game. Obviously a lot of respect for that. She's a good coach and her teams are always organised. I'll expect Ireland to be that, definitely.
On which players they'll look out for:
They're more of a team unit, with a lot of fight. Katie McCabe is probably their best player. I've played against her many times for Arsenal; she's their captain and a leader. They're a proper team with players that do their jobs across the board.
On whether they can use their Euro 2022 play-off loss at Hampden as inspiration:
That qualifying campaign happened quite recently and we remember it for all for the wrong reasons. We definitely speak about that and how disappointing that was. We should have been at the Euros, really, but we didn't perform and we don't want that to happen again. I think that's a massive driving force. I definitely feel it within myself, how rubbish it felt. It's about turning that into motivation, into your driving force to get it over the line.
On their approach to such a big match:
I think Scotland, we try and play it down a little bit. That just suits the players we have in the team. You've got to approach these games as any other game which is a cliche, but that's how I do it because it helps, whether it's a cup final or whatever. We know what's at stake but our preparation and process has to stay consistent.
On whether they would want to know other results before the game:
Because of the kick-off times we'll have an idea before our kick-off [but] we won't be checking our phones before we step out. It means nothing if we don't win.
Kick off tonight is at 8pm. You can follow the match live on BBC Alba.