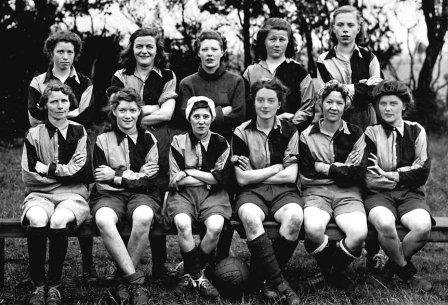 John Carrier's research into the evolution of women's football in Wales featured an interview with Betty Davies, who played for Llay United Ladies around 1948.
Asking the spritely 88-year-old from North Wales, whom he spoke to back in 2017, where she was on the team photo, Betty's reply was swift: "I'm the fiery red-head, standing back row, first from the left with a face like the back end of a bus!"
"My word you've taken me back. Really it was the 'Davies family team', my mother was in the team, Aunty Elsie was the captain, my cousin Marion is on, said Betty.
"I don't like my photograph taken and we had just lost 14-0. The photograph was taken after the match…so I was not best pleased!
"The charity match was against Caergwrle Ladies, who were a well established team. We were just the odds and sods. A certain gentleman in the village was fed up hearing about Caergwrle Ladies and said 'We can get a better team in Llay', and then scouts round for a team, as you do.
"Now in the Caergwrle Ladies were the Kirkham family playing and two of that family played for Bolton Ladies football team, who were a very well known amateur team that played every week. And they gave them a course on how to kick your opponent…and knock them out…we'll come to that in a minute.
"We only ever played two games, I can't remember the charity now…but we played on Llay United's ground. My brother told me that the FAW did not allow women to play on affiliated grounds…but we played as he was Welsh FA committee…as I say, I don`t know but we must have had permission?
"The changing room was an air-raid shelter, and we borrowed Llay United's strip. Half my family were playing for the men as well, so that's how we got that. We got on the field and we played about 10 minutes and somebody from the crowd shouted 'Hey ref, they've got 12 men.' Well that was us! While we were getting changed, we hadn't got enough shirts, so Aunty Elsie borrowed my best blue jumper that had just been made to go to the church social and she turned it inside out in case it got dirty, and on we went onto the pitch complete with my pale blue jumper and she wasn't the goalkeeper, she's got a polo neck jersey on!
"Anyway he [the ref] chucked her off, so she had to go regardless of being the captain! Which goes someway in explaining why Aunty Elsie never made the line-up for the photograph.
"In the goal was Marjorie, who obviously knew very little about football, as the ball came down the pitch and Marjorie picked up the ball and walked out of the area and said: 'What do I do with this?' It must have been hilarious, as the rest of us were taking it seriously. Marjorie must have been moved to outfield and Pat Prydderch now in goal. Anyway to cut a long story short, my father was ashamed of me mother as she would stick her head out and shout 'Oh, oh, oh" as another ball went in the back of the net."
Betty continued, "Now let's get onto the return match where we only lost 3-2, so we redeemed ourselves. We go to the next village called Hope, so we play near the church, By this time we've chucked out the goalie, we've chucked out me mother, we've chucked out Aunty Elsie and we've got a slightly younger team and were really good, Uncle Tom Davies became our trainer, as he was the men's trainer as well. We were doing nicely with our training because we were fitter.
"Now these Kirkham girls from Caergwrle, they were red-haired and a bit fiery, they played to win .. I remember scoring and my days were numbered after that. The older Kirkham girl comes down the field and instead of kicking the ball, she kicks me in me right leg! I've got the hole to show you! Then I was going up the field and my leg felt funny, I looked down and I had a leg that looked like two…and I was playing in my big brother's football boots. So I went to Uncle Tom and said my leg feels funny, so he had a look; 'Oh I'll have to cut that off,' I said 'You can't do that, there our Cyril's."
Cyril's boot was not cut off and he wore them in the men's Amateur Welsh Cup, which Llay United won in the 1948/49 season.
Betty went on; "Anyway, Jean Lawrence went on and I had to come off, I wasn't best pleased as I had a week off school, I missed the hockey trials to play for Denbigh County. Doctor Mitchell came to see me on the Monday, put his hand on my leg and said; 'Well that's what you get with playing a man's game', no sympathy there but the score was much better."
Much later on, in the 1970's or so and while living in Welshpool, Betty was asked at work if she would like to play for a women`s team from the nearby village of Llanfair Caereinion, who were competing in a league.
Betty was an inspiration who relayed aspects of the evolution of women's football in Wales, albeit for just two games.
Pictured top: Back Row: Betty Davies, Edith Rogerson, Pat Prydderch, Joan Larence, Kathleen Richards. Front Row: Sarah Ellen Davies, Marion Davies, Ceridwen Pugh, Dorothy Sutherton, Muriel Baker, Marjorie Taylor.