Toni Duggan admits being handed the England captaincy for the first time at senior level for Thursday's friendly against Austria is a "proud moment" writes RICH LAVERTY.
In a squad which now includes several players born in 1997 and 1999, at 27 Duggan is one of the more experienced players and will receive her 65th cap on Thursday when she leads the team out, six years after her debut against Croatia.
"It's a nice achievement for myself and I'm really looking forward to it," said Duggan. "It's a proud moment for me and my family.
"I last captained the team when I was in the Under 17s and it's something I enjoyed. I feel like I've always been a vocal member of the squad and I hope I can help players like Georgia [Stanway] coming through."
Duggan has been on an up and down journey since her first team career kicked off in 2012, experiencing the lows of Euro 2013 before winning a bronze medal under Mark Sampson at the 2015 World Cup.
Under Phil Neville, the style of football has changed noticeably from Sampson's direct style of play, with Duggan claiming "massive strides" have been taken.
"Obviously we lost our previous manager under difficult circumstances and the new manager's come in so there's been big changes to overcome. The team were under a lot of pressure from the media, Phil was under a lot of pressure but he's settled in nicely, the girls are all happy, we're playing a different style which takes time to get used to but I think you see in our performances how far we've come with the new style.
"There's a great respect to all the girls because it's been unbelievable and it makes me excited for how far we can go."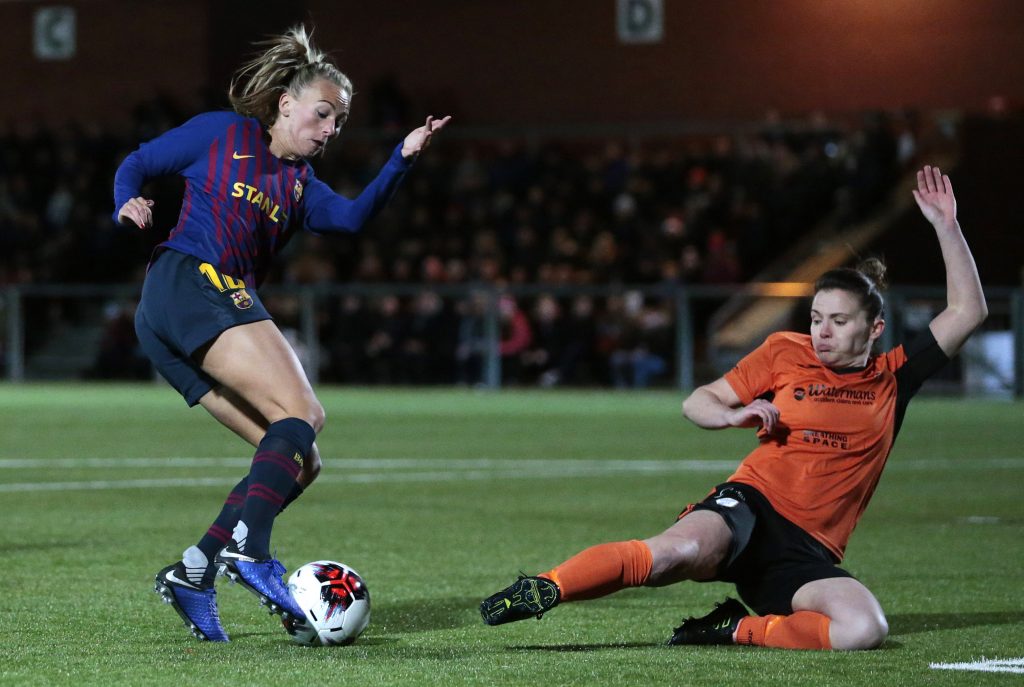 As a Barcelona player now earning and learning her trade in Spain, a nation renowned for its technical style of play, forward Duggan is better placed than most to comment on Neville's philosophy compared to Sampson's.
"I think it's evident on the pitch the way we're playing," she said. "Under Mark we were successful playing direct football but Phil has come in, seen our qualities and knows we can play with the ball out from the back.
"We have to be braver, get on the ball and that suits me perfectly because at Barcelona they're the champions of playing that style. It can be risky but if you make a mistake, so what? Now's the time to make those mistakes."
Duggan also admits the new style of play is more "enjoyable" for her personally as an attacker and believes it's easier for her to play the style with England than in Barcelona due to the demand of that style of play for the latter.
"In Spain, the football is very tactical and I'm back playing the number nine role which I haven't played since I was about 15. If I lose the ball it's the worst thing that can happen. The manager's fuming, the players are fuming, you're under pressure as soon as you receive the ball.
"With England it feels a bit easier and more comfortable to get on the ball in that respect."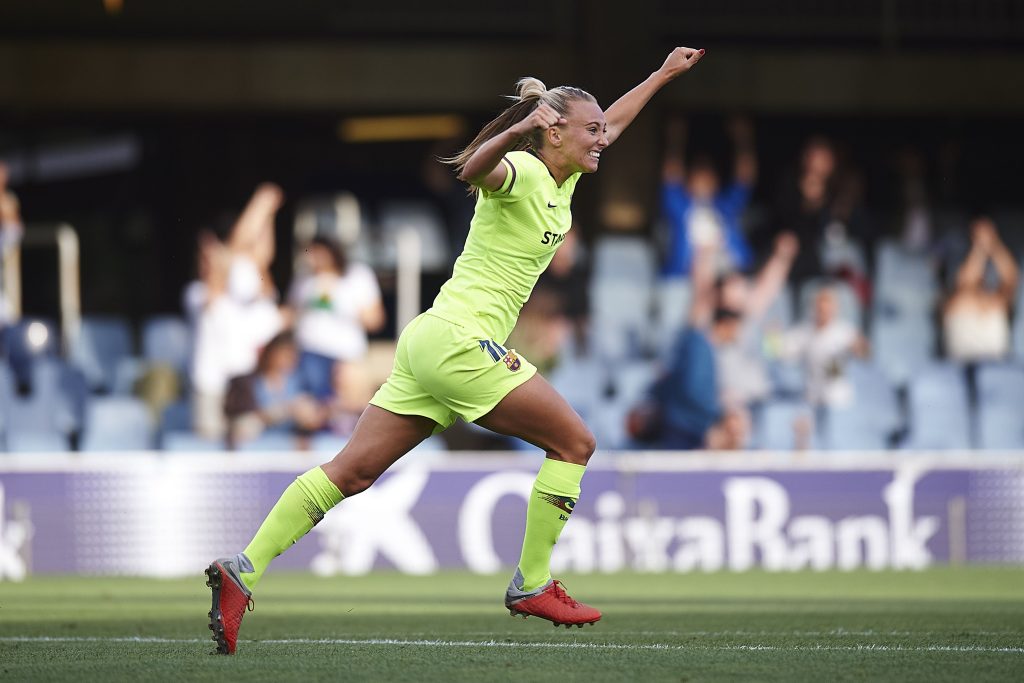 With all eyes now focused fully on the 2019 World Cup in France and going a step further than the bronze medal secured in Canada, Duggan is keen to look back at the last tournament as a success and to use it as a stepping stone rather than wonder what went wrong.
"I want to look back at that [World Cup] as a great success and with pride. It was the first time we'd got that far and we were so proud.
"Naturally, to be a winner you want to look back and wonder what we could have done a little bit more but sometimes you need a bit of luck on your side and it didn't go our way that day in the semi-final. We'll be doing the same this year, we'll be ticking all the boxes, we've already started and there will be no stone left unturned."
Duggan is joined in the squad by two of her former Manchester City team mates. Ellie Roebuck has received her first official call-up whilst Georgia Stanway is on her second call-up after being a late arrival to the SheBelieves Cup in February.
Now taking up more of a leadership role within the group, Duggan says it's an opportunity now for the younger players and admits nobody's spot in the squad is secured at this stage.
"Nobody's seat on the plane is safe," she says. "Georgia's pushing people and we know that and the others like Gabby [George], Chi [Ubogagu] and Ellie, but it's exciting to have so many young players around the team and you can already see that in training."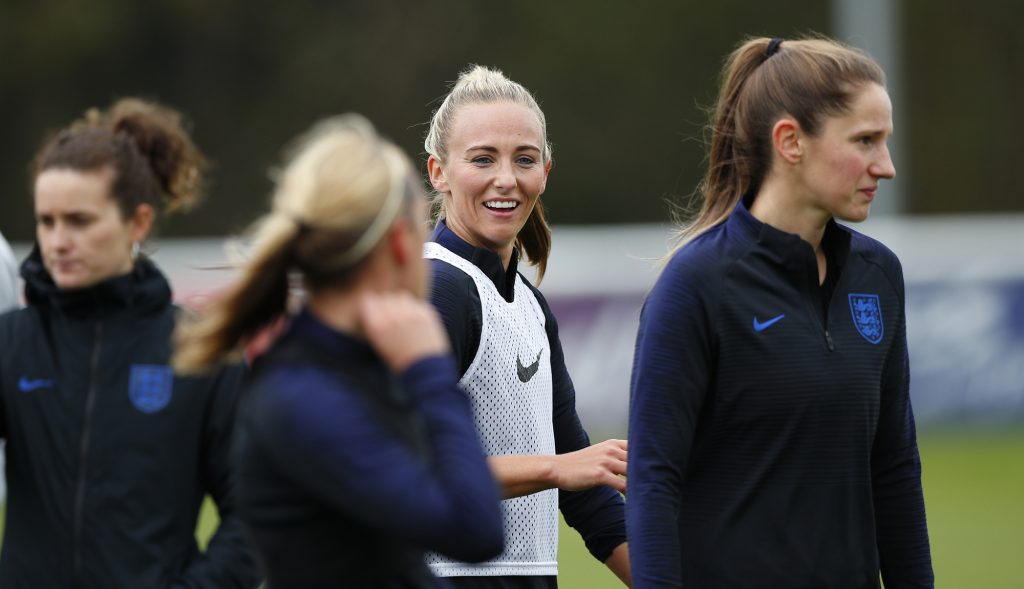 As Duggan and England approach the last camp of Neville's debut year in charge, they face familiar opposition in Vienna on Thursday after facing Dominik Thalhammer's side in the build up to Euro 2017, whilst Sunday's opponents Sweden breed familiar memories for Duggan.
Duggan was part of Mo Marley's side which beat Sweden in the 2009 Under 19 Euro's final, scoring the opener in a 2-0 win, and it was a memorable for more than one reason.
"I think it's always a memory that will stick with me," she admits, before adding, "To win the Euro's that day, it was my 18th birthday. The last time we played them we beat them too and we played really well under Mark Sampson, but they're tough and so are Austria.
"Phil's done really well at cementing tough teams for us to play against. They'll be tough but it offers opportunities for the youngsters to get some minutes and show him what they can do."
But the stand-in skipper has a stark warning for her team mates amidst the brewing optimism and whilst there's a belief the squad are on the "right path", the 27-year-old knows their rivals will be breathing down their necks.
"Let's not kid ourselves, Germany and France are sitting there and doing exactly what we're doing. Players know individually to get to the next level, to go further than bronze we have to go further than we have before.
"We need to be adding another 5% in every aspect of our game to make the team better as a whole."
Watch the match LIVE on Twitter at @Lionesses
Austria v England
Thurs, 8 Nov 2018
BSFZ Arena, Vienna
Kick off 5pm (UK time)
& READ WHAT THE BOSS HAD TO SAY ABOUT THE TWO GAMES:
IN CONVERSATION: What Phil Neville had to say ahead of #AUSvENG friendly in Vienna [Full Transcript]