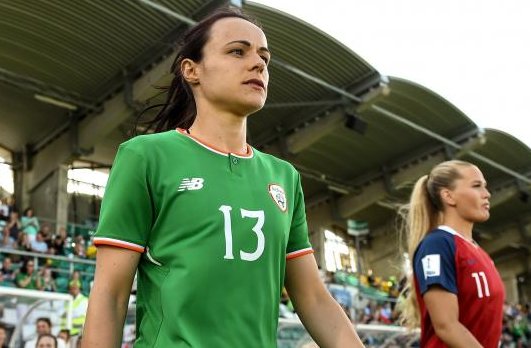 Republic of Ireland forward Aine O'Gorman recently announced her retirement from international football, after 12 years of service totalled a century of appearances and yielded 13 goals.
The FAI reports that the 29-year old made her international debut in the 2006 Algarve Cap against Denmark at the age of 16 and received the Golden Cap following her 100th appearance, the 1-0 defeat against Norway in June.
O'Gorman's international goals included a hat-trick against Montenegro in June 2016, in a 9-0 win at Tallaght Stadium. She will continue her club football with FAI Continental Tyres WNL side Peamount United, with whom she won the League Cup this season with a 2-1 win over Wexford Youths.
Republic of Ireland Head Coach Colin Bell paid tribute to Aine's international service.
"Aine has had a fantastic international career and has had a profound impact on the growth of the sport in this country," Bell said.
"For any player to get over 100 caps is a fantastic feat and she should be very proud of her achievements. Ever since I began my management of the team, Aine has been a fantastic person to work with.
"She has been a fantastic role model to the young players who've come into the squad over the past year or so, and I would like to thank for her professionalism in every camp. I really hope that Aine will stay in the game and contribute even further to women's football."
FAI CEO John Delaney also paid tribute to her contribution to the rise of women's football in Ireland.
"Aine has shown great loyalty to the team since her debut in 2006 and when she played for Ireland, you could tell how much it meant to her with her passion, pride and energy.
"Aine gave 100% effort in every game she played for Ireland and for any player to receive a Golden Cap is a huge achievement. She retires from international football as one of the most decorated footballers to serve her country and I wish her well in the future."
Chairperson of the Women's Football Committee and FAI Board Member Niamh O'Donoghue paid tribute to her work off the pitch as well. 
"Aine has not just contributed on the pitch but has worked tirelessly with our Aviva Soccer Sisters scheme to help promote women's football at grassroots level. The sport is now one of the fastest-growing in the country and Aine can take huge pride from that having contributed so passionately to it's success."
O'Gorman, who had two spells with Doncaster Rovers Belles from 2010 to 2012, wrote in an open letter to the FAI: 
It has been an incredible journey with the team over the years and one which has been such a huge part of my life. Every time that I've pulled on the Ireland jersey, it has been a moment of incredible honour for both my family and I. But now, I feel it is time to step aside and let the next generation make their mark.
Back in 2006, I could never have imagined that my international career would see me reach 100 caps when I made my debut at the Algarve Cup against Denmark. Despite only being 16 years of age, Head Coach Noel King believed in me and brought me into the senior squad. I will always be thankful to him for giving me the opportunity and platform to begin my international career.
Of course, there will always be a tinge of sadness that we were never able to qualify for a major international tournament. We came close on a few occasions but it wasn't to be. I've no doubt that the work currently being done with the national team now will see them achieve that qualification in the future.
Now, as I look to the future, I'm determined to give something back to the game I love. I'm hoping to take my UEFA B Licence very soon and begin my journey in coaching. Having come through the player pathway myself, I think it's incredibly important to have the guidance of former players and I feel like my experiences could benefit future generations.