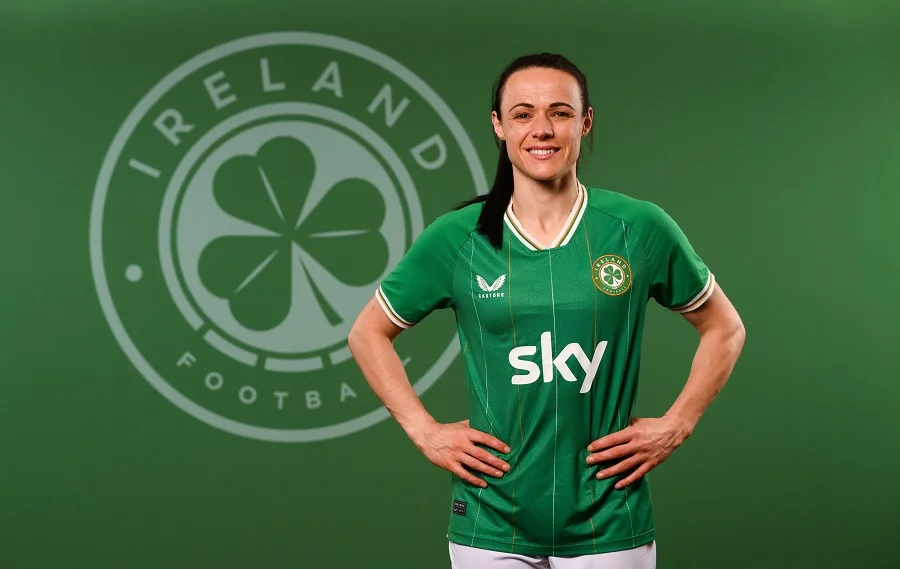 When Áine O'Gorman retired from international football at 29, the prospect of featuring in her country's first major tournament five years later was pure fantasy. As the FIFA Women's World Cup 2023 begins, the kid from Enniskerry is right there amongst it.
"I sit down at the back of the bus, and it's usually myself and Niamh Fahey having a little chat about the good old days," shares Áine O'Gorman, the most-capped player (118) in Republic of Ireland's World Cup squad.
The Shamrock Rovers captain and Liverpool skipper Fahey form half of the current centurion contingent (alongside Louise Quinn and Denise O'Sullivan). Both were teenagers when making their senior debuts, Fahey in early 2007, and O'Gorman a year previous.
The nod to those 'good old days' comes with a drop of both wistfulness and wryness, reflecting on years where sacrifice seemed to far outweigh reward, beyond the friendships made and the gravitas of wearing the green shirt.
"You have moments in your career where you think 'why am I doing this?' but it all comes back to the love of the game, and the pride in playing for your country, through the tough times and the setbacks, injuries. Even the threat to strike in 2017; I think the team's really kicked on from there.
"All the sacrifices, on the pitch, off the pitch, with family, friends, it's all worth it in the end."
While still mixing it up top at club level, Ireland's number 13 assumes the role of forward-turned-full-back for her country. A positional switch is not the only detail that renders her international career one of distinctly-different parts.
September 2018 brought the announcement of her decision to retire from the team, though she would return in 2020 at the request of new head coach Vera Pauw. While just a matter of weeks before the pandemic came into full view, it was ultimately the beginning of the road to what now ranks as her career's golden achievement.
Given all that went before, she is asked whether reaching a World Cup now, rather than as a player just starting out, makes it something she can appreciate all the more.
"Oh, absolutely. The dream was first to play for Ireland.
"You know that the next step is a major tournament, but you think that's going to be a European Championship, and here we are now going to a World Cup. I think it's beyond most of our wildest dreams, and as my career went on, probably something I didn't think I would achieve."
It's hard to put it into words 🇮🇪 pic.twitter.com/ni2Hy56R4J

— Áine O' Gorman (@Aineogor9) October 12, 2022
It all begins tomorrow against co-hosts Australia, and there may be another reason behind the heightened perspective she enjoys, after becoming a parent last year. Having son James around as The Girls in Green embark upon group games in Sydney (v Australia), Perth (Canada) and Brisbane (Nigeria) is one huge plus point.
On the flipside, the tournament she has waited all her career for comes at the same time as a friend's wedding back home – with all apologies to Kira!
"Yeah, that's my partner Rachel's good friend!" she laughs, when asked about the lead Instagram comment that appears on her post about making the squad. "Thankfully, we're forgiven, and we'll make it up to her when we get back!"
"I'm actually quite fortunate, my mam and dad are going to come, and my brother got married recently; he's been with his wife Laura for 18 years now, they've two kids, and they're going out for their big honeymoon to Australia. My partner Rachel and James as well, so that'll be really special."
This is, of course, not the first far-flung World Cup for Ireland. While too young to vividly remember Italia '90 – or Giants Stadium shaking to the sound of 'Ooh, ahh, Paul McGrath!' for the seismic USA '94 win over Italy – she was among the millions absorbed in the men's team's 2002 games in Japan and South Korea, as a 13-year-old.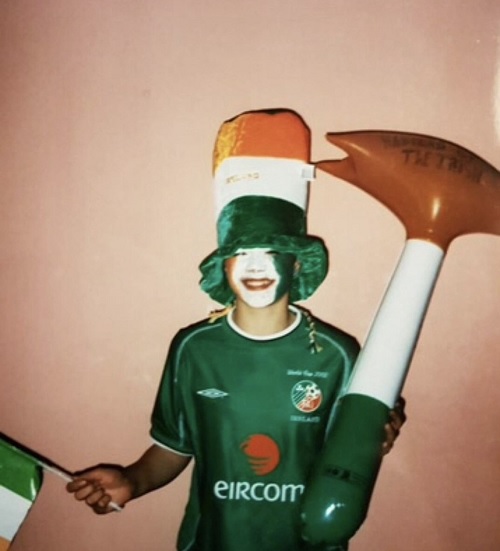 That was also the most recent opportunity for Irish fans (age not necessarily a determining factor) to collect their own players in a World Cup sticker book! Until now, anyway.
"Yeah, it's pretty cool, isn't it? I keep getting tagged in stuff on Instagram.
"I used to collect all the (men's) Premier League stickers. I actually got my little niece a book, and it came with loads of bumper packs.
"There was only one Ireland player in it, though – they're still on the search for me!"
From their Class of '23, only one member of the squad was yet to be born when Robbie Keane was popping up in stoppage time against Germany in 2002 – not for another three years, in fact. That honour goes to 18-year-old forward Abbie Larkin, a teammate of O'Gorman's at Shamrock Rovers.
The pair were both on target in the 2-1 win over Galway United at the end of May, combining on O'Gorman's goal. Alongside them at Rovers is a forward firmly among those to have helped the national team on the way to their current standing – Stephanie Zambra (née Roche).
Taking up a role at this World Cup on co-commentary for RTÉ Sport, the 2014 FIFA Puskás Award runner-up's recent absence has meant a slight change to routine for O'Gorman.
"Roommate-wise, it would always have been Stephanie Roche, but unfortunately, she's out of the squad at the moment, so it chops and changes every camp. I'm a bit obsessive with cleaning stuff and Steph is the complete opposite!
"Thankfully, I don't share a room with Niamh (Fahey), because I think she's a snorer!"
Never one to be accused of causing a snooze is Ruesha Littlejohn, with the midfielder another to make it to this tournament after over a decade in the set-up. Turning 33 earlier this month, has she begun swapping her status as legendary livewire for a more cardigan-and-slippers approach yet?
"Absolutely not; Ruesha Littlejohn and Lucy Quinn egg each other on. They are funny, but only in small doses!"
When mums had enough @Aineogor9 😂😂 https://t.co/NgrDb8EB4Z

— Lucy Quinn (@LucyQuinn7) July 15, 2023
Send-off games back home saw Vera Pauw's team win 3-2 against a Zambia side who would stun Germany (also 3-2) soon after, before a 3-0 loss to France. There are always possible observations to be taken from friendlies, though the bearing on the 'real thing' is, as ever, ultimately nil.
A group opener against co-hosts Australia at Sydney's Accor Stadium (Stadium Australia), the same venue for the final on 20th August, is an occasion all of its own. At this green-and-gold party, they take on a team aiming to catch fire in the next few weeks with home support behind them, though a sense of pressure is inevitable.
To say the Irish players will be entirely free of nerves would surely be wide of the mark, though O'Gorman agrees that the game provides unique excitement as the visitors, with the opportunity there to cause an almighty upset.
"Absolutely. We're going to prepare like we do for every other game.
"It's going to be a huge occasion, in front of 80,000+ fans, and we'll do the best preparation we can and leave nothing on the pitch. Hopefully that's enough on the day."
While doing their utmost to savour all the build-up of recent months, to now start the games after so much discussion will be something of a relief; a chance to finally move the conversation beyond a continuous cycle of hopes and hypotheticals. With Pauw the first to take them to a tournament, O'Gorman considers what has felt different during the four years of the Dutch coach's tenure.
"I think there's belief instilled in us that we can achieve anything really. We all know our tasks when we go on the pitch, we have great togetherness, and probably just that confidence to have no fear and play."
In days gone by, O'Gorman was part of the team céilís on international camps, led by the likes of Karen Duggan (guitar) and Julie-Ann Russell (tin whistle). Even if some key names in that regard are now missing, the show will most certainly be going on, Down Under.
"I think we're always good at having good craic when we're off the pitch, and there are talks about someone trying to bring a guitar with them (at the World Cup)!"
Interview/article by @chris_brookes