The winner of the Scottish Building Society SWPL Player of the Month for October was announced yesterday as Amy Anderson of Hamilton Academical. Over a thousand public votes were cast for the award with Amy picking up almost a third of the vote.
It was a fine month for Amy and her team, so much so that it perhaps was the reason they maintained their SBSSWPL 1 status for next year. A 1-0 win over relegation rivals Aberdeen was a massive 'six-pointer' and despite a narrow 1-0 loss to Stirling in their next outing, their 2-0 win away to Rangers on October 29th was monumental. The six points picked up in those games gave them breathing room on The Dons and was nearly half of their total points for the season.
Speaking from the Superseal Stadium, she said: "I'm over the moon. October was a really important month for us a group and while I'm delighted to have been given this award, it really was a fantastic team effort.
This is also icing on the cake for me. Our aim was to stay in this division for 2018 and we've achieved that. To get additional plaudits on the way is really nice and it's a reminder about how hard we've worked to achieve our goal.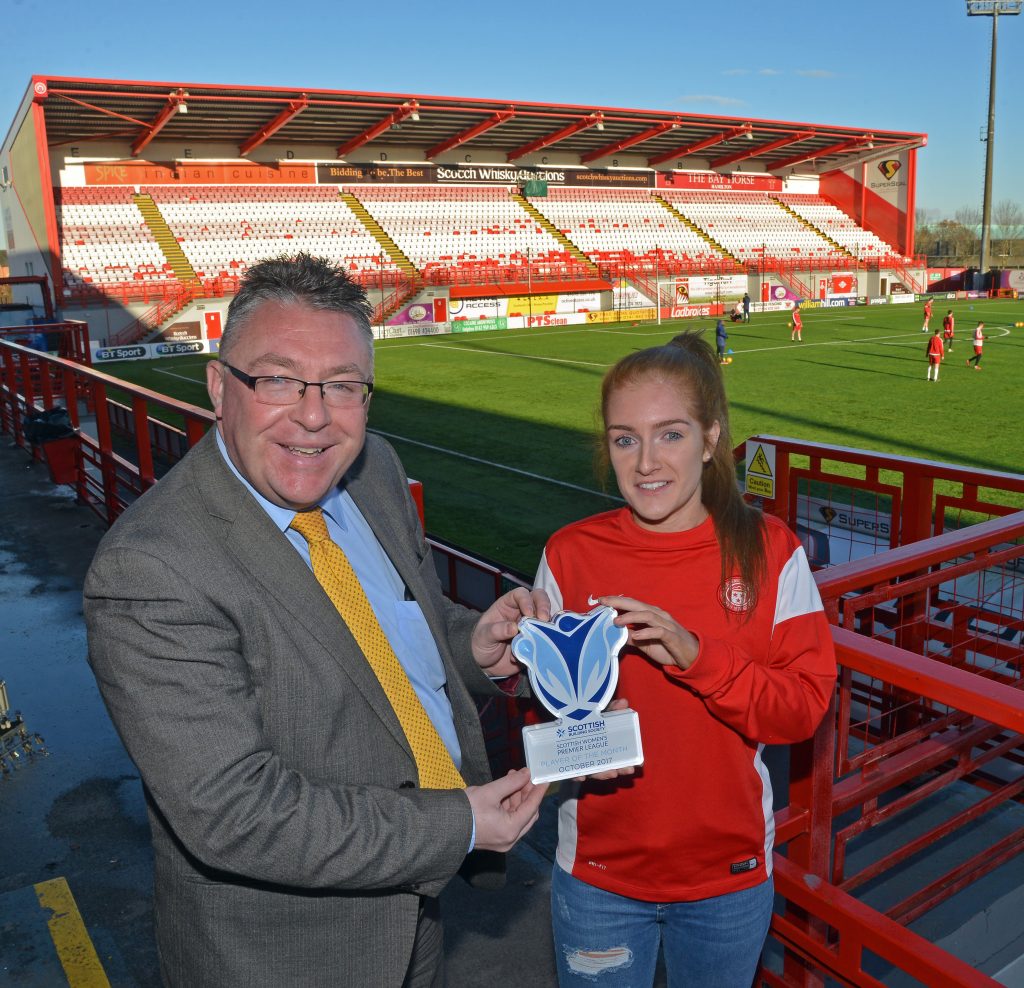 David Richardson, Area Manager West for Scottish Building Society, said: "Firstly, our congratulations go to Amy for winning this award. We know how significant a month it was for her and Hamilton Accies, so it's fantastic to have their achievements rewarded.
"This is just the second award but we're already seeing the voting and interest increase which is fantastic. We look forward to the final award for the 2017 season and to continue this momentum into 2018."
Amy added: "Having a sponsor for the league is brilliant for the game. I know Scottish Building Society have only been sponsors since August but already it is having a positive impact with awards such as this. Fingers crossed my teammates or I can win some more in the future!"
Also nominated for the October award was Kirsty Howat (Celtic), Ashley McDonald (Stirling University), and Megan Reid (Aberdeen).
"I'd like to say well done to Amy again for her award and to all those who were nominated" said David. "It was an extremely competitive month on the field and that was reflective in the voting. Details of the players nominated for the November award, the final one of 2017, will be available, soon at www.scottishbs.co.uk."