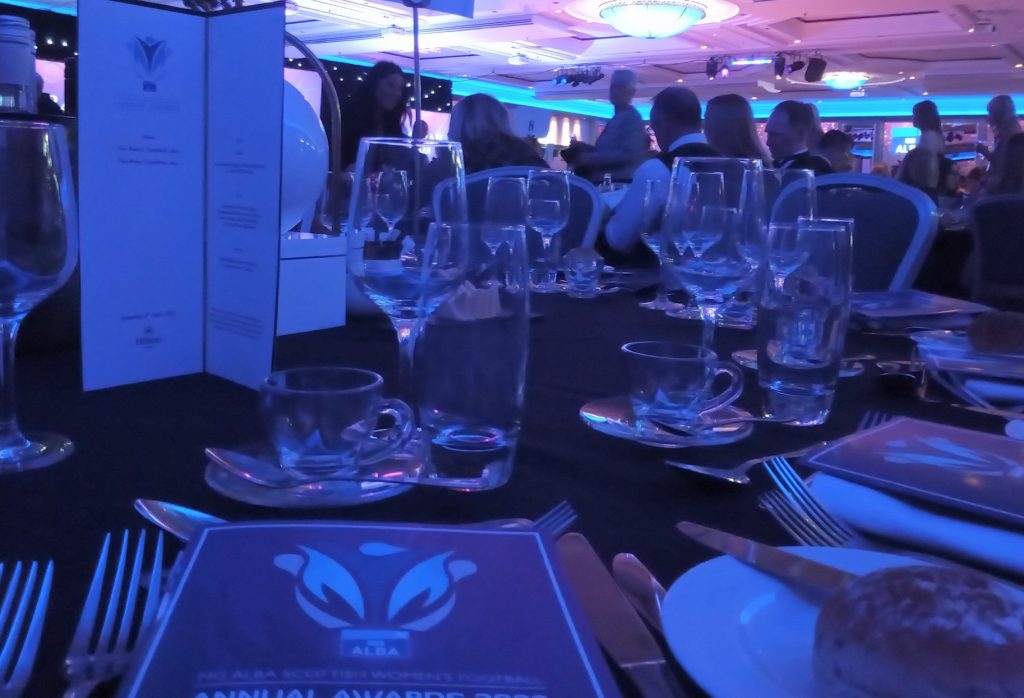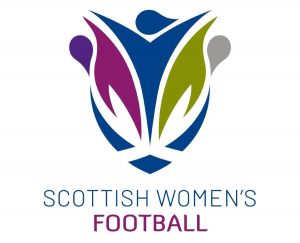 The great and the good of Scottish women's football came together in Glasgow's plush Hilton Hotel at the weekend to celebrate the achievements of the best coaches, players, volunteers and teams of the last year, reports Catherine Etoe.
The annual MG ALBA Scottish Women's Football Awards 2022 was a glitzy affair, presented by BBC sports journalist Jane Dougall, with a video contribution from crime writer Val McDermid, appearance from Scottish footballing legend Rose Reilly and star turn from stand up comic Susie McCabe.
She Kicks was lucky enough to be there too and we grabbed a few words from the award winners. Here are the thoughts of a select few, there will be more in the next issue of the mag…
Volunteer of the year presented by Rose Reilly.
Won by Mhari Lindsay of Cumnock Juniors Girls FC, a community-based club in East Ayrshire working to offer girls a safe place to play and develop in women's football.
Thanks to everyone who voted for me. It was a vote for all the volunteers at Cumnock and beyond. Proud as punch. New target: let's inspire a 100 more girls @CumnockJunGirls #SWFAwards2022 #bbcalba #sundaypost @ScotWFootball @Sunday_Post pic.twitter.com/xbggtncNiO

— Mhari Lindsay (@TheMazatron) June 5, 2022
Mhari on the club:
I started Cumnock Juniors Girls in 2014 and we started off with one team and it's grown arms and legs, with dedication from not just me but my volunteers. We've now got nine teams, we range from age six up to 65. It's a full club, it's a family.
On what the award means:
It's an amazing achievement and recognition for the club. For me, everybody says it's an individual award but it's not, it's a club award and for every single person that puts time to the club. It means the world.
On receiving the award from Rose Reilly:
It's dead funny because Rose comes from East Ayrshire, the same place I do and I've never met Rose before, but I know all about her and I played at the Rose Reilly Stadium as a football player myself and those were the first words I said to her, I was like: 'It's a privilege to meet you' – it's an amazing feeling just seeing her in person.
On what's next:
We just started a ladies team this year so next season we really want to start competing against other teams. This year it's all about the build, we want to build a team that can compete against other teams in the Scottish Women's Football League, so it's about building that, but also about bringing on another younger age group and keeping the girls flowing through the club.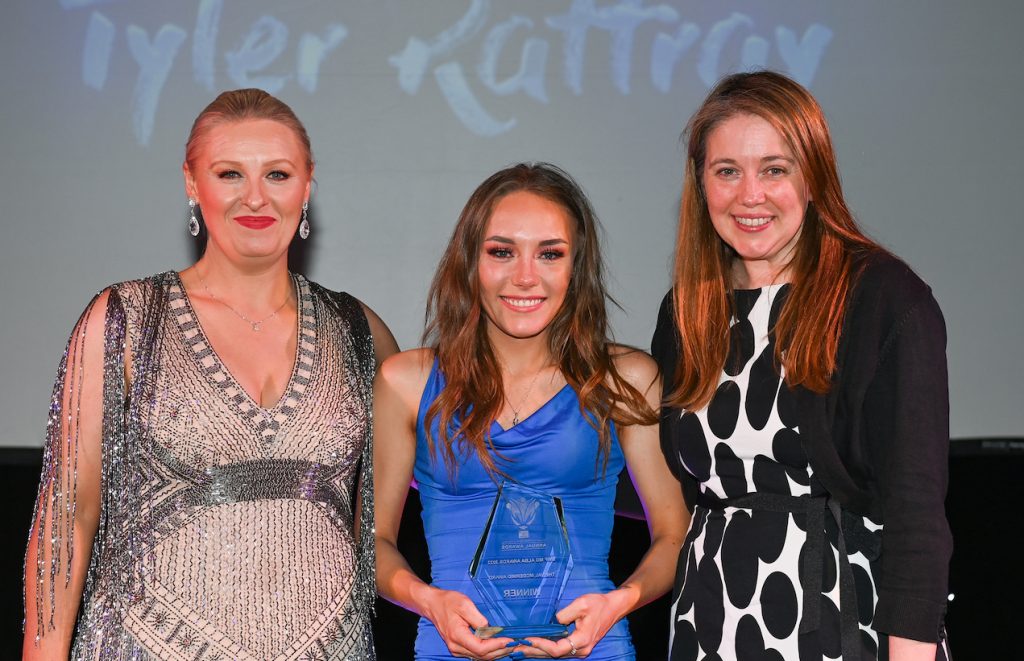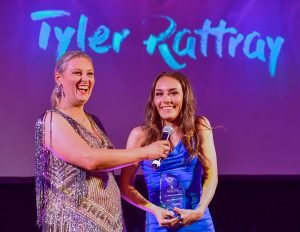 Inaugural Val McDermid Award
Won by McDermid Ladies captain Tyler Rattray, who quit Raith Rovers after the controversial signing of David Goodwillie. The team has moved on to become McDermid Ladies and their skipper was described by sponsor, Val McDermid, as "a leader; brave and steadfast".
Tyler on how she felt receiving the award and hearing Val speak:
It's a privilege to get an award like this, I've never had anything so big in my life so it's a bit overwhelming. I didn't expect it to be about me, I just thought it was about the full team, but it was an honour that Val thought that highly of me to give me those words. 
On what it was like for the team after they took a stance:
It was hard at the start, we didn't know what team we had to go to and if we could still stick together as a team. We're top of the league now, so are doing really well. 
On what she brings to the team:
I don't think I bring anything to the team; we just work together as a team. We're all in it for each other instead of just individuals.
In all the bad that happens in football, at least me and my team can still think positive ⚽️🖤💓 #McDermidLadies pic.twitter.com/mQtGVET21V

— 🌻TylerRattray🌻 (@Tyler_RattrayX) June 6, 2022
Youth Coach of the Year
Won by Ross Stormonth, Rangers' Women's National Performance Coach, who led his under-19s team to an undefeated league and cup double. 
Ross on what it means to win:
A massive amount. I think a lot of these awards are team orientated so I'm taking this more for the club and the team that I work for. We've got a lot of amazing coaches at our club who have been a part of my journey and the girls' journey and I think this award represents not only what we're doing as an academy, but also how well the staff get on together, so it's not just me.
On his highlight of the season:
Winning the League Cup on penalties was a real test for the girls, but I think winning the biggest game of the year, against Glasgow City, who pushed us to the wall over the season, winning 6-1 and really proving where we are as a club and an academy, as a collective, was probably the biggest achievement of the year.
On next season:
It's another building block. It's a young team coming through. We're losing a lot of players to first teams, Premier League teams and America, so the girls over the last year have set the standards and it's now up to the girls who are staying and coming up to increase that and make sure we're pushing as high standards as we can.
Incredibly honoured to have won Youth coach of year 2022. The award is not just for me but, all the staff (past & present) & players who have helped on my journey so far & those who continue to support and test me. Couldnt have done it without you all. 💙 @RangersWFC #teamwork pic.twitter.com/jWx20OXrEx

— Ross Stormonth (@ross_stormy) June 5, 2022
Youth Team of the Year
Won by Millennium Club of Stranraer under-13s. The judges said the club had provided opportunities to local girls to participate and win, and "exemplified the very best aspects of grassroots football".
Coaches Lesley Reid and Andy Irons on the award:
This is a magnificent achievement for a grassroots club from a wee small town, we just can't believe it. We were up against Rangers and Glasgow City. We won the league last year, undefeated against three pro youth clubs. We had 17 girls, 16 from the same school, we've started this season well again; they're a great bunch of lasses and we're proud of every single one of them.
SWPL 2 Player of the Year
Won by Danni McGinley of Dundee United, the league's top scorer who netted 22 goals in 23 league appearances on the way to helping her team win promotion to the SWPL 1.
Danni on why she won:
I think this season I've scored goals like previous seasons but I've assisted as well and contributed across the team in different ways – credit to my team mates because they set me up to score, so it's nice to be able to return the favour.
On scoring at Tannadice in a 3-2 win over St Johnstone in front of a club record crowd of 726:
It was lovely, we got a penalty and I'm the penalty taker, so I was the lucky one who got to take it and it was probably one of the best I've taken! It was nice to enjoy it with a bit of a crowd there as well.
On just missing out on promotion last season:
We missed out with the change in the league structure, by the result on the last day of the season. It probably wasn't the right time for us anyway as a team, we felt we wanted to go and make a stamp on the league and win the league to take promotion that way.
On playing in SWPL 1 next season:
We're all really excited, I think everyone has got mixed emotions, there's a bit of worry and a bit of excitement, it's going to be a big change and a big step up, there'll probably be changes in training and the way we do things so, excited to see how all that pans out.
𝗗𝗮𝗻𝗻𝗶 𝗠𝗰𝗚𝗶𝗻𝗹𝗲𝘆https://t.co/qclmQLI5zA pic.twitter.com/9SWmJ0x9DZ

— (C) Dundee United WFC (@dundeeunitedWFC) June 5, 2022
Full list of winners:
Volunteer of the year: Mhari Lindsay, Cumnock Juniors Girls
SWPL 1 player of the year: Priscila Chinchilla, Glasgow City
SWPL 2 player of the year: Danni McGinley, Dundee United
SWPL coach of the year: Malky Thomson, Rangers
SWPL team of the year: Rangers
International player of the year: Erin Cuthbert
Kat Lindner Award: Leanne Crichton, Motherwell
Championship North player of the year: Aimee Ridgeway, Montrose
Championship South player of the year: Rachel Howie, Gartcairn
Championship team of the year: Montrose
Championship coach of the year: Craig Feroz, Montrose
SWFL team of the year: Bishopton
SWFL coach of the year: Nori Fian, Bishopton
SWFL player of the year: Rachel Scott, Ayr United
Youth coach of the year: Ross Stormonth, Rangers under-19s
Youth player of the year: Mia McAuley, Rangers
Youth team of the year: Millennium Club of Stranraer under-13s
Inaugural Val McDermid Award winner: McDermid Ladies captain Tyler Rattray
READ MORE FROM WINNERS, INCLUDING ERIN CUTHBERT & LEANNE CRICHTON IN THE NEXT ISSUE OF SHE KICKS