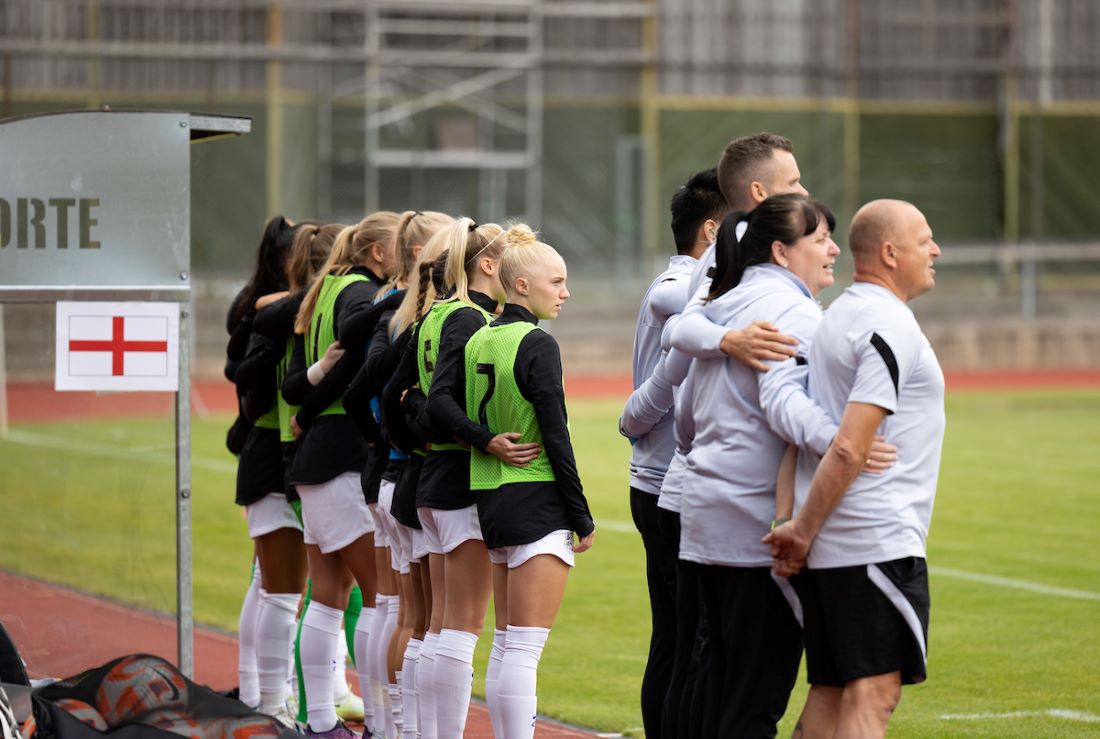 England youth teams will be in action during October with WU23s taking on Norway and Sweden while the WU17s and WU19s begin UEFA qualifiers.
Head of Women's Technical, Kay Cossington said: "Every new international season is important for our players on the pathway but after the incredible summer for our seniors, we all have an extra spring in our step. We are seeing real benefits from the reintroduction of our Under-23 set-up, not least in providing more international
opportunities for those players moving beyond the younger age-groups and the incentive is there following the EURO success.
"For our U17s and U19s, taking part in official UEFA competitions gives them the chance to build confidence, face new opposition and learn about what's involved in travelling away. As much as we want to see progression on the pitch and qualification for final tournaments, we are also grateful for the chance to develop the players' life experiences and grow their understanding of what it means to represent an England team."
The WU23s will look to continue their winning run when they return to action again next month with a trip away to Sweden.
Mo Marley's squad will take on their Scandinavian hosts in Falkenberg on Monday 10 October, with kick off at 6pm local time. The last time an England age-group side met Sweden was at the WU19 EURO this summer when Sweden won 1-0 on 30 June in a group-stage fixture in Czech Republic.
The upcoming Sweden fixture comes after the Young Lionesses won 2-1 in Norway earlier this month and the teams will meet again on Thursday 6 October in a behind-closed-doors fixture to be played at St. George's Park.
The Under-23 squad have enjoyed some tough tests this year, starting with a double header with France in February, which ended with a 1-1 draw following a 3-2 defeat, followed by a 3-0 victory and 0-0 draw against the Netherlands in April.
England Women's Under-23 squad
Goalkeepers: Fran Bentley (Bristol City), Emily Ramsey (Everton on loan from Manchester United), Kayla Rendell (Southampton)
Defenders: Asmita Ale (Tottenham Hotspur), Anouk Denton (University of Louisville), Jorja Fox (Brighton & Hove Albion on loan from Chelsea), Freya Gregory (Aston Villa), Maya Le Tissier (Manchester United), Poppy Pattinson (Brighton & Hove Albion), Mia Ross (Charlton Athletic), Kiera Skeels (Charlton Athletic)
Midfielders: Missy Bo Kearns (Liverpool), Laura Blindkilde Brown (Aston Villa), Grace Clinton (Everton), Mel Filis (West Ham), Ruby Grant (University of North Carolina), Molly Pike (Leicester City), Charlotte Wardlaw (Liverpool on loan from Chelsea)
Forwards: Angela Addison (Charlton Athletic), Ellie Brazil (Tottenham Hotspur), Jess Naz (Tottenham Hotspur), Shannon O'Brien (Leicester City), Katie Robinson (Brighton & Hove Albion)
England WU19s will look to emulate last year's achievement at the same age group when they begin qualifying for the 2023 UEFA Women's U-19 Euros.
The Young Lionesses under the guidance of Emma Coates will report on Sunday ahead of a three-match mini-tournament to be played in a round-robin format in Slovakia.
Last season's WU19s reached the summer finals in Czech Republic, achieving a 4-1 defeat of eventual runners-up Norway in the process.
The prize this time around should England finish in the top three in their first qualifying round group and then make it through a second round is a place in the eight-team finals in Belgium next June.
The first round of qualifying for the 2023 edition will begin in Group A4 against Slovenia next Wednesday at the Spišská Nová Ves Stadium with a 12pm kick-off local time (11am BST).
England will then meet the hosts Slovakia on Saturday 8 October at NTC Poprad, this time with a 5pm kick-off local time (4pm BST).
The group action will conclude on Tuesday 11 October against Denmark back at Spišská Nová Ves Stadium with a 2pm kick-off local time (1pm BST).
England Women's Under-19 squad
Goalkeepers: Khiara Keating (Manchester City), Natalia Negri (Crystal Palace)
Defenders: Katie Dungate (Chelsea), Naomi Layzell (Bristol City), Olivia McLoughlin (Aston Villa), Lucy Parry (Hibernian on loan from Liverpool), Evie Rabjohn (Aston Villa), Hannah Silcock (Liverpool), Jessica Simpson (Burnley – dual contract with Manchester United)
Midfielders: Elysia Boddy (Bristol City), Shauna Guyatt (Crystal Palace), Alex Hennessy (West Ham United), Halle Houssein (West Ham United), Grace Palmer (Lewes), Mackenzie Smith (Nottingham Forest – dual contract with Leicester City)
Forwards: Keira Barry (Derby County – dual contract with Manchester United), Mia Enderby (Sheffield United), Freya Godfrey (Ipswich Town – dual contract with Arsenal), Freya Jupp (De Paul University), Emma Thompson (Lewes on loan from Chelsea)
The WU17s will begin their attempt to qualify for the 2023 UEFA European Under-17 Championship in Estonia next month.
Under the guidance of head coach Natalie Henderson, the Young Lionesses will travel to Tallinn on Tuesday for three first-round matches against Ukraine, the hosts and Denmark. A top-three finish in the group, which will be played on a round-robin basis, would take them through to the second round and keep alive hopes of making it to the summer finals which will also be played in the Baltic nation.
Estonia are taking part in qualifying, despite their guaranteed place in the tournament. The hosts will be England's second opponents on 10 October at Lilleküla Stadium with kick-off at 6pm local time, 4pm BST. The Young Lionesses will start against Ukraine at Kadrioru Stadium on 7 October (kick-off 2.30pm local, 12.30pm BST) and finish their campaign against Denmark in the same venue on 13 October 2022 (2.30pm local, 12.30pm BST)
England Women's Under-17 squad
Goalkeepers: Katie Cox (Chelsea), Sophia Poor (Leicester City)
Defenders: Daisy Hind (Chelsea), Scarlett Kagalwala (Chelsea), Grace Nascimento (Aston Villa), Lucy Newell (West Bromwich Albion), Katie Reid (Arsenal), Mari Ward (Bristol City)
Midfielders: Lola Brown (Chelsea), Maddie Earl (Arsenal), Laila Harbert (Arsenal), Lola Nesbeth (Chelsea), Lexi Potter (Chelsea), Zara Shaw (Liverpool)
Forwards: Michelle Agyemang (Arsenal), Ava Baker (Leicester City), Araya Dennis (Arsenal), Vivienne Lia (Arsenal), Ruby Seaby (Arsenal), Ruby-Rae Tucker (Aston Villa)