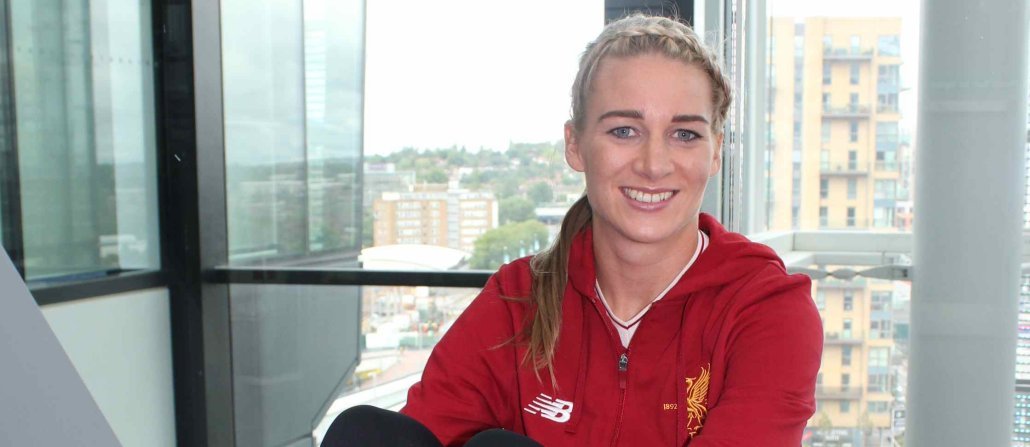 The big kick off for the FA Women's Super League is just around the corner, with 20 teams competing across FA WSL1 and 2 in the new winter format. Key players from every club came together to meet the media at Wembley Stadium in London and we muscled our way in there too. Here is our latest interview, this time with Liverpool defender Gemma Bonner…
Gemma Bonner signed for Liverpool from Chelsea in 2012 and captained the Reds to two FAWSL 1 titles in the seasons that followed. An England player too, she is known as the kind of skipper who leads by example both on and off the pitch.
SK: So Gemma, how's pre-season going?
GB: It's been good for us, we've been in a while now, everyone has been working hard but we're excited for the first game. Obviously we've got Everton, so as soon as we found that out everyone has been really excited and ready for it.
SK: What's been the hardest part?
GB: It's always been tough. It's important that you go through that though, in terms of mental and physical toughness. We are in a better place than when we finished the Spring Series and that was the aim.
SK: Anyone in particular looking good?
GB: Everyone has come back in and you can see they've worked hard over the summer. We've had players at the Euros who have all done brilliantly with their country and we're now refreshed and ready to go.
SK: What's your squad number and why?
GB: No.5. I was first No.5 at Chelsea when I signed for them and when I changed to Liverpool it was offered to me so since then it's always been my number. I've been at the club for five years now and it's stuck with me. It's a number I've experienced a lot of success in, so it's a fun number for me.
SK: Have you bought any boots or shinnys?
GB: No, I'm privileged enough to get my boots given to me. I wear Nike. I don't have to worry about things like that, probably one of the few players that doesn't, so for me I'm lucky that I get given the things I need to go out and perform on the pitch and can concentrate on that.
SK: Do you have a team huddle at Liverpool and, if so, what is said?
GB: Yes always before we start and again at half time. It's more in terms of the management staff have said what they need to and now it's down to us on the pitch to execute the game plan that's been given to us.
SK: It will be a winter league this time, what will you do to keep warm?
GB: We're used to it living in England, summer doesn't last very long. I like to have my woolly hat when it comes to it and the gloves, they always come out. There's not many of us that wear them but I've always got cold hands and I love to be warm and I like to be prepared. You can always take things off but you can't put them on if you don't have them!
SK: What is your favourite time to play a match?
GB: Probably in the evening. You can relax during the day and also look forward to the game, I think the atmosphere in the evening games for me is probably better.
SK: Can you hear the fans when you play and is there a song or chant you listen out for?
GB: Yes, at Liverpool we've got a great following. There's a big group that follow us home and away and you can always hear them in the stands singing and we're lucky because they make every game feel like a home game and they've even got a song for every player and for us that's massive.
SK: How are you feeling about the big kick-off?
GB: Excited. Every year it gets better and better. The competition you're playing against is improving and as players you want to be playing against the best players week-in, week-out and we're lucky now that we've got a league and we've built it up and that the best players from all around the world come over and want to play in it.
Interview and image by Catherine Etoe
The FA Women's Super League season kicks-off on 22-24 September. For more information on both leagues and to buy tickets, visit: www.FAWSL.com. Follow the games live on BT Sport, BBC Online and The FA's WSL Facebook page as well as live commentary on BBC Radio 5 Live.