Cardiff Met have been crowned Orchard Welsh Premier Women's League Champions for 2017/18, following a 1-0 win away to Llandudno.
Sunday 22nd April
ORCHARD WELSH WOMEN'S PREMIER LEAGUE
Caernarfon Town 1-0 Caldicot Town
Cardiff City FC 1-2 Port Talbot Town
Cyncoed 2-1 Abergavenny
Llandudno 0-1 Cardiff Met
Rhyl 1-5 Swansea City
Met make Europe
Cardiff Met won the title for a fifth time after a fifteenth victory in seventeen league games.
Naomi Clipson gave them the best possible start with a fourth-minute goal but Rebecca Elliott repeatedly denied the Archers.
Llandudno later had two goals disallowed, leaving Louisha Doran and Charlotte Jones disappointed.
The Archers can now look forward to playing in the UEFA Women's Champions League next August.
Beynon hat-trick helps Swans home
Second-placed Swansea City ran out 5-1 winners at Rhyl, after getting an equally early goal as Jodie Passmore latched onto a lofted though ball from Alicia Powe to curl home.
It was 2-0 after only 6 minutes as Katy Hosford netted the rebound from an Emma Beynon effort.
Beynon scored herself from a Passmore delivery but the hosts pulled one back from a Tonicha Dickens' free-kick before the break, goalkeeper Kate Brisland only able to help it into the net.
Ellie Lake followed up her own free-kick to make it 4-1 and Beynon completed her hat-trick off a Hosford corner.
Cyncoed recover from own-goal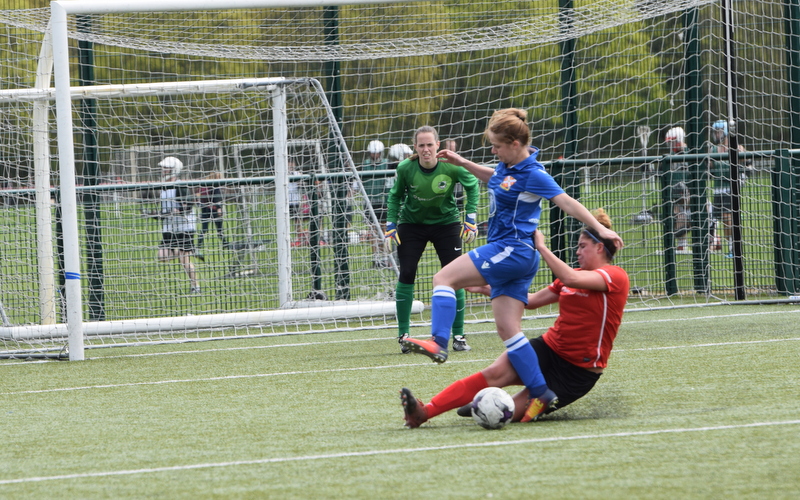 Cyncoed edged Abergavenny 2-1 in the meeting of the clubs in third and fourth place respectively.
Abergavenny were given an own-goal head start but the Mighty Oaks soon replied and followed that up with a second-half winner.
Late fightback brings Port Talbot three points
Port Talbot Town completed their fixtures by winning 2-1 at Cardiff City FC to go level on points with their fifth-placed hosts.
They were behind by half-time as City's Shannon Evans latched onto a through ball before chipping keeper Bethan Ellis.
Laura-May Walkley's back post finish from a Lauren Amor corner brought them level on 75 minutes and there was then injury time drama as Walkley bundled in a header.
Caernarfon win basement battle
Caernarfon Town got off the mark with the only goal of the game against Caldicot Town.
Catrin Thomas struck in the second half to end a run of fourteen league defeats since promotion.
The result moved them off the bottom of the table at Caldicot's expense.
MIDWEEK FIXTURES
Weds 25 Apr – Caldicot Town v Abergavenny, Rhyl v Caernarfon Town
Thurs 26 Apr – Cyncoed v Cardiff Met
Fri 27 Apr – Cardiff City FC v Swansea City