The 2nd Edition of the Women's Football Yearbook is now available & it's back with more colour pics & packed with more facts: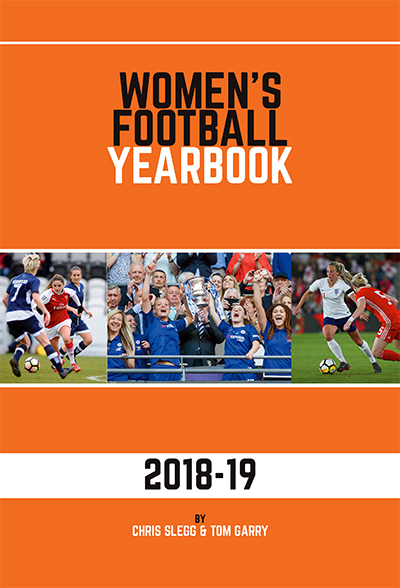 Edited by Chris Slegg & Tom Garry, the 2018/19 edition, is published by Legends Publishing and it's 450 pages are rammed full of information and stats and tucked within a reassuring hardback cover.
A commentary on the key events in Women's Football during the year is followed by detailed listings and analysis of the results and achievements of each of the clubs in the FA Women's Super League, FA Women's Championship and FA Women's National Leagues. These are interspersed with interviews with key players and staff from the clubs.
If you want a record of what has passed in recent seasons – and given the WSL restructure, the series of events surrounding the Eniola Aluko/Mark Sampson/FA affair and game-changing developments across the sport this information is better than your memory! – and a handy reference about the general timeline of the women's game in the UK and beyond, then there really isn't anything else like it in print!
The book also contains a review and analysis of England's International 2017/18 season plus results from all the major cup competitions in the domestic game:
FA Cup
WSL Continental Cup
WPL Cup
WPL Plate
County Cups
The Women's Football Yearbook is available for £19.99 from Legends Publishing  https://www.legendspublishing.net/