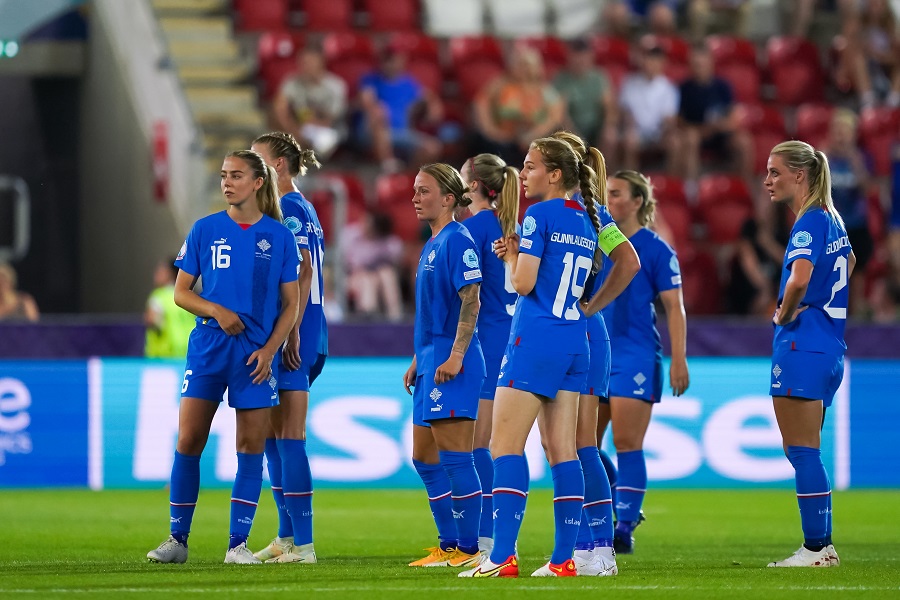 Monday night brought the conclusion to Iceland's UEFA Women's EURO 2022, a tournament of promising moments for the 'dóttirs', but ultimately, an agonising near miss. An unusual Group D scenario meant that they were set to reach the last eight at one point with a 1-0 defeat and just two points, with Belgium and Italy drawing 0-0. Tine De Caigny's goal for the Belgians then meant that it had to be a win against France if Iceland were to prevail.
Melvine Malard's first-minute strike was a nightmare start, though it would be the only goal that France came up with on the night, despite twice more thinking that they had scored, only for VAR reviews to go in Iceland's favour. Icelandic support dominated amongst the 7,392 in Rotherham, and the loudest cheer of the night arrived with the award of a stoppage-time penalty following a pitchside VAR review, with the volume cranked another notch when West Ham United midfielder Dagný Brynjarsdóttir slammed home a perfect spot kick.
With that 102nd-minute goal came the final whistle, leaving Iceland devastated, but with every reason to look back with full hearts, and ahead with energy and optimism, as a chance of World Cup qualification waits in the wings. Here were the thoughts from a number of their players, with a cameo also from one of the WSL names in the French squad…
France & West Ham defender Hawa Cissoko
On how she is taking to the experience of a first major tournament:
I'm really enjoying it, it's really exciting. It's the first tournament for me with the first team, because I played a EURO with the Under-19s, so it's the first time for me playing a big competition with the seniors. I'm just excited and happy to be here.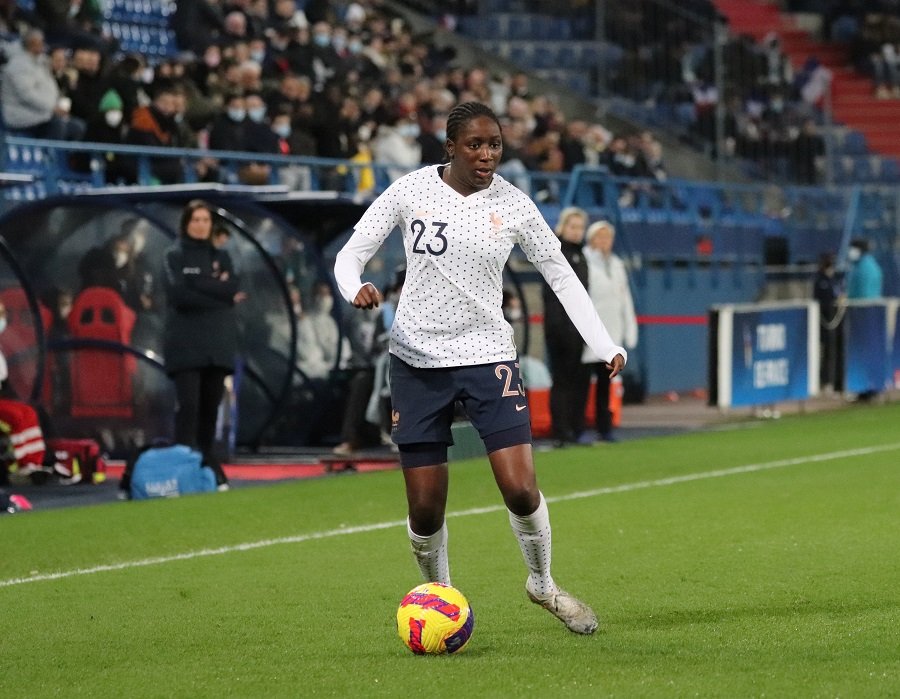 On the mood in the changing room after the game, as France go on to the quarter-final against the Netherlands:
A bit calm, because before the game, we were already qualified. We celebrated more against Belgium than today, and we were a bit disappointed to concede a goal in the last minute of the game. But, we're still happy!
On whether having the tournament in England, where she plays for West Ham, makes her feel 'at home':
Not right now (in Rotherham), but maybe I will when we will be in the final, in London!
Iceland & Selfoss defender Sif Atladóttir:
First and foremost, I'm really proud of the team. To be able to get a draw against France, and at certain points having the goal chances to finish the game, I think the team did really well, and we were well prepared against a really strong France team. At the moment, a little bitter, getting the draw but not being able to qualify, but I'm proud of the team and I'm proud of the effort that I think every player has put in.
On what was said after the final whistle from coach Þorsteinn Halldórsson:
Just 'keep your head up'. We went undefeated in the tournament and that's huge for us, from the small island of Iceland. He's just proud of the team and the effort. It didn't go like we wanted this year, but we're undefeated, and it gives us a good start to the fall season, so we will take that. We'll be bitter tonight, and then afterwards, I think we'll be really, really proud of what we did.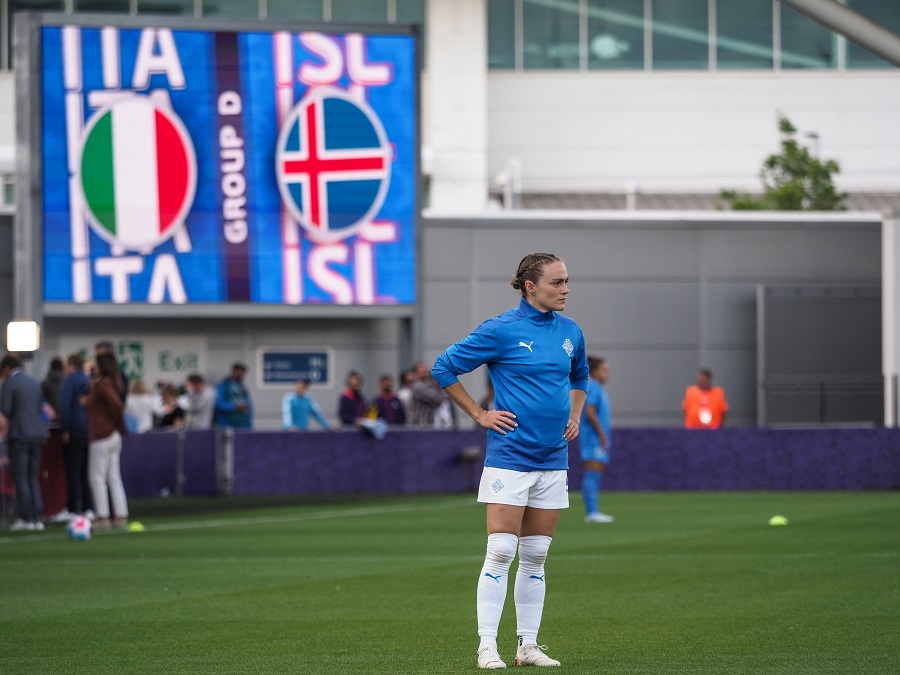 On progress since EURO 2017 – does it feel a stronger Iceland team than five years ago?
Definitely. I think it has a lot to do with our younger kids. We are more prepared to play in tournaments like this, we have players in bigger stadiums, bigger teams, and everything prepares them for these kinds of tournaments. So, I think five years from now, it's going to be amazing to watch these kids grow, and see them being older players and how their development is going to be.
On whether it lights the fire to jump straight into their final World Cup qualifying games, or if some time is needed to process it:
I think we'll get a couple of weeks off, but our season in Iceland is still going, so my focus is going to be there (with Selfoss), and of course, if I play well there, I'm hoping to get picked for the fall season with the national team. We have two games left still to qualify and I'm going to do my best to still be in the squad – I'm not done yet!
On what she will take away from this summer and her career's fourth tournament. Has she been able to stop and take it all in?
Definitely, and I think that's a huge step forward from five years ago. We're on a journey; the destination is never just the one stop. I think for me personally, I was able to just walk out on the field and look up in the stands, and be a part of the atmosphere today, instead of having to laser focus on something. I think that comes with being older and knowing that it's not long until you have to hang your cleats up, so at the moment, I'm just enjoying being here and taking everything in, and having the best supporters in the world, I guess.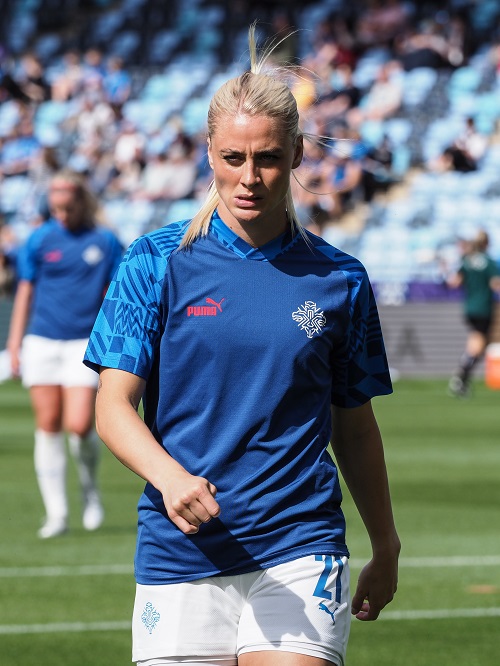 Iceland & SK Brann forward Svava Rós Guðmundsdóttir:
Yeah, it's hard to describe the emotions. I'm really sad, we were so close to it, and we absolutely did our best. It's sad that it wasn't enough.
On what was said among the group at the end:
Just that we kept on fighting and we didn't stop. That was kind of the thing that we were trying, to keep our head up, but like I said, it wasn't enough, and it sucks.
On whether it helps to have the World Cup qualifiers just around the corner:
Yeah, of course. We have a project now that we have to just focus on. Our goal is to go to the World Cup, so that's just what we're going to focus on right now.
On what the tournament has been like to be part of:
It's been amazing. I'm really happy to be a part of the team; these girls, they're great. I'm so happy to be here and to have been through this with them.
Iceland & Valur goalkeeper Sandra Sigurðardóttir:
It's heavy right now, but I'm really proud of my team and how we played. We got chances and we did really well defensively, but we should have scored, and it's tough.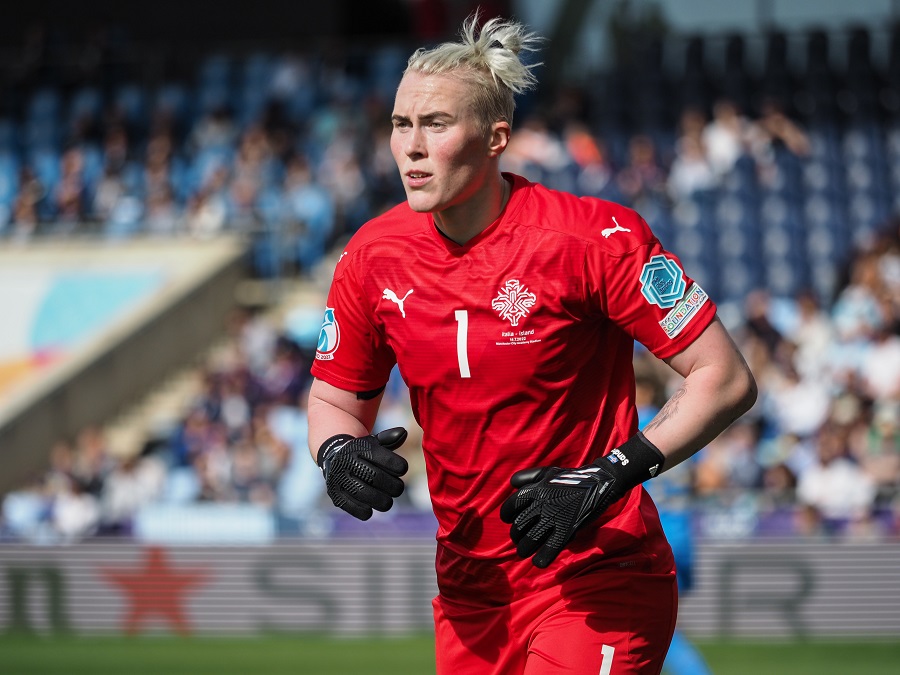 On the experience of being the starting goalkeeper at her fourth tournament:
Yeah, it's always an honour to go to a tournament like this. This is my fourth time, the first time that I played, so it was new. It's getting bigger every year, and it's just awesome to see how women's football is getting bigger.
On having the chance very soon to reach another tournament, with the World Cup qualifiers:
Yeah, I think we can use the momentum of the team right now, what we did here, and build on that, and hopefully, we will just go straight through to the World Cup.
Iceland & Orlando Pride midfielder Gunnhildur 'Gunny' Yrsa Jónsdóttir:
It did feel close. It's hard, we got scored on in the first minute, and that's always hard to come back from, but it just shows the strength that this team has, coming back against one of the best teams in the world and drawing 1-1. It's a good result but it didn't take us through. We didn't lose in the group, so it's kind of hard not going through. Yeah, it didn't go our way this time, and it's hard when you have to depend on other teams for results.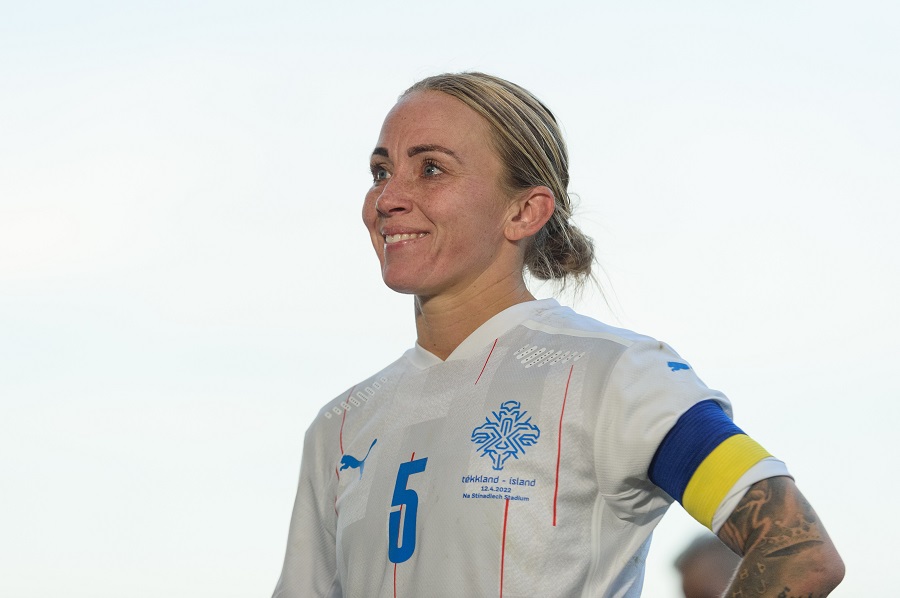 On what the message was about where to try and get success against France:
Just be patient and they would open up; the spaces in between their lines could sometimes get big and we're in behind. They have fast players, great defensively and attacking, so we just knew we needed to be patient and that it's possible. At the end of the day, you just need to believe and trust yourself and trust the process. That's what happened today and we almost scored from a shot outside the box too, so it could have gone either way.
On what she takes from the experience of this tournament, her second EUROs:
I think I'm just grateful being part of this team; it's an amazing team. I haven't been the luckiest with injuries and stuff, so for me, it was just enjoying being here and enjoying being with my teammates. Just trying to get results and make history, I guess.
Iceland & Bayern Munich defender Glódís Perla Viggósdóttir:
On the overriding feelings:
It's so mixed. I feel very disappointed that we're not going through and we're not staying here longer, because I think we deserve to, but at the same time, we had some misses and we should have finished it in one of our first two games. So, disappointed, but extremely proud of the team. I think we've done an amazing tournament, we can walk away from it very proud. It's so good to see our fans with us the whole time, they give us the extra energy, and it's nice to be from a small country with such a big heart. I think we showed that this tournament.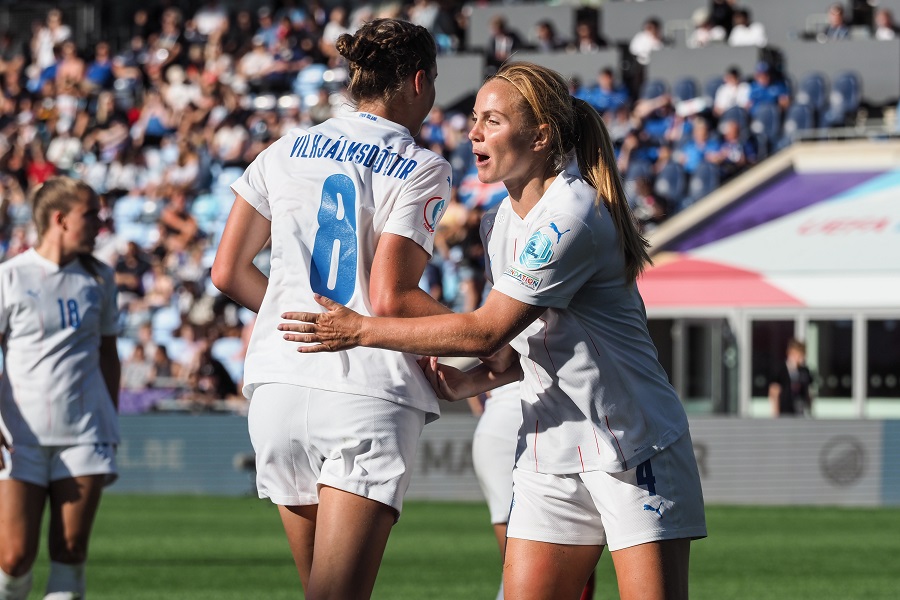 On whether it feels another step on from 2017, when they also went out in the group but with no points:
Yeah, I think definitely. I don't think we were really close in 2017, we never really got our game going properly; we defended a lot but our attacking wasn't the best, whereas this tournament, I think we're definitely taking a step forward. I think we have a very bright future for this team if we keep going in this direction.
On further progress for the Icelandic women's game and the impact of having more and more players at big clubs:
Obviously it helps, because it means that we're playing these games many times a year. It makes these games not as big in the whole, grand scheme of things, so you're more used to the pressure and the fans and everything. The pace of the game as well is something that you're used to when you play every week. So, I really hope that we continue on this journey where more and more Icelandic players are going abroad to play, and get a spot on the big teams, because it makes a big difference for a small nation like ours. We don't have the most to choose from, so we need to make the best of what we have.
Iceland & SK Brann forward Berglind Björg Þorvaldsdóttir:
Frustrated. Sad. A lot of emotions. We did really good in all of those games, and we had chances that we would have scored from usually. So, yeah, it's not a good feeling.
On whether she can take heart from the trust in her to be the starting striker, having played a much smaller part in 2017:
Yeah, first of all, I just appreciate that they gave me that chance. Overall, I think I did okay, so I'm pleased with my performance, but now I'm just upset that we didn't get through.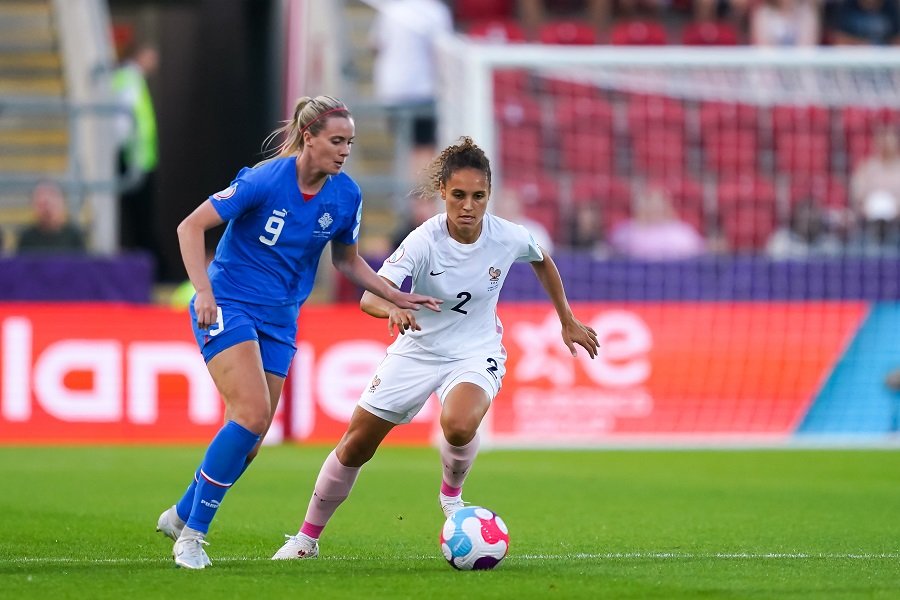 On whether it is a comfort to have the chance of World Cup qualification relatively soon:
Yeah, for sure, and the coach, he said straight after the game, we can be sad tonight, then we are meeting again in like five weeks. Then we have the game against the Netherlands and we're going to just keep building on what we did today, and then I'm sure we're going to go to the World Cup.
On how she has enjoyed the experience in England this month:
Yeah, I love England. I really, really like the culture and everything here. Really happy.
Iceland & Wolfsburg forward Sveindís Jane Jónsdóttir:
Just…sad and disappointed. After this game, we played well, we had really good defence and good moments in this game, against a strong France team. So, we can be happy with the end result today, but overall, we're just gutted.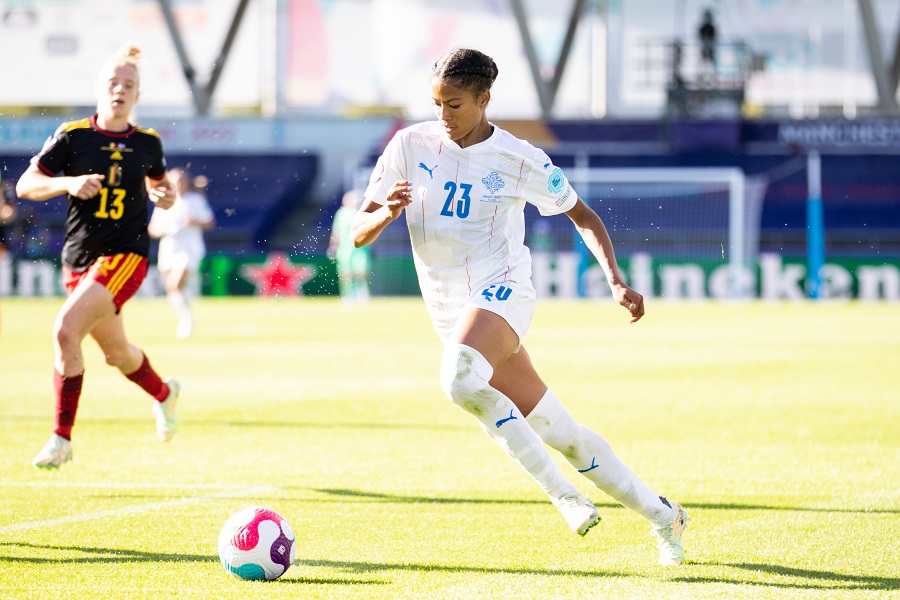 On if she feels that testing herself in a first major tournament has given her something valuable:
Yeah, definitely. Just this tournament, I gained a lot of experience. Also, this year with Wolfsburg, I really see much improvement in my game, and hopefully, I just get better.
On how she has enjoyed her time in England:
Yeah, amazing; really sad that we have to leave. It has really been much fun. It has been a long time with the national team now. I want it to be longer, but nothing we can do about it now.
Interviews by @chris_brookes