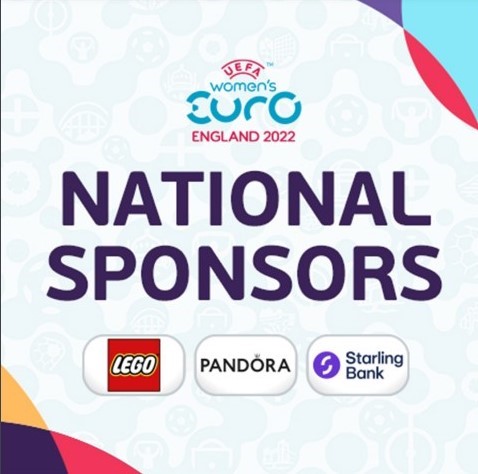 UEFA and The FA have announced three new national partners for Women's EURO 2022; LEGO Group, Pandora and Starling Bank.
The partnership announcement comes just two days before the tournament's final draw, live on BBC One from 4.30pm on 28 October, with the public ballot for tickets opening that evening.
The competition's partnership with the LEGO Group forms part of the company's ongoing commitment to champion girls who rebuild the world through creative problem solving and their 'Ready for Girls' campaign, celebrating girls who rebuild the story of old-fashioned gender norms.
The partnership with Pandora is aligned to their mission of giving a voice to people's loves and passions, highlighting the vital role team sport can play in equipping young people with self-confidence and a sense of identity.
Starling Bank has been named the official national banking partner for the UEFA Women's EURO 2022 and as part of it's involvement, the four-times winner of Britain's Best Bank, will showcase its commitment to health & wellbeing, empowerment and equality.
Guy-Laurent Epstein, Director of Marketing at UEFA, said: "We are delighted to have the LEGO Group, Pandora and Starling Bank join us as the first national partners of UEFA Women's EURO 2022. The addition of these three major brands is further proof of the scale of this event and our ambition to make it the biggest women's European sport event ever. It is important for us to have partners on board who share the same values, working together collectively to deliver what is set to be a record breaking tournament that further grows the women's game."
Regional League Round-Up: Blackpool Ladies and Helston both go top