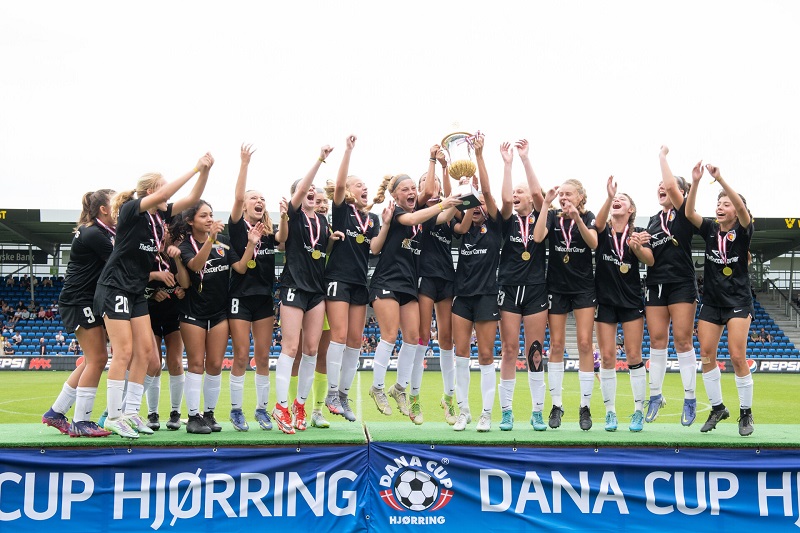 We would like to officially invite you and your club to celebrate our 40th Anniversary Tournament next summer.
Each summer, more than 1000 teams make their way to Northern Denmark to participate in a mind-blowing youth football event. The Dana Cup Hjørring – uniting the youth of the world to experience their passion for football, respect, unity, equality, friendships and much more.
* Join 1000 teams from 45 nations
* For an amazing youth football experience
* Youth development
* Building your team spirit
* All games on the most amazing green grass fields
* Denmark's largest sporting event
* One of the top-ranked youth tournaments in the world
* 20,000 participants playing in international groups
* Kilometers of beautiful sandy beaches close by
* A fantastic organization with top-class personal customer service
* Memories for the rest of your life
Boys: B18-19, B17, B16, B15, B14 and B13 (11:11)
Boys: B16, B14, B12 and B11 (7:7)
Girls: G18-19, G17, G16, G15, G14 and G13 (11:11)
Girls: G16, G14 and G12 (7:7)
Dana Cup has welcomed 347 teams from 94 different clubs throughout England since the start in 1982, including some top-class girls' clubs. Dana Cup Hjørring is definitely the place to be next summer if you're looking for a quality tournament that promises you fantastic football matches on lush green fields and good times together with your team mates.
For tournament prices, e-mail us at soccer@danacup.dk
Join us & the Dana Cup Family 24-29 July 2023 – Register here today!