Around 4,000 fans watched Southampton FC Women make their debut at St. Mary's last January against Championship opposition in the 4th Round of the Women's FA Cup. Marieanne Spacey-Cale's side lost out 4-1 to Coventry United on that occasion but it was surely a valuable experience for an ambitious and impressive programme.
One year on and one level higher in the pyramid, the Saints are relishing another opportunity to test themselves against a Tier 2 team at the same stage of the competition as they welcome sixth-placed Bristol City to the club's main stadium on Sunday.
Although they are understandably the underdogs, Southampton do have several players with international experience and Spacey-Cale is excited not only about the opportunity for her side to grow and have a go but also the prospect of showcasing the quality of football at Tier 3 level.
We had a quick chat with their amiable manager, who is herself of course no stranger to cup successes as a star forward with Friends of Fulham, Arsenal and Fulham… 
SK: There was a great turn out of c.4000 fans last time you played at St. Mary's, what are you hoping for on Sunday?
MSC: I think we are currently on about 2000 tickets sold, in advance. We want that to creep up and get a few more in. We'd like to get close to the Coventry crowd. Good pre-sales and excited to see what it would look like on Sunday with the supporters in the stadium.
SK: There has been good support from sponsors as well, we see one of them is offering a free main course with a match ticket for Sunday at some of their local restaurants. What would you order at Friday's?
MSC: Nothing sweet. I'm off sweets, I'm off sugar. But I'm sure anything on the menu, if it's Fridays will be absolutely delicious!
SK: What will the vibe be like in the build-up to kick-off in the changing rooms and will you set the tone or will it be the players?
MSC: I think there has to be a balance, I think as a coach, you've got to ensure that there isn't the overexcitement but you want them to still be excited, so it's getting that balance. To be fair, the players will have their music on, they'll be sat chatting, they walk the pitch and do the usual stuff. But then when they come back into the dressing room – the games that we've had previously – there's this sudden shift, once they walk back into the dressing room, it's 'business time now', job to do. You'll have a couple of like louder ones, a couple of really quiet ones and then it's just assessing the dressing room and ensuring that the last few words that you say as a coach, have an impact and are the right words to say. Either bringing them up if it's too quiet, bringing them down if they're too loud, but they're quite self-regulated so, hopefully it'll just be a case on Sunday of, "Go and enjoy the experience, go and enjoy the the chance that we've got in this game."
SK: The two consecutive wins against South Coast Derby rivals Portsmouth before Christmas must have been pretty big for the team and galvanising the squad, how do they set you up for games like this and for the rest of the season?
MSC: You look at those games and you go right, 'what have we learned?' How does that help us prepare for what's next?' And the FA Cup game [3rd Round] against Portsmouth was really close, really tight, both teams had opportunities to win it. It was building that mental resilience, as well as the physical robustness to be able to compete for the full-time and extra-time and still be in a position to feel strong enough for the players to take penalties.
So the learning that you get from those games is important because you then transfer that into anything in the future. And then in the league game, it's a slightly different pressure because the points are so important, in that it's the marathon part of the season and to not perform very well   at Fratton Park but to come away with the three points, was a testament to how these players have grown.
SK: You've got a lot of experience in the squad. How important will that be coming up against a team like Bristol?
MSC: It's going to be vital. We've got some really experienced players but we've got some real youthful exuberance as well. So I think the balance [in the squad] is really good. Because the experience will be able to keep them in check on the pitch, when the youthful exuberance will be like 'let's fly everywhere, let's play 90 minutes in the first 10 minutes'. So I think there's the importance of having that experience but then the youthful exuberance when you need that little step up as a player with no fear thinking, 'I'm just going to go and try something', that might be a moment in the game that you need.
SK: What is it about your side that leads you to believe that you can get a good result on Sunday?
MSC: What do you define as a good result? It's a tough, tough game. It's a real challenge. And we want to challenge ourselves against full-time opposition. Lauren's [Smith] done really well with them in the Championship, they're progressing up the table and they're performing and playing some really good football.
So a good result for us is that we actually perform and don't get overawed by the occasion, being at St. Mary's, it being the FA Cup, being against a Championship team. We just have to ensure that we are preparing the best way we can. A good result for me on Sunday is that we perform and we showcase what we're about and who we are. And if the result goes our way, then it's because we've performed and we've earned it. If we can perform in a way that we find a way to win, great! But if we perform and the team in front of us are better than us, then we'll learn from it and we'll grow.
It's an exciting place to be because we're not expected to win. So we can have that that element of, 'Yeah, bring it on,' and let's see where we're at, what we're learning and how we're growing as a group, and what can this group achieve?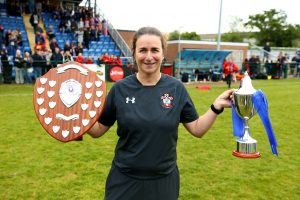 SK: So it's a great benchmark for the rest of the season and beyond?
MSC: Yeah, definitely and I think it's a real showcase for the level of football at Tier 3. Our league, the Northern league, they're very strong and there's some really strong teams in both those leagues that are playing in the cup on Sunday and will showcase the strength of this league, the ability, talent and teams in there that are all capable of playing higher anyway.
SK: That's a fantastic point, because there's the danger that there will be some top heavy scorelines but that can't overlook the development that's going on throughout the pyramid?
MSC: Yeah, definitely. The FA Cup, in the men's game, the women's game, you're going to get top heavy scores. But what we've got to focus on is how much of the gap is being closed in certain areas of the leagues. So if that's what this weekend showcases then, to me, that's a win.
Vitality #WomensFACup: Sell-out crowd for Bridgwater v Man Utd