Just a bit of the post match reaction from Chelsea's hugely impressive and enjoyable 3-0 first leg win against Swedish side Rosengård at a buzzing Kingsmeadow Stadium on a chilly Wednesday evening. Fran Kirby opened the scoring in a first half in which Chelsea peppered the opposition's goal but were frequently thwarted by good 'keeping and poor finishing. Ramona Bachmann and Gill Flaherty added second half strikes to put their side in a very strong position ahead of the return match in Malmo, next Wednesday…
Chelsea Manager Emma Hayes
On whether after the victory she feels confident about progressing further in the competition:
I think I can be more confident than prior to the game. It's still half time but the 3-0, scored again in another game, I feel  confident we're going to score in every game we play in and if we do that away from home then I think it will be really difficult for them to get back into the tie.
On how impressive her side look defensively:
It's the minimum standard. For us, goals are the bonus. Clean sheets are what we pride ourselves on and you can see that. There was a period for 15 minutes in the second half where they had a lot of set pieces but we dealt with it but I thought there was some wonderful play from us. We had 20 shots in the first half and I was disappointed that we came in 1-0 at half time and credit to Music because she kept them in the game but we kept our patience and I think we showed real composure on the ball.
On how they are playing entertaining, quick-moving, technically sound football:
We play as we train. That, to me, looked like a training performance from my team tonight. That, I expect that level of intensity in every day in training, so for us we're prepare for European opponents. I've made it very clear that to progress in this competition I have to have a big squad because I need to be able to train with that intensity and we're proving that with the squad that we have – yes, I have to keep my dressing room happy – that we can now progress through the latter stages, as a result of it.
On players coming into the team and putting on excellent displays, like Crystal Dunn:
Yeah, Crystal Dunn is a little terrier. She'll go up and down all day. She's a winner, as we know. Tenacious in her performance, did a good job both sides of the ball and fully prepared for what I was asking of her. She's getting back to full fitness, has taken a bit of time to do that and she justified her selection in the side tonight.
On the good position the club are in (improving UEFA rankings) and going forward:
Two years ago this wouldn't have been a result that was thinkable for us, I mean we've tried to emulate clubs like Rosengard in terms of the big, stalwarts in European competition. The fact that coming into this game they called themselves the under dog just shows you how the game in England is growing and how far it's going. I think it's a real credit to the investment the club's put into what we're doing. The league as a whole is preparing us even better now that we're in a winter season to compete against the best teams, including Rosengard.
Swiss Forward Ramona Bachmann was again brilliant. She was making her 50th appearance in the UWCL and also scored the second and decisive goal (give the team had been under pressure for 15-20 mins at the start of the second half) against her former club.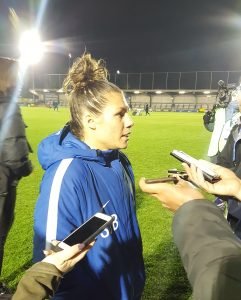 On her goal:
For me it was nice to score. I haven't scored for a while, have had some good performance and some assists but as a forward it's always nice to get a goal.
Enjoying playing with Fran and other attacking players:
I really enjoy it a lot. We find. Each other really well. It's all about going on the pitch and having fun. We enjoy playing and that's why our performances are so good at the moment.
Having been part of a team that's won UWCL before (Wolfsburg), on whether there is the same feeling with this Chelsea side:
I am confident that we have the quality to win it but it's still a really far way for us to go and it is important to keep being confident but not arrogant and take it game for game and not looking too far ahead.
One of our strengths is the depth in our squad. We can switch from game to game, we can put in players from the bench and that's what's going to help us win titles.