Having been narrowly denied a place within the newly formed Women's Championship, on the back of the FA's recent re-structure, Derby County Ladies FC could have been forgiven for embarking on a period of reflection and consolidation; however their reaction to the setback has drawn praise from many quarters within the game, with the launch of their much acclaimed Football Journalism scholarship programme in partnership with Derby University being the latest positive since they received the news at the end of May. Club CEO, Duncan Gibb takes up the story.
"Our bid submission fully reflected our journey to that point and where we were at as a club and most importantly it was honest. For us getting that right was actually more important than the outcome. Ultimately the FA's panel were the only people that saw every clubs submission, so our view was that those that received the green light, were simply further down their evolution path than we were. There was never going to an appeal and we were nothing other than magnanimous in accepting the result and congratulating those that secured licences."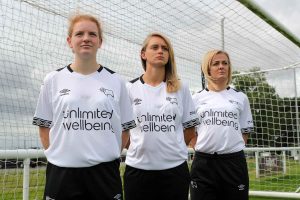 "I think that resonated well with the FA, who in the eyes of some, were very brave in naming us 'Premier League Club of the Year' less than a week later at the annual FA Awards. We knew our bid was strong and that was communicated to us both at the awards and subsequently by key people within the female game. For us, nothing's changed in that we will continue to develop as a club, in order to put ourselves not only in the best possible position of promotion to the Championship either via league position or subsequent application, but to have the necessary stability to stay there and push on once we get there.
In terms of the Football Journalism scholarship programme with Derby University, successful scholar / player applicants will be afforded the unique opportunity to report, present, write and commentate on the world of football through a course that cannot be found anywhere else in the UK at undergraduate level..
On the back of meeting both footballing and educational criteria, three female scholars will secure full scholarships over the three-year period of the course, with £27,750 worth of fees being fully funded by the university, in addition to reduced accommodation fees. As part of the initiative, students will also play for the University of Derby Women's side who themselves earned promotion last season.
In the current pilot season of the partnership with the university, Olivia Fox was signed by Ewe Rams from Gillingham. According to Fox, 18, the combination of both the club and courses respective and collective reputations made for an easy choice. "The facilities at the University and support network for students are outstanding, with scholars on the football journalism course exposed to each of the various facets of the associated media. On top of that Derby County Ladies train at the main clubs Moor Farm Tier 1 training academy under the guidance of a number of UEFA A and B licence qualified coaches, whilst the first team have already played at Pride Park stadium this season."
In terms of that game, a National League record attendance of 2,109 witnessed Ewe Rams defeat local rivals Nottingham Forest, which according to Gibb represented just reward on the back of delivering every facet of an ambitious five year plan set back in 2013, which included the establishing of a formalised link to the local university.
 "When I joined the club back in 2013, we set out a pretty ambitious five-year strategy plan aimed at getting ourselves to the stage where we could not only progress to the next level but, equally importantly, retain that status once achieved. This project was one of several partnerships integral to our bid to stabilise at the top end of women's football. Once established it should provide us with three high-standard players, or players with potential on an annual basis, who should be able to slot seamlessly into our seniors squads immediately."
"We are hopeful of attracting players ideally, but not necessarily currently operating at WSL or Championship level, who will view the securing of a full scholarship on the Football Journalism course as a real opportunity for them to progress a full-time career within the industry, while continuing to develop as players at one of the most progressive and ambitious women's clubs in the country.
Peter Lansley, senior lecturer on the Football Journalism course, said: "One of our aims at the University of Derby is to help as many women journalists as possible enjoy studying with us. We're striving to redress the gender imbalance in sports reporting – recent research indicates that only 1.8 per cent of sports bylines in national newspapers were women's. We believe the scholarships, alongside our course, will give more women the platform they need to develop into the world of sports journalism while also driving up standards of women's football at the university and supporting our local club's bid for FA Women's Championship status."
The course has been widely lauded, emphasized with visits and interviews with Gareth Southgate, Nigel Clough, Tony Pulis and Jacqui Oatley that provides only a glimpse of the professionalism the course offers. It was voted as the best of the university's 300 programmes.
Furthermore, all of this experience is available without tuition fees if players can prove skilful enough to strengthen an impressive Derby County Ladies team and bright enough to embark on the course.
The ability to play, report and breathe football is awaiting up to three selected scholars.
For more details, visit:
https://www.derby.ac.uk/undergraduate/journalism-courses/football-journalism-scholarships/
https://derbycountyladies.co.uk/ewe-rams-move-into-second-with-win-over-vixens/
Why not visit University of Derby for an open day on Wednesday 14th November or Saturday 8th December? Mention 'SheKicks' on the day to senior lecturer Peter Lansley and you could  be in with the chance of getting a free Derby County Ladies shirt.