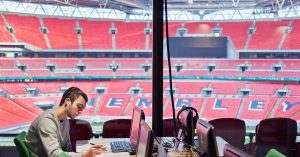 She Kicks has teamed up with UCFB to offer aspiring football writers at the university, the opportunity to have their stories published in industry-leading magazines.
The UCFB sports journalism competition offers their students the opportunity to showcase their writing skills. However, great journalism isn't just about the ability to write but also communicating a story in a clear, concise and engaging way. Judges will be looking for stories that are informative, structured, with hard-hitting or eye-catching top lines and utilise gathered quotes in the best way possible.
Entrants are asked to submit their story covering one of the three following areas:
Women in football;
Women's football;
Football business.
Stories can cross over multiple areas, and must be no more than 400 words in length. Each story must also include fresh quotes. Submissions over the word count will be disqualified.
Prizes:
The winning student from each UCFB campus will win a three-month voluntary student internship with the UCFB Marketing team, as well as have the opportunity to have their work published in She Kicks Magazine and on the She Kicks and FC Business websites;
12-month free subscription to FC Business magazine;
The chance to interview a leading guest speaker thanks to UCFB's partnership with the League Managers Association;
The top five entrants from each campus will also have their stories published on the UCFB website, with a by-line, and given coverage on UCFB's various social media channels.
The competition allows entrants the chance to flex their journalistic muscle, come up with new ideas about the listed subjects and use their creative flair to tell the most engaging story possible. Most importantly, it is a way of building your portfolio to prove your abilities to future employers.
To enter, UCFB students should email their news story to marketing@ucfb.com. The closing date for all entries is Sunday 13th October 2019.