The last round of group games at a major tournament means last chance saloon for some. Previously there was always another game to rescue themselves but by game three it's now or never, meaning the inevitable highs and lows. We saw it with England and Mexico on Sunday and there was no shortage of drama yesterday either.
Here we are then, the end of the group stages at the FIFA Under-20s Women's World Cup and the end of my time in Brittany. The main point of the trip, supporting or Young Lionesses, had already concluded but there were still two games to see in one final trip to the lovely town of Dinan.
A bit of time before the games allowed an opportunity to explore some more of this amazing place so I headed down into the valley to the river-side. A steep and narrow cobbled street takes you past little art galleries until you arrive down at the river where there are cafes out onto the street and moorings for a few boats. A couple of FFF flags flying from the Mercure across the water suggested this was the French team hotel and indeed as I climbed back up into town a trio in French tracksuits passed in the other direction, no doubt unwinding after their fine win the day prior. I understand this was also the England base for the last few days and really they couldn't have picked anywhere more idyllic as a setting.

There was football to be seen through so it was on to the stadium and first up was Spain against USA, two teams I hadn't seen before which made for an interesting match. I sit near what I expect to be the vocal American supporters who are somewhat subdued for much of the first half, trailing two nil and needing a win to progress. Around the hour mark a few of their fans finally come to life and started chanting "I believe that we will win". I have to say I wasn't a believer. Having witnessed England's stunning comeback the day before I should have known better. About ten minutes to go and the US get their first. The "USA! USA!" chants start up. About two minutes to go and they hit their second. They couldn't, could they? Well… no. The comeback falls just short and the Spanish bench rush onto the pitch at the final whistle to celebrate their Quarter-Final place.
A great game, a group of ecstatic winners and a group of distraught losers who head over to be consoled by their families.
It's an hour between games and there's not much to do but a roving band has been keeping the atmosphere up at each game and soon the Nigerian and Chinese players are out to warm-up. It's pretty much the same equation this time around – China need a win to go through, Nigeria need not to lose. 

I take up a position near some Nigerians who aren't vast in number but more than make up for it in passion and general jolliness, happily chatting to anyone and everyone and converting them to Nigeria fans for the afternoon. I'm more than happy to oblige.
Spain play the winners of this game in the Quarter-Finals so their players all gradually filter into the stands to watch the first half, some with their families but three take up a position across the aisle from me. They're promptly mobbed by that day's group of school children sat towards the front of the stand who all want autographs. The Spanish lasses very patiently sign away for ten minutes or so before finally getting chance to tuck into their pasta which has probably long since gone cold. They head off at half time and I'm not sure how much of the game they actually saw to be honest.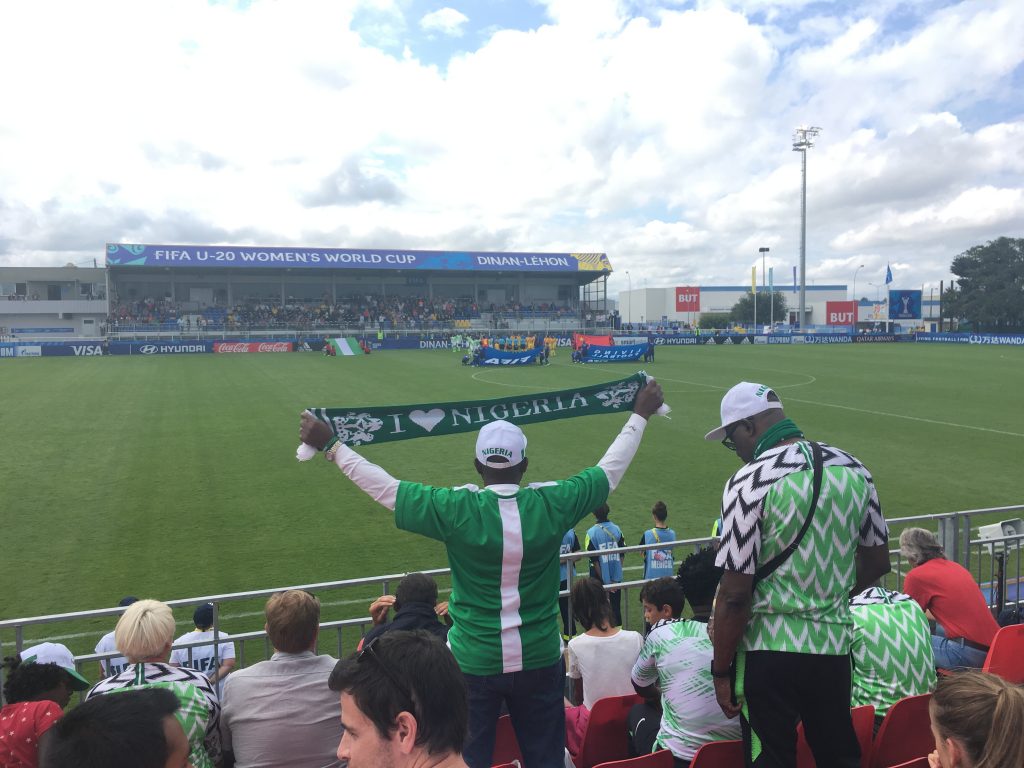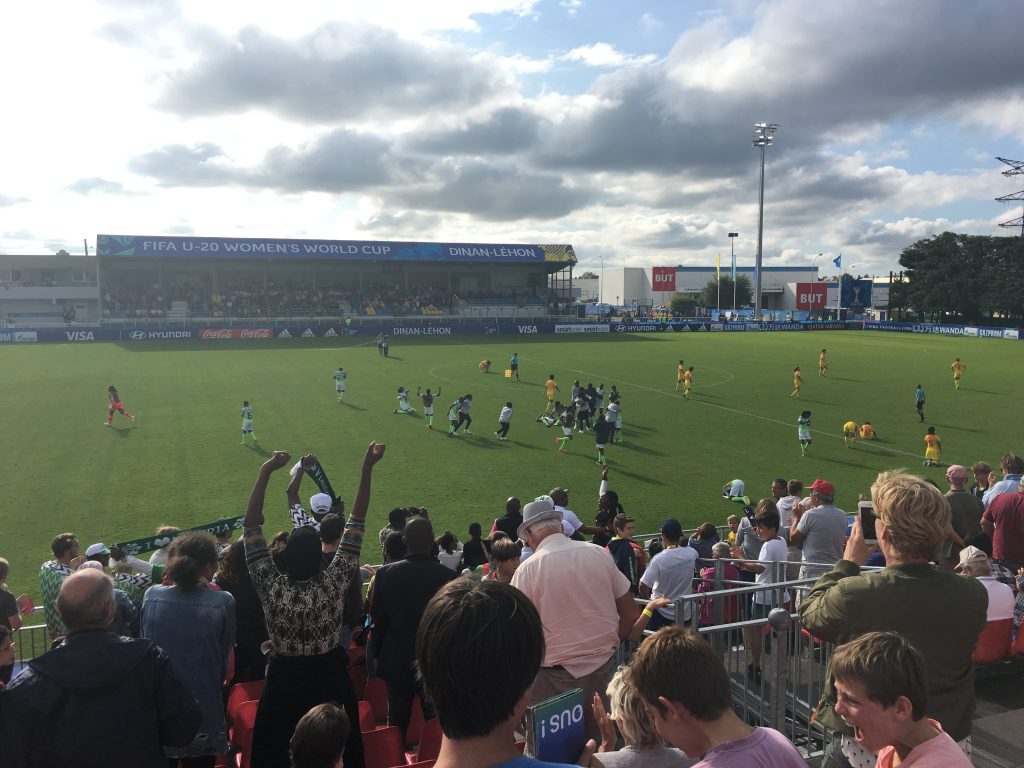 It's one nil to China meanwhile meaning they are heading through as we enter stoppage time. Nigeria win a corner and their fans, who have multiplied in number, all stand up. The corner comes to nothing but they all stay standing sensing something is about to happen. It does. The Nigerians in the stands and on the pitch go wild and a minute later the Chinese slump to their knees as the final whistle goes. Group D had finally come to life in the last couple of minutes. Another group of ecstatic winners and another group of distraught losers. Such a cruel way to lose and such a great way to win. The Nigerians celebrate before heading to console the Chinese players. Football's more than just a sport.
A great way to end the trip then but ultimately it's time to head home. It's been a great week and a bit over here and I'm both excited for what our Young Lionesses are capable of achieving and to head home for the start of the new season.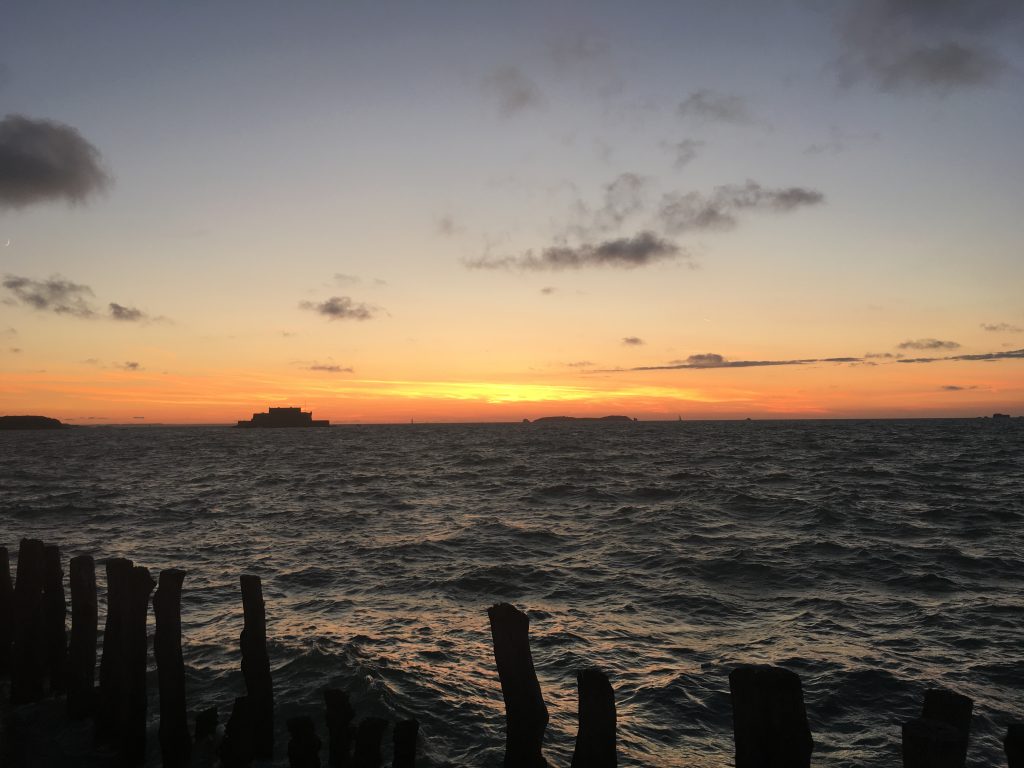 It's been a privilege and a joy following this England team during their three games. Thank you to all the family, friends and fellow supporters who made watching the games so fun and memorable. Many bought one way tickets out to Brittany and are here for the duration, many head back to England to make the return trip on Friday. Absolute dedication.
So back to the original question. What's it like attending a youth World Cup? The spectacle isn't quite as big as a senior tournament, as you'd expect. There's no shortage of football or entertainment though and, as ever, it's the people who really make it what it is.
Massive luck to our Young Lionesses as they continue their journey in Brittany. I've confidence they'll be here for a good while yet.
Looking back on when we first met. / I cannot escape and I cannot forget. / Football's coming home again.