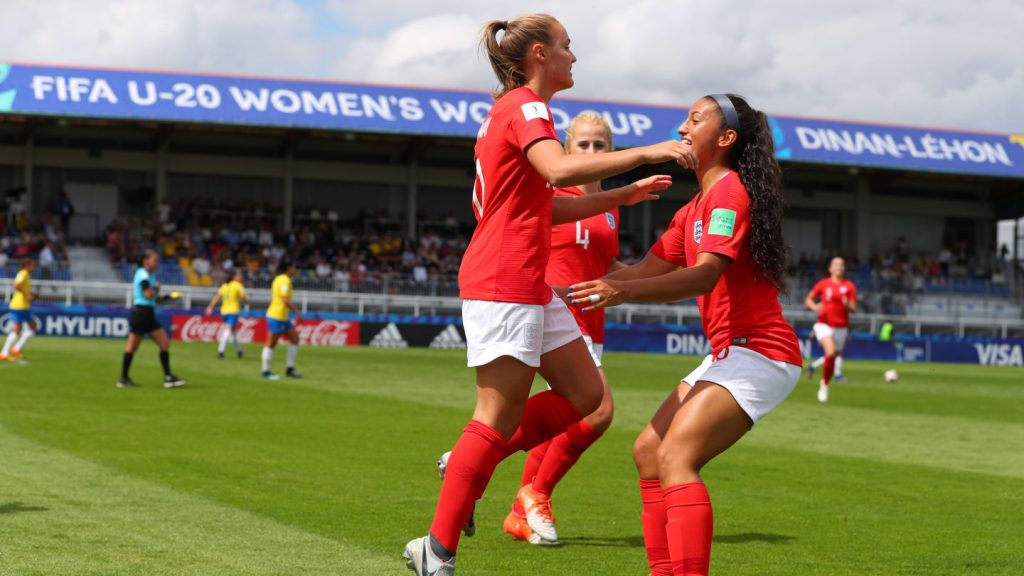 England goal scorer Georgia Stanway says Wednesday's 1-1 draw with Brazil "feels like a loss" but believes her and her team mates will view the result in a different light upon reflection reports RICH LAVERTY, from Dinan.
Stanway's 11th minute penalty, her second goal of the tournament, looked to have given England the three points and almost certain qualification until Ariadina Borges's stoppage time equaliser salvaged a point for Brazil.
"There are positives to take," said Stanway. "We've come away feeling like we've lost but when you think about it they had the most chances, they had more of the ball but before the opening game if you'd said we'd get four points from two games we'd have taken that."
The points tally leaves England still in a strong position heading into Sunday's clash with Mexico and team mate Chloe Peplow agrees that they can view the first two matches as an overall success.
"Definitely," said the Brighton midfielder, who put in another commanding performance. "Before the World Cup if you'd said we'd come here and beat Korea and draw with Brazil we'd have taken it.
"It's frustrating because we've thrown away three points at the end which would probably have secured us qualification but we won't complain with what we've got."
England put in a monumental shift throughout the 90 minutes, throwing bodies on the line and producing block after block to deny Brazil of any meaningful attempts on goal.
"It was hard for 90 minutes," said Peplow. "Brazil were resilient and they kept coming at us but obviously it's disappointing to concede when we did."
Peplow was responsible for winning the penalty that Stanway took when Tainara grabbed hold of her in the 10th minute, and she says the team were making the referee aware of what was going on.
"She had her arm around me so I let the ref know about that. We made the ref aware of the first one on Anna [Patten] too, we've been told to do that and it paid off today."
Stanway meanwhile isn't dwelling on her goal or any potential shot at the golden boot, the Manchester City midfielder is merely focusing on the final game against Mexico on Sunday in Saint-Malo.
"Sunday won't be easy and we'll look at what Mexico do today," she said. "We can be down about it but we'll make sure we bounce back. It feels like a defeat now but in a few hours we'll realise what we've achieved.
"We had a setback conceding against Korea and bounced straight back. This bounce back may just be a little bit more delayed. We're in a good place and a good environment, we'll keep doing what we're doing."