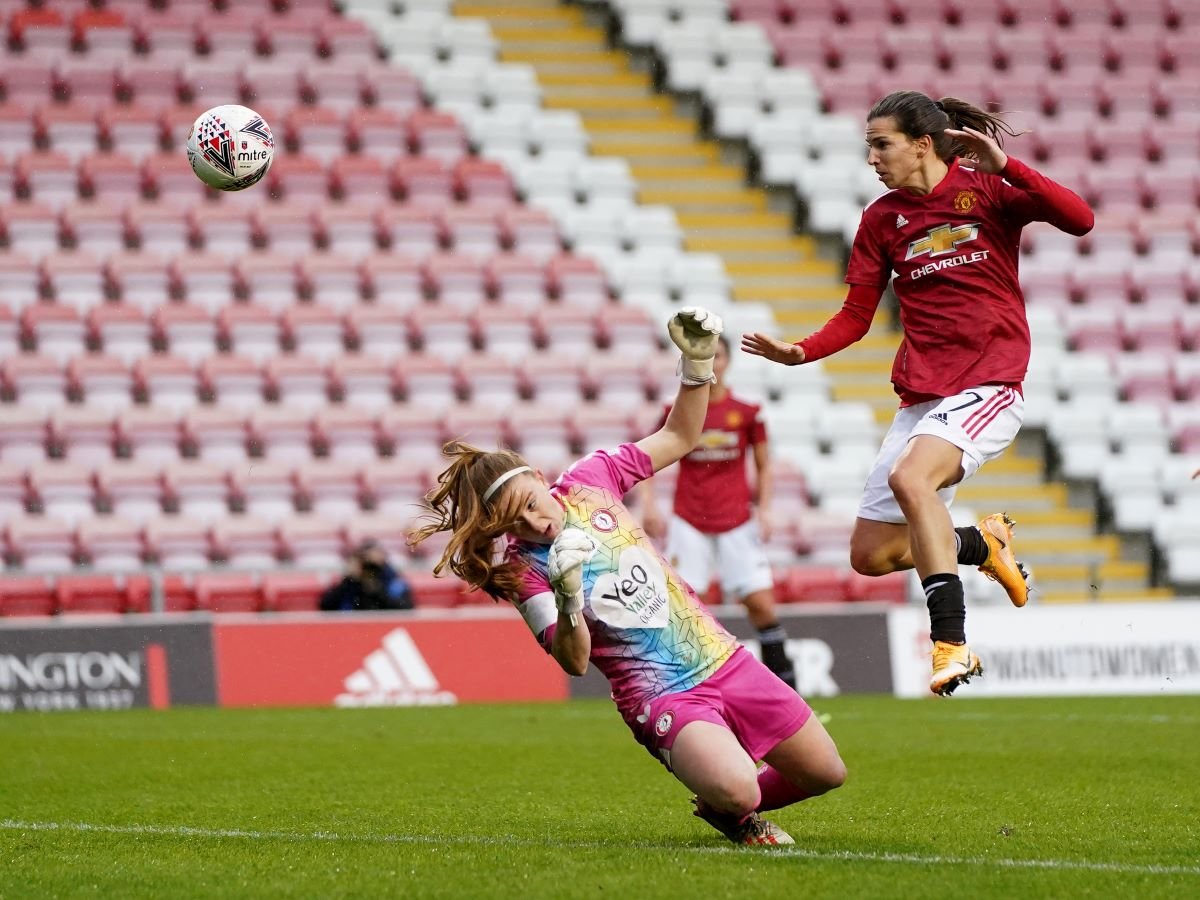 Tobin Heath spoke to The Official Manchester United Podcast ahead of the club's popular virtual fan event, #ILOVEUNITED.
Below are extracts from the interview with the US World Cup winning star, courtesy of #ILOVEUNITED US/ UTD Podcast.
On hearing about Manchester United starting a women's team:
"Manchester United's team is obviously relatively young, and I remember reading that they had a women's team and I had actually told my teammate, this is a gamechanger, such a massive club coming into the league is such a signal about the game over here and the change and the growth. That really interested me and it's been a really fun time learning about the league and the way the badge is over here, is just immense."
On how the move to Manchester United came about:
"Moving overseas is big no matter what but moving overseas during a pandemic just adds a whole other layer onto things when there is so much uncertainty in the world, and I had to trust and have a lot of faith that this was where I was supposed to be. I had a really good feeling about it, I had asked around a bit and had heard some really good things, positive things that I wanted to hear as a player in terms of aligned with who I am and the type of ambition I have."
Conversations with Casey Stoney before signing:
"Casey was just straight to the point, like "This is who we are, this is what we want to do, this is how I feel like you can contribute". I come from a place that is very blue collar, you put your head down and you get to work, and that's one of the fundamentals of how I am as a professional. I'm very dedicated to my craft and I've never felt like I've arrived; I don't want to be treated any differently than a young player or a player that hasn't had the chances that I've had  to develop. I want to come in with those same bright eyes to learn and to grow, and I felt like when I spoke to her it wasn't, "We're going to do this for you, we're going to do that for you", it was, "This is the team, this is how we are, this is how you can fit in", and I really liked and respected that.
Reception when arriving:
"The dressing room here is just incredible, the players, from day one Christen and I just looked at each other and said "This is super special", we had never experienced anything like the feeling that we had and the reception that we had from the players and staff, and that's a really nice feeling to have when you've just moved your entire life to a different place."
Being a mentor to young players:
"I do believe in teaching and helping, I don't want a player to go down a path that I've seen before that I know doesn't work or when I see something where you can do better. I love encouraging my teammates, I love seeing them do something well for the first time and seeing them evolve. Even in my short time here, I've seen so many players evolve so much, which is such a cool feeling, when you're older I think you enjoy it more. For me, I always watched and studied the older players that I admired because I wanted to be just as successful, if not more, and I hope people are taking those little bits and enjoying that time."
Football influences as a youngster:
"The player that I always say is Ronaldinho, that's the player I looked up to. For me, football was supposed to look and feel a certain way and he demonstrated that kind of feeling that I always wanted to have on the pitch and the way I wanted to entertain as well. I gravitated more to South American style of football but I was also heavily influenced by the European game just because of where I'm from."
On setbacks in her career:
"I don't really look at things as finite. I always say setbacks are set ups for comebacks and honestly, I do think it helps develop perseverance and determination, having to struggle. I think struggling and resilience are such important characteristics for an athlete because you're choosing to play a sport where, if you've played as long as I have, you're going to have so many setbacks and if you want to have a long and successful career, you're going to have to learn to really persevere and change your perspective of things. If you can actually switch your mindset to looking at the positives and looking at your development from a difference lens, it's extremely powerful and you get to see the game from a different perspective.
On the bond with USWNT teammates:
"Some of these players, I have been playing with since I was twelve-years-old and you've grown up with them and seen them evolve as people and footballers which is really special. The experiences we've been through together, the major wins, the major losses, it really feels so much like a family; I've spent more times with these people than my own family. It's just so deep those types of experiences and I'm lucky to have such incredible teammates, not only to play with, but who have supported me and vice versa, it is an incredible bond what sport does in terms of that."
You can listen to more of the interview on Sunday 28 February from 3pm, by visiting www.manutd.co.uk/iloveunited.