KAREN CARNEY: Coming of Age
(NB: Taken from Fair Game Women's Football Magazine, Issue 31, Nov, 2008 & it's amazing how much has been fufilled, like FA Cup wins with Birmingham, & turned out to be true…)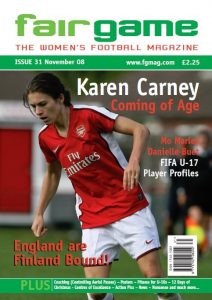 It is more than three years now since Karen Carney broke into the nation's consciousness with a stunning goal (and wild celebration) for England in the Euros.
Carney was just 17 and about to sit her A-Levels when she slammed home the winner against Finland in England's opening game at the City of Manchester Stadium.
A switch from her childhood side Birmingham to Arsenal followed, and since then, the young winger has become a European champion and graduated from the national player development centre at Loughborough University.
Add to that her elevation from England rookie to old hand – Kaz now has two major tournament qualification campaigns and a World Cup under her belt – and it has been a whirlwind few years.
Despite all the attention, however, the 21-year-old remains as grounded as the day she first pulled on a senior England shirt.
Here, the fans' favourite tells Fair Game's CATHERINE ETOE, how life is shaping up…

FG: So Karen, how's life at Arsenal this season?
KC: I am loving every minute of it. It's probably my best start and the happiest. I'm playing more regularly and playing a different role, on the left and with more freedom.

FG: Looking back, how would you say your first few seasons have gone?
KC: My first was unbelievable, winning the Quadruple. The second, I was starting to get involved more and learning to play the Arsenal way. This season I feel at home.

FG: What have been the highlights?
KC: The Quadruple and Uefa Cup. In the English league we are expected to win but for that we were never expected to win so it was a challenge. People say it was a fluke but it wasn't – we were deserved winners. 

FG Have those experiences helped your game?
KC: One of the reasons I left Birmingham was to play in Europe. Playing in those big games you can compare yourself to the rest of the European players. So it's been good, little parts of my game have improved, although I've still got a long way to go.

FG: Was Loughborough important in your development?
KC: I went when I was 16 and it put me on the map. I learnt how to train and get into the mentality of what it takes to be the best. It got me seen by Hope (Powell, England manager) and other coaches and I built my reputation there so it was a massive help.

FG: Do you have to do a lot of travelling now you play for Arsenal?
KC: Yes but Laura Bassett lives half an hour away from me so we take it in turns to drive to training in London twice a week and to games. My car has done a lot of miles but it's worthwhile because the training is superb. If it wasn't so good I would not go all that way but we really enjoy it.

FG: You were excellent against Czech Republic and Spain in England's Euro 2009 qualifiers, have you have matured into the squad now?
KC: I don't think I'm the young Kaz Carney anymore. At some point you have to grow up and I'm more outgoing now. I really enjoyed those games.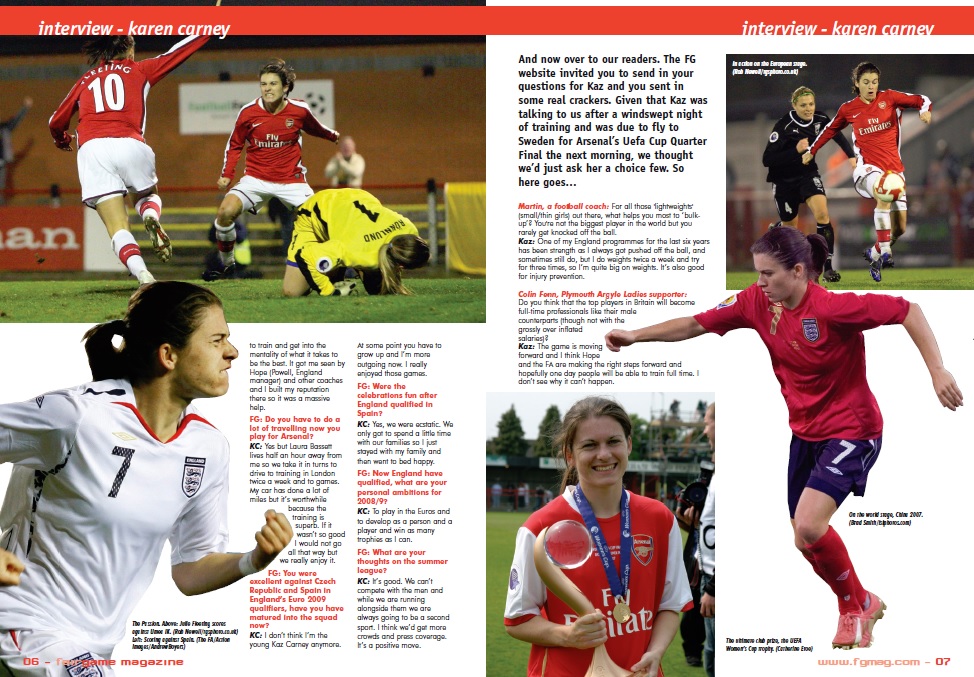 FG: Were the celebrations fun after England qualified in Spain?
KC: Yes, we were ecstatic. We only got to spend a little time with our families so I just stayed with my family and then went to bed happy.

FG: Now England have qualified, what are your personal ambitions for 2008/9?
KC: To play in the Euros and to develop as a person and a player and win as many trophies as I can.

FG: What are your thoughts on the summer league?
KC: It's good. We can't compete with the men and while we are running alongside them we are always going to be a second sport. I think we'd get more crowds and press coverage. It's a positive move.
And now over to our readers. The FG website invited you to send in your questions for Kaz and you sent in some real crackers. Given that Kaz was talking to us after a windswept night of training and was due to fly to Sweden for Arsenal's Uefa Cup Quarter Final the next morning, we thought we'd just ask her a choice few. So here goes…

Martin, a football coach: For all those 'lightweights' (small/thin girls) out there, what helps you most to 'bulkup'? You're not the biggest player in the world but you rarely get knocked off the ball.
Kaz: One of my England programmes for the last six years has been strength as I always got pushed off the ball, and sometimes still do, but I do weights twice a week and try for three times, so I'm quite big on weights. It's also good for injury prevention.
Colin Fenn, Plymouth Argyle Ladies supporter: Do you think that the top players in Britain will become full-time professionals like their male counterparts (though not with the grossly over inflated salaries)?
Kaz: The game is moving forward and I think Hope [Powell] and the FA are making the right steps forward and hopefully one day people will be able to train full time. I don't see why it can't happen.
Sylvain Jamet, France-based fan: In the game versus Lyon (that Iattended), you were the only one who seemed able to create an opening in the opposition defence with Kim Little being man-marked and unable to do any damage. Do you feel restricted to play on the wing on that kind of game when you could have more impact by playing centrally as a No10?
Kaz: At some point I would like to play the No10 role. I did as a kid but it's a very challenging role and there's a certain Kelly Smith playing there so I would rather stick with what I've got – maybe when she retires I can! The Lyon game was a bit all over the place so we'll forget that one.
Liz Wren, fan: I'd like to know if you ever get star struck and how you found the transition going from Birmingham to Arsenal and how it feels to wear the three lions badge!
Kaz: Yes, I'm a bit of a geek with certain people. I've been fortunate enough to meet a few sports people, like Pele, that was a bit like 'Woah!' I would like to see David Beckham. I've seen him train but I would like to meet him. I'd definitely be star struck then. When I left Birmingham it was difficult because that was my home team and all I ever knew. I was really comfortable but I was too comfortable. I needed to make my name somewhere else. It was difficult at first because if you didn't perform you had to accept you were on the bench, but I'm a better player for it. As for the three lions, it's amazing. Someone told me that you only borrow that shirt because there's always someone going to try and take it from you. So every time I put it on I look after it and I'm going to try and borrow it as much as I can.
Rachel, in Solihull: Who would be your ideal starting '10' to line up with if you could pick the team (past or present players, female or male)?
Kaz (without missing a beat):

Peter Schmeichel in goal (amazing)

Alex Scott right back (great player but she's my England room mate and I would get beaten up if I didn't say that – only kidding)

John Terry (for his passion) and Bobby Moore (legend) centre halves

Gael Clichy left back (he's fast going forward)

Elaine of Brazil centre mid (she's like a brick)

Beckham right mid (for his crosses and delivery)

Louisa Necib of Lyon centre mid (because I played against her since I was 15 and she's one of the most technical players I've played against)

Rachel Yankey on the wing (quick, no-one can beat her)

Kelly Smith and Marta up front (without a doubt)

And George Best…and Ronaldo on the subs bench!

FG: Sorry Kaz, but you haven't included yourself
Kaz: I'd never pick me!

Statto (obviously a Blues fan!): When are you coming back to Blues to fulfil your potential!!!?
Kaz: Oh, yes, Statto. Well, I always said I would return at some point, I don't know when. I would like to lift the FA Cup with them, but we'll have to see.
David Southern, fan: Is it true you have the best results in the Yoyo intermittent test for the England squad, and what's your best result?
Kaz: I don't think I am the best, Alex and Jill (Scott) are pretty strong. My best was before the Spain game, I was just behind them which isn't bad because they are ridiculously good at running. I can't remember what I got but I was quite chuffed.
Howard: Do you want to play pro football in the US and would you automatically come back to Arsenal after?
Kaz: Oh, I thought this might come up. Everyone would love to experience the American dream and pro league, you can't ever rule it out, but we'll leave it at that. I haven't gone yet so I can't really comment on those things, I'm still an Arsenal player.
PAGES FROM THE MAG...
FG Page 1

FG 4-8