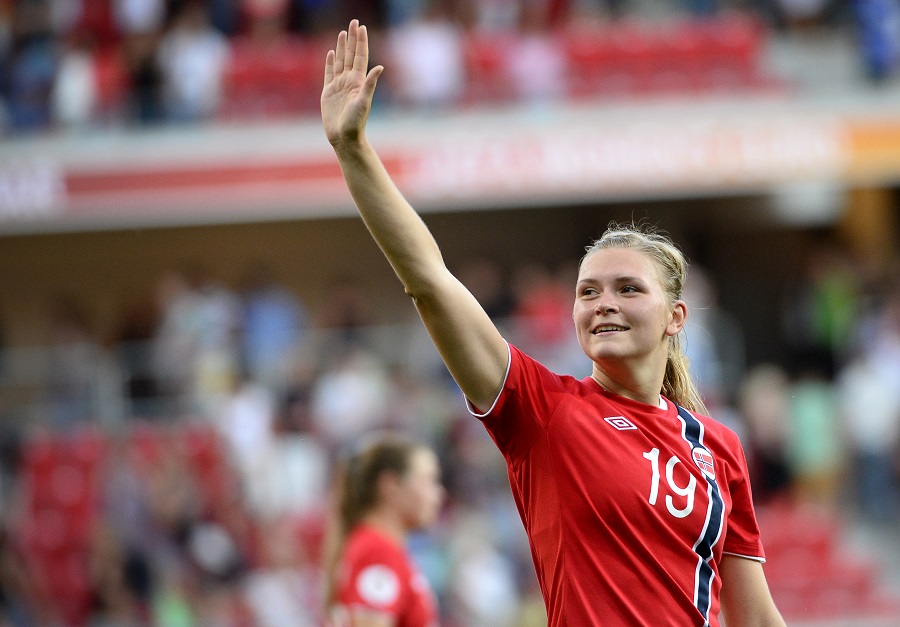 Tucked away in Norway's travelling party for UEFA Women's EURO 2022 is someone who has been both a match-winning scorer and a finalist at the tournament – but searching their squad list will not lead you to her.
For a fourth consecutive EUROs, she will represent her country, with a collaborative and supporting role again this summer to the likes of Ada Hegerberg and Caroline Graham Hansen. The distinction this time around, though, is that 64-cap midfielder Ingvild Isaksen is helping lead the team's media set-up.
"In the European Championship now, I have one person with me that is doing the press-handling, then I am doing all of the social media and content production," the former Juventus player explains. "I'm very excited (for the tournament); of course, there's a small part of me that wishes I was there as a player, but I really love my new part in the national team and I'm really looking forward to it."
There is indeed every reason to think she might have been out there in the action herself, had fortune been kinder. Her retirement was officially confirmed in February 2019, less than a fortnight after her 30th birthday.
It signalled closure, albeit heart-wrenching, after a recurring problem with her right knee.
"I tore my ACL and meniscus in 2014, I was out for 20 months and had three surgeries during that time. My ACL has been fine ever since but I had one surgery on my patella and one surgery on my meniscus.
"I was back for a year, and then the EUROs came in 2017 and I was actually injured the whole EUROs, that's why I didn't start the games, because my heel wasn't good, so I could barely walk on it, and that happened just before the EUROs. My last half-year in Juventus, I started getting more trouble with my knee and we found that we had to do the cartilage; we did that twice before we saw that we could not keep doing it.
"So, it was actually five surgeries on the same knee, but it was just one injury that never really healed."
Part of Norwegian midfields next to stalwarts Solveig Gulbrandsen and Ingvild Stensland, she was in the side that finished runners-up in Sweden at EURO 2013. In the final group game, the 24-year-old was the player to personally hand Germany their first defeat in the competition in 20 years, as her left-footed half-volley from the edge of the box deflected past Nadine Angerer.
They would meet again in the final, and though Norway's pedigree in the competition was considerable as two-time champions, they were facing a team who had won all of the previous five. Both Trine Rønning and the aforementioned Gulbrandsen were denied from the penalty spot by Angerer (ultimately solidifying her as FIFA World Player of the Year), either side of Anja Mittag's 49th-minute winner for Germany.
For Ingvild, who had started each game up until that point, it was a punishing day, even before the action had begun.
"I was so disappointed not starting the final, so I had to work so much with myself on that game, but I remember coming in, I maybe had 20 minutes, then I was just thinking 'I can be the game-changer, I can come in and do something', so you just have to believe you can make a difference for the team, even though you're so disappointed. That game, it's so hard for us to look back, because that was our best performance in the EUROs, but then we had two penalty kicks and we missed both of them.
"It's a very hard loss because we felt like we were so close. We'd played games against Germany before and we felt like we were so far off, but that game, we were really in the game."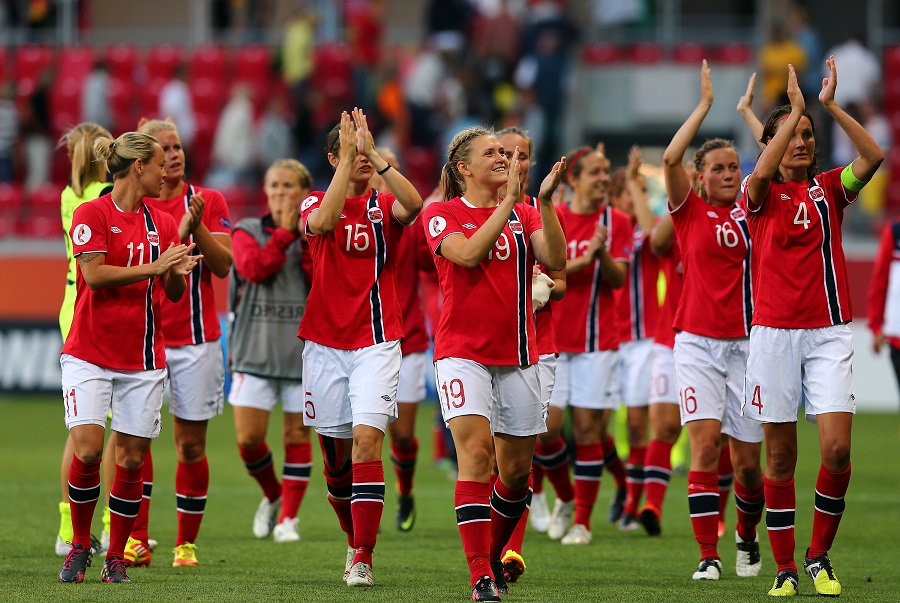 Along with current captain, Chelsea's Maren Mjelde, Lyon and Barcelona stars Ada Hegerberg and Caroline Graham Hansen are her remaining teammates, and indeed friends, from that tournament to be named in the squad this summer. In-house or otherwise, it is the media's role to document and illustrate what the players are living, but with the exception of former pros who have become pundits, there is always a degree of detachment between the two. A sense perhaps of 'you talk about what we go through, but do you really know?'
With Ingvild's natural habitat the pitch and the changing room, can she feel an advantageous layer of understanding in this role?
"It's very nice for me to know what they are going through, and to know the mechanics of being in a team and a locker room; it's making my job a lot easier. I think it was stranger for them to have me in a different role than it was for me.
"When I retired, I started working in the same way but in a club, where I hadn't played with a lot of those players. I got kind of used to my new role and working with players, so when I got into the national team and met former teammates, I was quite confident in my role, but I think that for some of them to be interviewed by me, it was quite strange.
"It was just like that one time and now things are very normal."
She laughs when asked if head coach Martin Sjögren is easier to work with now than when she was playing, crediting the Swede's easy-going nature. Feverish demand from national and international outlets has been the most challenging aspect.
"It's a lot more than when I was playing, and I think also just since the World Cup in 2019, it keeps getting more and more, but that's just so much fun for us. It's like we finally have this huge thing where so many people want to follow us, so it's good, but it's quite overwhelming."
It is all in startling contrast to her tournament debut, in the Finnish-hosted EURO 2009. Like eventual runners-up England, Norway reached the knockout phase as a 3rd-place team in their group.
They triumphed 3-1 in the quarter-final, against a Sweden team containing EURO 2022 names Hedvig Lindahl, Caroline Seger and Kosovare Asllani, before a defeat by the same score to Germany in the semis.
"I remember Sweden was our biggest opponent; as Norwegians, we always want to beat Sweden! There were such high expectations for Sweden, they had a lot of media coverage.
"We were not a favourite in that tournament, we barely had any spectators, and Norwegian media didn't even go to Finland. As I remember, when we beat Sweden in the quarter-finals, the Norwegian broadcasters were just like, 'Oh, maybe we should broadcast it on television.'
"Now, everything is broadcast, and people are fighting to have the rights, so it's a completely different world. We also felt from 2009 to 2013, it was a different world, and I think everyone is feeling that now; every time they go into a new championship, it's so much bigger than the last one.
"Having been there in 2009 and experienced how we came from nothing, now it's where we should be."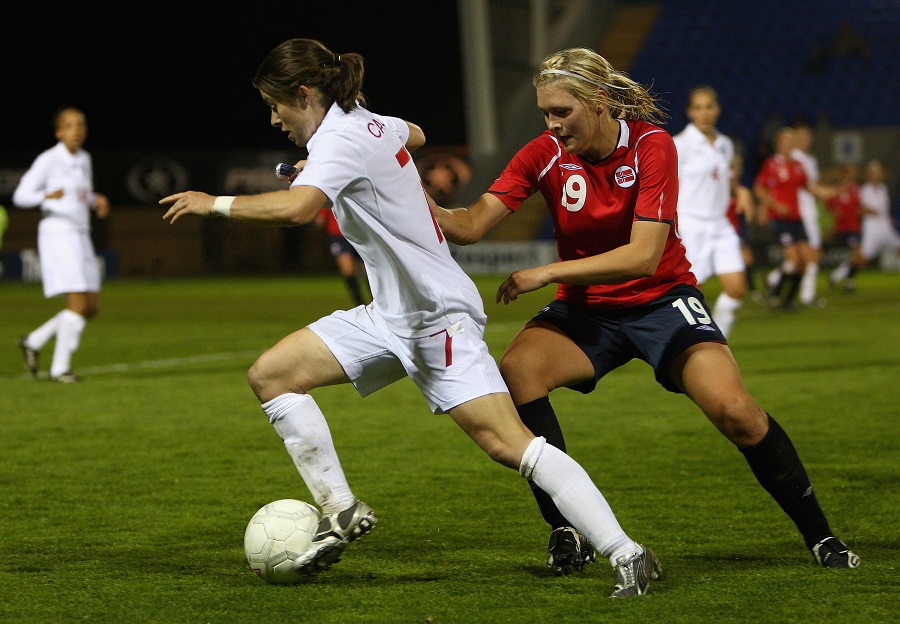 Circumstances can differ between nations, but numerous players in this summer's EUROs came from that same era, like Switzerland's Fabienne Humm, who set a new record for the fastest World Cup hat-trick (v Ecuador) in 2015, at a tournament where she was taking unpaid leave from work to be involved. Even as someone still comfortably at a 'playing age' today, Ingvild says she went through her entire career without the opportunity to dedicate her schedule exclusively to football.
"I think every footballer will feel this way but I feel like I just missed out on the good stuff. I retired just before it took off, but I think that people retiring this year will feel the same way, because it keeps building up.
"I've never been a full-time professional footballer without being concerned about economy. I studied for some time, so I have a bachelor's degree in sports psychology, then I did small jobs that were quite flexible, so I was a substitute teacher, football coach for Under-16 girls; I did small things where I didn't have to commit, but you could be flexible and take small hours when you were needed."
One school of thought is that some of the friendships made between players during those years of heightened sacrifice are especially watertight; without the validation of huge social-media followings, vast commercial endorsements and suchlike, the journey with those around you was all there was. Those bonds may remain after a career ends, but the day-to-day feeling of being in it together, working to achieve something as one, and simply getting to play the game you love, is often a painful thread to cut.
When you are forced to look on from the outside, it is easy to feel quickly forgotten, with an overwhelming sense of it all speeding along without you. To be chosen by your country for multiple tournaments and to compete in the Champions League are not run-of-the-mill achievements, but there is still an undeniable sense of loss that Ingvild has had to work through, for the way that it had to end.
"It was really hard and I can still sometimes feel it to this day. I'm very prepared going into the EUROs, but I know also that maybe I can come into the stadium and feel like 'oh…I should have been here.'"
"I was in Camp Nou when they had the first world-record attendance (for Barcelona v Real Madrid this year), and I really got goosebumps. I enjoy that we are at this point but I remember being in France (for the 2019 World Cup) and it was quite hard to be there.
"I was also working as a football expert on television, and it was fine until maybe (Norway) won against Australia in the penalty shootout; 'oh my God, I should have been there.' I retired in the February, so I was supposed to go to that World Cup.
"It's been overall quite difficult, but every time I go into a new situation, I can get some emotions that are quite hard, but then the next time, it's okay. I'm also satisfied with where I am today in my new role.
"It's been a transition to go from being a football player to being in an office, but I'm happy that I can still be in football, because I know football, I love football, and to also keep building women's football, I'm very happy with that."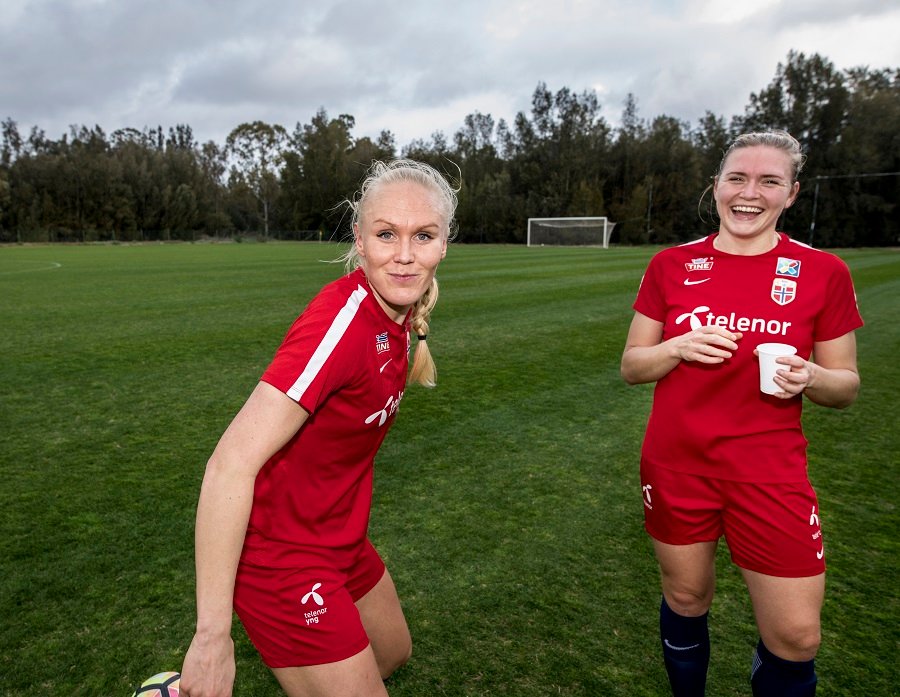 Biking has become a new favourite, as a way to still push herself physically without harming her knee. She also remains part of the coaching (and content) team at FC Oslo, a club with a third-tier women's and fourth-tier men's team, and an ethos of inclusivity and empowerment.
Ingvild's work with the Norwegian Football Federation (Norges Fotballforbund), meanwhile, continues an encouraging theme, where it is not only coaching-specific roles that prominent ex-internationals are taking up. Now overseeing NFF's youth section, World Cup winner and former captain Heidi Støre has long been a senior management figure for their women's game, while ex-striker and Olympic gold medallist Ragnhild Gulbrandsen holds an administrative position, and Lise Klaveness is the federation's president.
Ingvild has also been taking joy in seeing old teammates thriving on the pitch, one of whom is Manchester United captain Katie Zelem.
"She was my closest person in Juventus, so I was with her a lot. She's a fireball, she has so much energy, so much personality, and I think as a football player, she's so smart.
"It's so fun to see her succeed in Manchester United. I think she's done really well."
Their time in Turin also gave Ingvild an introduction to advanced English – Oldham style!
"I think Katie adapted a little bit, talking to us, but I remember her family being in Italy, and I didn't understand her dad at all! I was struggling so much; you're just trying to read lips and listen at the same time!
"Katie was fine, but sometimes she'd talk to her friends on the phone and I was just like 'I don't understand anything!'"
If all goes as intended, Norway's upcoming English adventure will end at Wembley on 31st July – a venue Ingvild last visited for a Spice Girls concert. She will have former teammates dotted around the tournament, from silky Italy star Barbara Bonansea to Tottenham Hotspur's Finnish goalkeeper Tinja-Riikka Korpela, while current Ballon d'Or holder and Best FIFA Women's Player Alexia Putellas was in the Spain team she and her Norwegian counterparts defeated in 2013's quarter-final.
The links remain but new memories are there to be created, and just like some of her fondest, they will not all be made on the field.
"I remember especially 2009 in the EUROs, we had this secret kind of group on Facebook, where we really came together as a team. We had this secret language, if we wanted to go buy something that we weren't supposed to buy, like candy or whatever.
"I think small things like that really made us come together as a group and made us go all the way to the semi-finals, because we kind of weren't supposed to. It's always those things I remember.
"I don't always remember 'that time we won', because I have three bronze medals from our home league, and those three years I look back on as the best years, being part of a team and being on the field. I think it's always the small things that make you come together as a group."
Interview/article by @chris_brookes