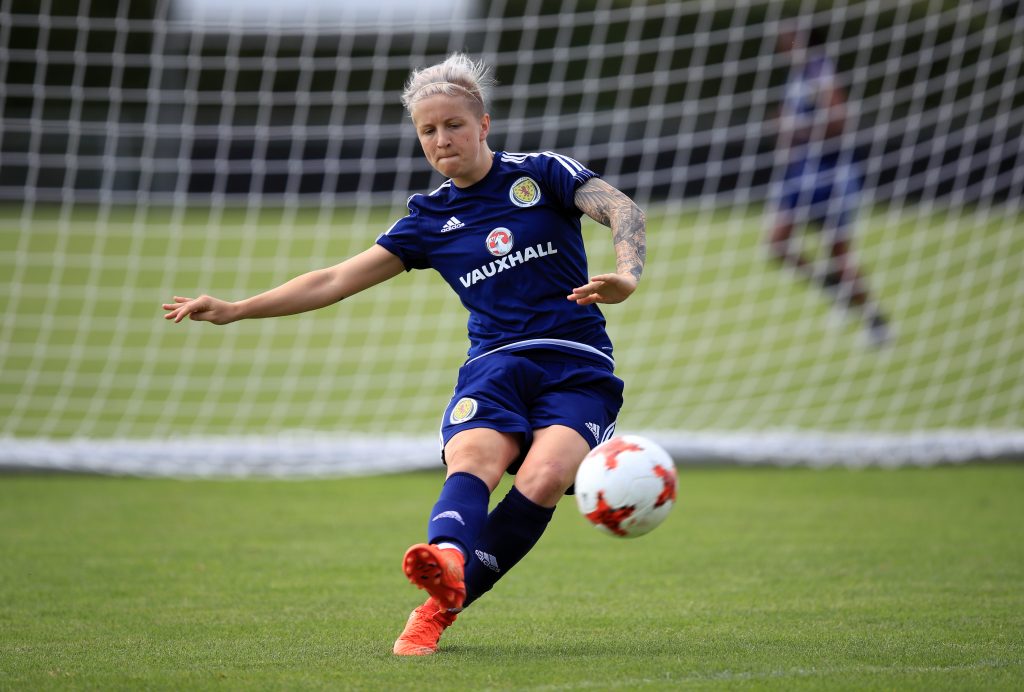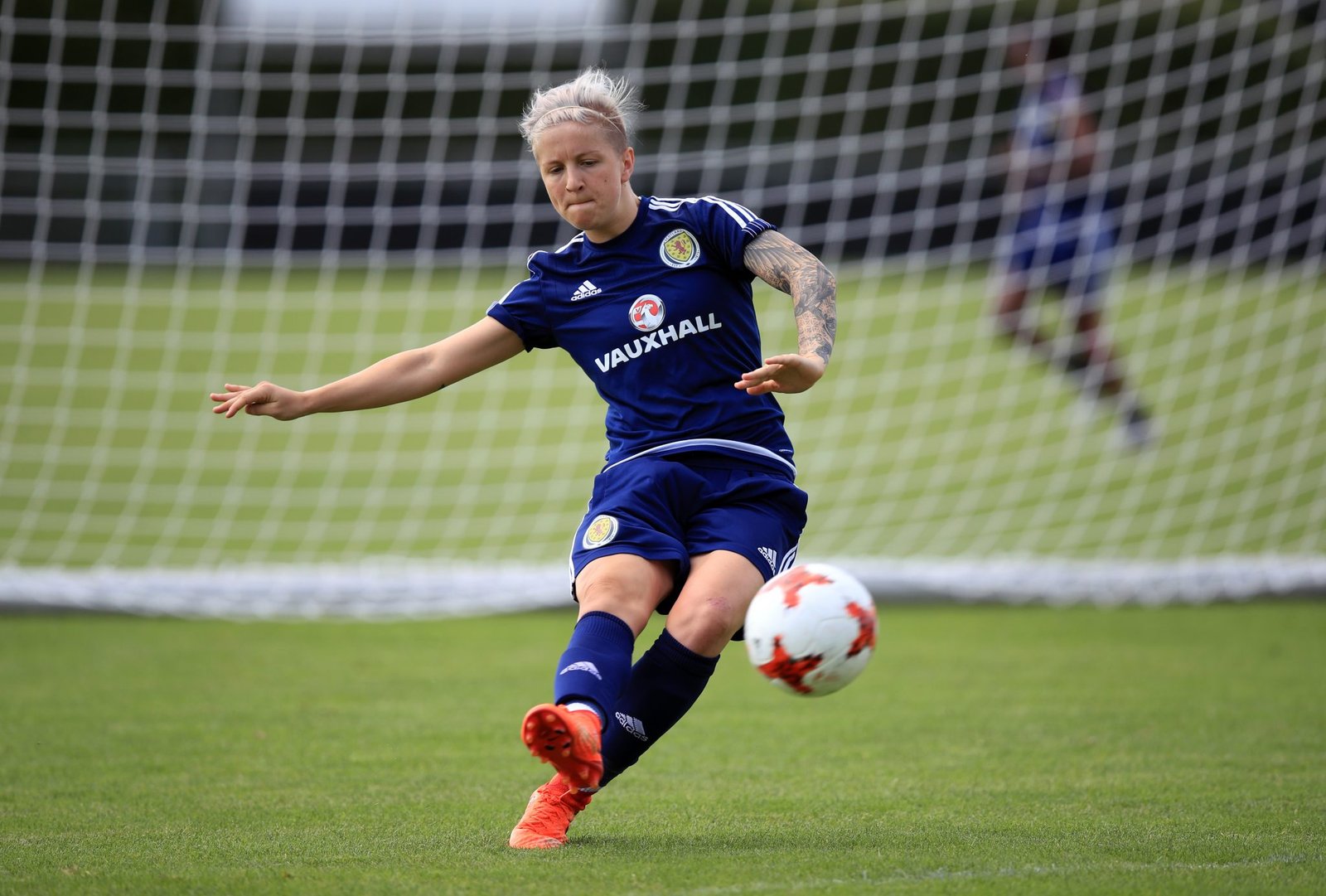 At the start of July, while a sizeable portion of the world's footballing attention was still focussed on the men's World Cup in Russia, an ambitious Italian club was announcing that they'd captured the signature of Serie A's top scorer, LANA CLELLAND, the talented, travelling Scottish striker.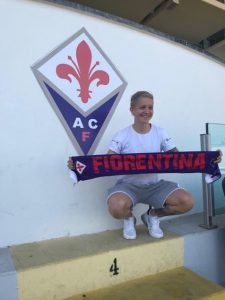 The switch to Florence wasn't entirely as smooth as the former Bari and Tavagnacco goal-scorer would have liked but Clelland quickly put the controversy surrounding her move behind her and got stuck into the hard work of preparing for a big start to the season with her new club, as well as her national team.
Lana chatted to MARK GORDON about the transfer and her future…
"I'm really looking forward to getting started, I really loved my time at Tavagnacco both from a football point of view and the place itself," says the 25-year-old. Brescia's takeover by Milan excluded them from next season's Champions League and in turn, this led to an unforeseen complication in Lana's move. 
Tavagnacco and Fiorentina (both finished on 43 points behind Brescia and champions Juventus) had to play-off against each other to take Brescia's place in the competition but it was already common knowledge that the Florence side had been keen to bring Clelland in and talks between the two parties had begun before the play-off tie was announced. "I had already decided to move on at the end of the season and it was no secret that Fiorentina were keen to sign me, it was in the press, so it was common knowledge really."
"We agreed to stop all communication in the run up to the game, Tavagnacco had been really good for me and they knew I was intending to go, so it was a really difficult situation to go into that game playing for one team but pretty much knowing I was going to sign for the other."
Unfortunately for Tavagnacco, Fiorentina ran out winners on the day, qualifying them for the elite European club competition this season. "I got a bit of grief on social media after that game, there were fans and media suggesting that I wasn't trying my best as I knew I was going to Fiorentina, that hurt as I always give one-hundred-percent in games and always have for Tavagnacco."
In signing for Fiorentina, Clelland is extending her three-year stay in Italy, which she is delighted about, "I really love it in Italy, I've always said that I would like to play in England but the game is getting bigger and bigger in Italy and Fiorentina are a massive club."
Another week almost over ?? @ACF_Womens ? pic.twitter.com/4HQgUojwZc

— Lana Clelland (@LanaClelland) August 11, 2018
The move to Florence will also present a change on the pitch for the Perth-native as she is asked to adapt her playing style: "I've been playing on either side of a central striker in recent seasons and at Fiorentina I will be playing more centrally, it's a challenge for me but I think it will improve my all-round game."
Lana's new club will be hoping that a variation in her position will not have a negative impact on her productivity, the Scot found the net an incredible 44 times in 50 appearances for Tavagnacco. The former Serie A top-scorer is very much looking forward to playing in the Champions League for the first time too (Fiorentina have even handed a tough draw against Danish champions Fortuna Hjørring, "I've never played in the Champions league so it will be exciting to play against the best teams in Europe and test myself against them."
⚽ @UWCL DATE E ORARI vs @FortunaHjorring ?️?#NoiSiamoFirenze⚜️ pic.twitter.com/rGgHzAZZg4

— Fiorentina Women's FC (@ACF_Womens) August 22, 2018
The start of the domestic season comes just before a massive international match for Clelland's Scotland team. Shelley Kerr's side are currently second in their qualifying group with two games remaining and face group leaders Switzerland in Paisley on 30th August, kick-off 7.35pm.
#SWNT | Two games to go.

Destination: World Cup.#OurGirlsOurGame pic.twitter.com/qBpNUN8FLk

— Scottish FA (@ScottishFA) July 31, 2018
"It's a big game for us and qualifying for the World Cup next summer would be amazing". A win against the Swiss will give the Scot's a great opportunity to make it to France next summer, "having been involved at the Euros before it would be such great achievement and experience to get to France."
Being in the Scotland squad in the Euros clearly had a positive impact on Clelland despite a notable loss to England, "It's never nice to lose, especially to your rivals, but the tournament as a whole was a really positive experience for me, the atmosphere that surrounds a tournament like that is hard to describe, it's just buzzing and it's really great to be part of."
As the only member of Kerr's Scotland squad currently playing in Italy, is it difficult for the forward to stay in the thoughts of her national team manager? "Shelley and I have chatted about her coming out to Italy to watch me play but she hasn't been able to get out there yet, all our games are recorded though so it is easy for the management team to keep up with how I'm getting on."
It may be easy for the Scotland coaching staff to follow Clelland's form but is there a frustration that she doesn't perhaps get due credit in the UK media? "A little bit, I'm quite a private person so I don't really mind not getting a lot of attention but it would nice to get recognition for my achievements. For example, when Jane Ross was the top scorer in England there were lots of stories about her but when I was top scorer in Serie A, it barely got a mention."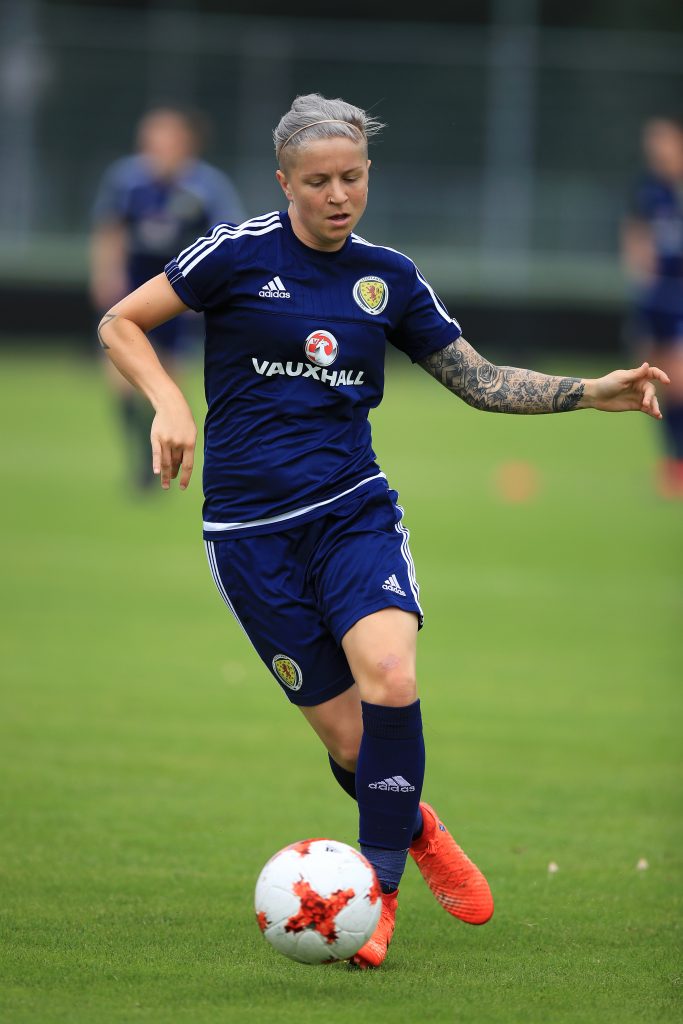 Clelland's tattoos and unique hairstyle may lead one to believe that she is an extroverted character, however her appearance belies the fact that in person she is quiet in nature and extremely humble about her talent and achievements. 
Despite this humility, the former Rangers and Spartans player is well aware of the impact that her status can have on the younger generation. "It's unbelievable really, when you see young fans at games and you see how happy they are to get your autograph or meet you, it's an amazing feeling and it reminds you of how important you are as a role model for the next generation".
It's part of her job that the striker takes seriously and one which she enjoys, "when I was at Tavagnacco I used to visit local schools and do some coaching with the kids, it was a great way to bring the team to the town but also give the young girls a positive role model."
"it would be a brilliant achievement and experience, but we're not just doing it for ourselves we're doing it for the future too, for all the young girls watching who might be inspired by seeing Scotland in the World Cup."
The importance of helping the next generation isn't lost on Clelland and it shines through when she speaks about what it would mean to her if Scotland could qualify for the World Cup, "Personally and as a squad it would be a brilliant achievement and experience, but we're not just doing it for ourselves we're doing it for the future too, for all the young girls watching who might be inspired by seeing Scotland in the World Cup."
To speak in such terms shows the unassuming nature of Clelland whose time in Italy has improved her as a player and has also allowed her to develop off the field. "When I first arrived in Italy at Bari there were a few English speakers which made it easier but when I signed for Tavagnacco nobody could speak English so I had to work hard on my Italian so I could get to know my team-mates." Lana is now fluent in the language of her adoptive home and regularly conducts her interviews in Italian. 
The Italian women's game is growing a-pace and the recent introduction of footballing giants Juventus and Milan to the scene will bring more money and exposure to the league. Seeing such huge clubs arrive may be a good thing for the game but will smaller clubs suffer as a result? 
"It's a difficult one because it's great for the women's game to have huge clubs like Juve, Milan and now Man United in England getting involved. You do feel for the smaller clubs though, some of them have been struggling away for years and they might feel like they're being blown out the water by the big clubs turning up with their money."
The arrival of the bigger clubs has seen the women's game gain more exposure too, with live games shown every week. Playing with one of Italy's best known clubs herself, Clelland is well aware that it will bring its own type of pressure, "It's a bigger club with more fans at the games and more eyes on you but I'm looking forward to it, it's part of playing for a massive club like Fiorentina."  
Lana's season kicks off with Scotland's huge World Cup qualifier with Switzerland and then UWCL action, while the domestic Serie A season and Super Cup will hopefully be scheduled and commence very soon. With her injury troubles behind her and the uncertainty about her future settled, both Fiorentina and Scotland look set to see the best of Lana Clelland.
Its that time again ????????? pic.twitter.com/BaDXFNx5IW

— Lana Clelland (@LanaClelland) August 27, 2018