Ahead of Friday's crunch encounter against Wales at Newport's Rodney Parade, England Coach Phil Neville sat down to discuss the winner takes all encounter, squad balance, fitness, and other key issues leading up to the match.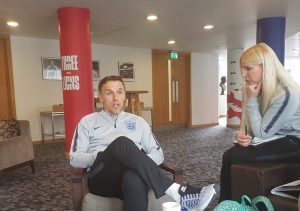 Relaxed and candid as ever, we thought you'd want to read what he had to say…
REPORTING by RICH LAVERTY
Phil on what he took away from the previous Wales game in terms of managing to break them down this time around:
The first thing we took away from that game was Wales are a good team. Forget where they are in the world rankings, they've got some really good players. They play a good system, a difficult system to break down. We got frustrated, when we met up for that camp we weren't physically in the best shape.
Man City were playing Chelsea, both teams were in the Champions League and the last couple of camps they've been shattered to be honest with you. I sensed it during the week of that game the fatigue had caught up with them. 
We respect Wales for what Wales do. They play like a top 20 team and they're always improving. They have that siege mentality and we've prepared for this game with full respect to Wales.
On the abundance of attackers in this squad, plus Fran Kirby and Rachel Daly, and any resulting concerns about balance:
I was just saying to my coaches that Rachel Daly is about six players in one. She's played left-back, right-back, both wings and up top. She's probably in this camp as a centre forward for how she's playing for Houston [Dash] and rightly so.
But every time she comes into camp she says play me anywhere. I speak to Vera [Pauw] and she said at the start of the season she had to play full-back and a few weeks later she's playing up top or on the wing. She's got that quality and I can relate to that because I was versatile too. This week we've used her up front but she can cover if Alex Greenwood gets a knock.
In terms of strength in depth, the problems I've got is that I can only pick 23 players. I've called Lucy Staniforth in, Lauren Bruton is really unlucky to not be in this squad. I wanted to pick three of the Under 20s for this camp but Mo [Marley] said they needed a rest. I was hoping to pick 30 because the pool is getting bigger and what happens is the players established in the team are starting to feel a bit of pressure, and hopefully that pressure will spur them on to be better.
I wanted that when I took the job. I wanted 30 players and when I name my squad our players to be at home with butterflies in their belly. Lucy Staniforth has gone from someone who five or six months ago when we sent to SheBelieves who wasn't probably on my radar and close to my squad to now thinking she's close to my team. That's how impressive she's been in the sessions and camps we've brought her into.
On goalkeepers and whether Carly Telford's lack of pre-season will have an effect on who will start against Wales:
My thoughts with the goalkeepers is that we have three here, Siobhan [Chamberlain] is on standby and we have Ellie Roebuck and Sandy MacIver with the U20s and both have been involved with us.
You can rotate outfield players and I'm going to do the same with my keepers. I see the level to be pretty similar between all of them. Carly played in the last few games because she's fantastic with her feet and active in terms of coming off her line.
But I also know the qualities of KB because when KB played against USA she kept us in the game and she's a fantastic shot-stopper. Mary has gone to Wolfsburg and that will be fantastic for her. I look at keepers as outfield players and if there's a game where Mary, KB, Siobhan, Ellie, Sandy need to be rotated with Carly then I'll rotate. I'm not going to name a number one, the best keeper for that game will play.
On the performances of the U-20s in France and the squad coming back with a bronze medal:
I was so excited for Mo. Mo's been like my best friend for the last six months and she gets annoyed when I phone her because I phone her that often! We have a really good relationship, we trust each other and I came and spent a few days with the players here before they went away.
I told them I wanted three or four of them in the squad within the next 12 months. After they got through the group I sent them another message and there are definitely three or four players who went to France who will be in my squad in the next six months, no question about that. The obvious ones are Hemp and Stanway who everyone is talking about but there are other players in that squad that impressed me.
When you get that kind of success and togetherness then they have to come through. I want to get that group through as quickly as possible, they have to grow and develop and that's where Mo is so strong. I wanted to pick three or four on standby for this squad and she said there was a long run for them, let them come back down to earth but we need to get these players through.
On how they are preparing the players mentally for Friday in terms of the atmosphere, and the compact, full stadium:
A lot has been made of where the venue is and the crowd but the home leg was 25,000 so I don't think we'll get too many shocks in terms of the size, it won't overwhelm us.
In terms of the venue itself, it's August, I've been down there and it's a nice little ground. They've re-laid the pitch but I knew back in April this game was going to be in Newport. I was sat in a hotel in Hampshire and someone told me it was going to be in Newport so we've been pretty relaxed about it for a while.
On combating fatigue in the squad, especially in the lead up to a World Cup, should England qualify:
I actually got really angry with the players in the April camp. It was probably the first time for the younger players that they'd been playing three games a week and travelling to Europe. It was a shock to them.
But I said to them 'Where else do you want to be?' If you don't want to be in the Champions League or cup finals then you're in the wrong sport. This is where we want to be next year and I think last season mentally was really good for them.
I speak to Emma [Hayes] and Nick [Cushing] all the time. They've both invested in bigger squads and rested a lot of their players at the weekend where maybe last year they would have played them. They're now thinking about the bigger picture and it being a 12 month season.
Steph Houghton last year was on her knees, she just hadn't had a break. The injury she actually got came at a good time, she was disappointed but her body needed to shut down and now she's back and back to where she was before her injury. Hopefully by April this season the players will have a plan to handle their bodies but they'll know how to handle it physically better this time.
On it being the start of a season and not the end of one and players potentially being in a better place than for the home game?
When I talk about fatigue, fatigue wasn't the reason we drew the game. When you get to April you're running on empty but what I've seen since they met up is that their eyes are wide open. In April they looked tired but they've been on holiday, they're refreshed and I can't shut them up they've got so much energy!
That as a coach is a dream. They're ready to play, they've had a pre-season and they're fresh.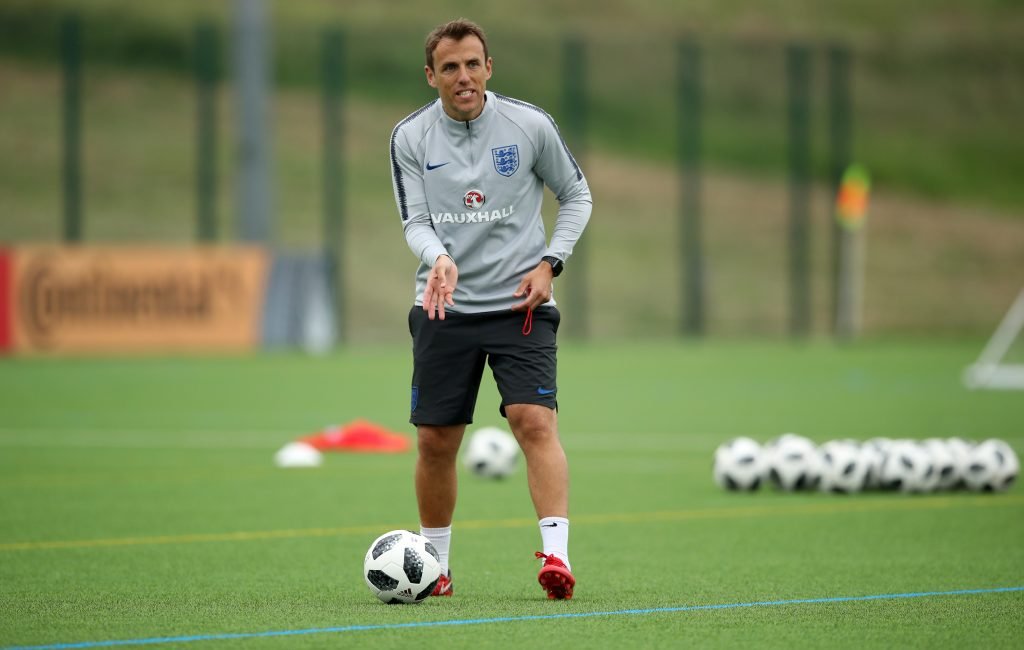 On the biggest challenge he's had being England head coach so far:
The biggest challenge I've got is when I'm not in camp. We spend three or four weeks planning for camp and it's painful. I want the players on the grass, I want to be in camp. I've learnt now to go out to academies and coach because I get cabin fever, I don't want to be stuck in an office but it's the role of an international manager.
In 12 months I'll be able to manage my time better but I'm in that office at 2pm every day wanting to get out there. I want the planning done and when the players come in I come alive. When you leave camp it's like going home from holiday when you're a kid. It's that sickly feeling, I don't want to go home and my biggest challenge is not having contact with the players.
When I took over, the first month the messages between me and them was maybe once or twice a week but now we speak every single day with every single player. When you're talking about setting a culture, it's not me texting them, it's them texting me. I always thought it would take six months and I feel now as if my feet are under the table. I feel I understand how The FA work and how women's football works a lot more now.
We have 30 WhatsApp groups, one for every player. It's the only way we can be in constant contact with them. For me to know every facet of their lives is important, you've got to build relationships with your players.
I know every part of their lives. My players love their dogs, I know their dog's names, I know their partners, I know if they go to the cinema, it's the detail you need to be successful. 30 WhatsApp groups is a lot but I know everything they're doing.
Management isn't just about going out and playing a game. I need to know everything little thing that will make my players tick. How am I going to get more out of Fran Kirby, Lucy Bronze, how can I challenge them? Lucy is someone who wants to be challenged. If you tell her she can't do something she'll try to beat it.
On being a little unhappy after the Russia game despite the result and what he is looking for across the next two games:
A bit more speed, a bit more goal threat and a bit more enjoyment in the way they play. More arrogance in the way they play. Looking back I actually think we played really well, I was a bit harsh at the time.
I always want more and expect more and these players need to be challenged. The worst thing for a team is to be in their comfort zone so we need to push them. I want to score more goals, I want my centre forwards to be in the game more.
On his new assistant manager, Bev Priestman, and the process behind choosing Bev as his new number two:
The story was Casey was my assistant and I always had a floating assistant which I wanted to be a female because I wanted to develop female coaches and give opportunities to female coaches.
I don't think they get enough opportunities at the top level. Casey went to United and Geraint Twose came in but I felt the rotational coach wasn't working. There was no consistency in the messages, every camp we were going back to square one and introducing someone else to the camp.
Mel [Reay] did a great job, Rehanne [Skinner] did a great job but I wanted consistency. I wanted someone who was different to me because I'm a coach. I wanted someone with different skillsets who could help me and manage my weaknesses.
I also wanted someone who had gone to a tournament. Gone to a World Cup, an Olympics, been through the system coaching U17s, 18s, 19s etc. Bev was just the outstanding candidate. I spoke to her once and within 20 minutes me and Sue said she was the one.
Her detail in her interview, the feedback from my friends in Canada was great and she's going to be an unbelievable asset. She's pro-active, she reminds me of a coach that you go into a room and ask for something it's already done. She challenges me, she won't just say 'that's great Phil'. She's been really impressive.
On the importance of having the skipper Steph Houghton back out on the pitch against Wales:
We'll have Steph back out 100% fit and I don't think we've had that since I took over. She had a couple of niggles but she's over that and she's fresh again now which is great for us.
We've had players who can push her too. I brought Abbie McManus in and a lot of people told me she wasn't good enough for international football, but I brought her in and she's played pretty much every game for me and been great. That's what we need.
On the long flight to Kazakhstan:
We've chartered a plane. There was a lot made about the flying situation after SheBelieves but it wasn't actually something I was that concerned about. I want the players to earn everything they get and I want them to keep their feet on the ground.
We get absolutely everything. The service here, the best hotels wherever we go and more kit than you can imagine. I told Sue [Campbell] and Dan [Ashworth] that flights is probably the fifth or sixth thing I need help with but because of where the game is we have to by charter. But it's not that big of an issue for the players or for us to be honest.