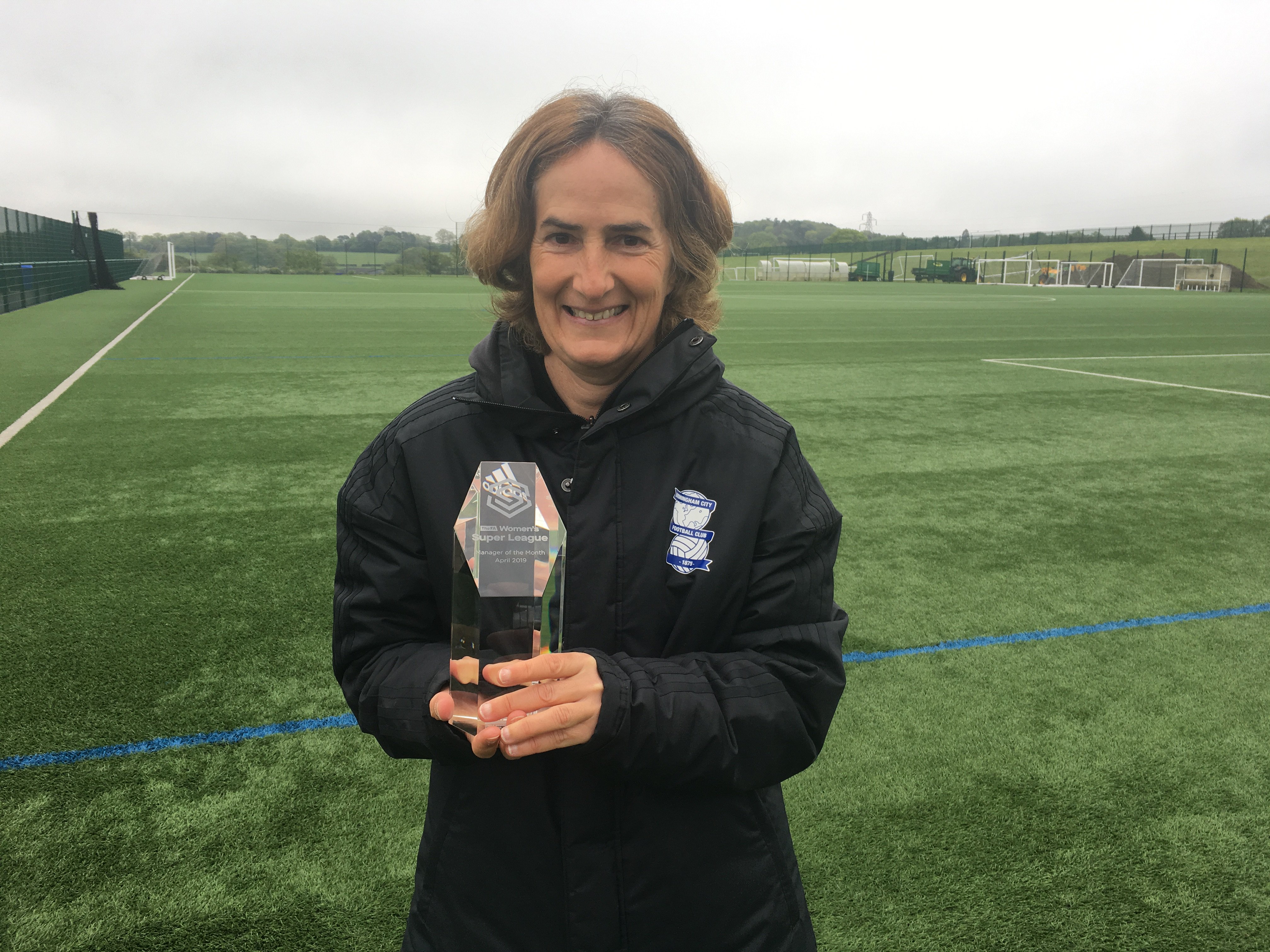 LMA has awarded Birmingham City Women's Manager Marta Tejedor with The FA WSL Manager of the Month trophy following Birmingham's outstanding performances in April, while Manchester United boss Casey Stoney won the award in the FA WC.
Tejedor and her Birmingham City team secured three wins against Everton, West Ham and Liverpool, to keep their hopes of a WSL top three finish alive.
On receiving the trophy from Thomas Lyte, Tejedor said: "In a team sport, receiving an individual award is not always fair. So for me, this is not my award, it's our team's award because of the job we have done this month.
"You always want to go on your holidays with a big smile and we also have to think of our summer recruitment, so if players see we are finishing the season strongly, they may be tempted to join us next season."
Chair of the League Managers Association panel Marieanne Spacey-Cale said: "Birmingham's away record this season has been very impressive, and this continued throughout April with important wins at West Ham and Everton. They rounded their month off brilliantly with a convincing 2-0 win against Liverpool."
Arsenal's Joe Montemurro was the other manager to receive a vote after two victories secured the title.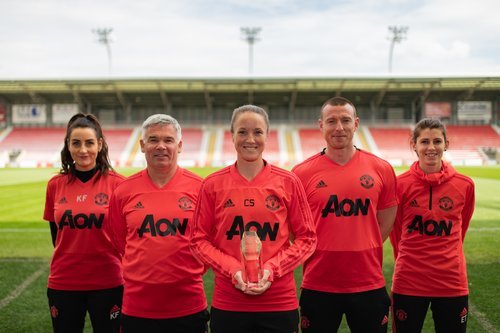 For Casey Stoney it was a third Manager of the Month trophy of her debut season  in the hot seat.
Manchester United secured The FA Women's Championship title with three emphatic victories in April, scoring 17 goals without reply, as they defeated Aston Villa, Crystal Palace and Millwall.
Stoney said: "Thank you to the LMA, this is the third time we've won now, and I say 'we' because it's a collective effort from my staff and I really credit them when I win things like this because they are my rock. They make sure that I can do the job that I do and I'm supported by them every day so this is definitely for them."
On Manchester United's performances during April, Chair of the LMA panel Spacey-Cale said: "Casey and her Manchester United squad sent a message to the WSL with three clinical performances in April. Most will look at the number of goals scored, but equal credit must go to the defence for keeping three clean sheets.
"Congratulations to Casey and her team for achieving promotion and winning the Championship title. The next 12 months will pose a different challenge for the young squad, but they can be proud of their efforts this year and look forward to top-flight football next season."
Sheffield United's Carla Ward got one of the panel's four votes, after the Blades won all three games including a notable one at Durham.