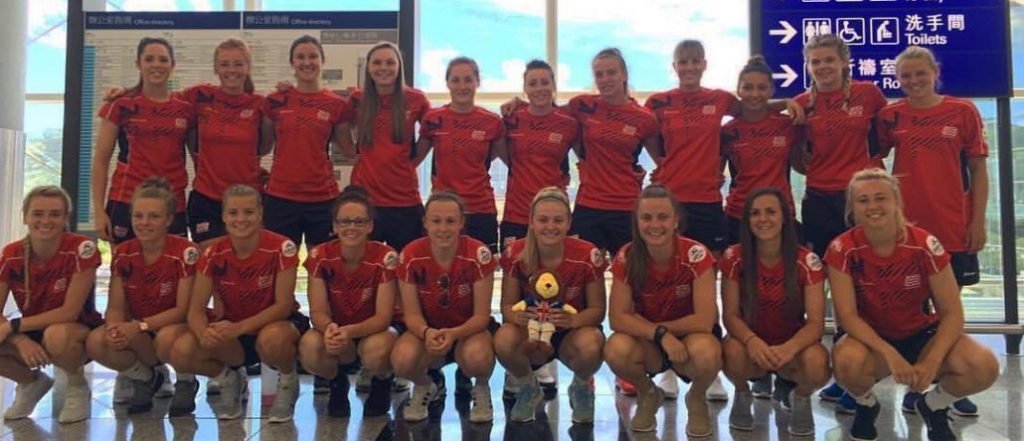 A squad of 14 English, 3 Welsh and 3 Scottish players have travelled to Chinese Taipei to chase another gold in the World University Games (WUGS).
BUCS (British Universities & College Sport) say that following a successful training camp in the UK, where the team played a test match against England U-19s, the team stopped over in Hong Kong en route to Taipei, for a five day holding camp.
Team GBR were victorious in Kazan four years ago and will take on South Africa in their opening game on Friday 18th August at 11.00am (4am BST).
The side then faces Russia in their second and final Pool D game on 22nd August in a bid to make it to the quarter finals two days later, with the final taking place on 28th August.
Team GBR squad:
Chloe Sansom – Buckinghamshire New University – Goalkeeper
Megan Walsh – University of Liverpool – Goalkeeper
Ellie Dobson – Northumbria University – Defender
Gemma Evans – University of South Wales – Defender
Demi-lee Falconer – University of Stirling – Defender
Annabel Johnson – Durham University – Defender
Shannon Sievwright – University of Chichester – Defender
Eloise Wilson – Buckinghamshire New University – Defender
Georgia Evans – University of Gloucestershire – Midfielder
Madelaine Hill – Northumbria University – Midfielder
Emma Kelly – Northumbria University – Midfielder
Rhema Lord-Mears – The University of Huddersfield – Midfielder
Katy Morris – University of Stirling – Midfielder
Emily Donovan – University of Bath – Midfielder
Chloe Dixon – University of Barnsley – Forward
Tyler Dodds – Northumbria University – Forward
Olivia Fergusson – University of the West of England – Forward
Kirsty Howat – University of Edinburgh – Forward
Chloe Lloyd – University of South Wales – Forward
Lucy Quinn – University of Chichester – Forward
Lydia Bedford – Head Coach
Michelle Cook – Team Manager
Grant Scott – Assistant Coach
Tony O'Neill – Goalkeeping Coach
Lauren Smith – Technical Analyst
Corinne Yorston – Physical Performance Coach
To watch a live stream of the competition, visit www.livefisu.tv
Photo – Andrew Johnson