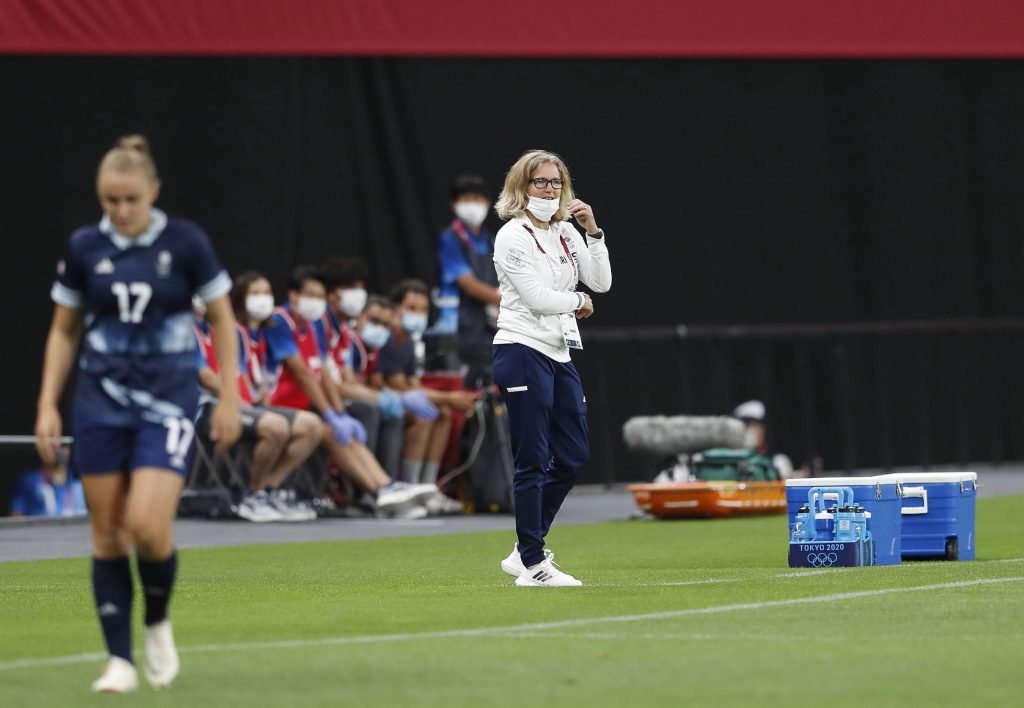 With two wins and no goals conceded [the only side in the women's competition with that impressive a record], Team GB head into their final group game against Canada, in Kashima today (8pm JST, 12pm BST). Yesterday, shortly after arriving at their hotel and before an afternoon training session, Head Coach Hege Riise had a quick check-in with the media to preview the game. Here's some of what she had to say:
HEGE RIISE (Head Coach Team GB)
On the bonus of being sure of qualifying for the next round and if that means we can expect some changes against Canada: 
You can expect maybe a few. We need to have the discussions [re. medical and physical condition], but we put ourselves in a good spot for fresh legs on the field. 
On how strong the desire is to win against Canada, win the group and make a statement by winning it:
Oh, that's strong. We feel we have a great opportunity to win the group. And we all decided to do that. So that's the main focus.
On Fran Kirby's fitness and readiness to play:
She's back in training. She's with the medical team and preparing for the game tomorrow. So we'll see how many minutes … but she is cleared to be ready for tomorrow.
On the different sides shown by the team against Chile and then against Japan, from expansive to more conservative and disciplined and how they will approach the game against Canada:
The first in our mind is to attack. We want to score goals, we want to win. But this team have so much pride in their defensive organisation, being a good defending team. So it's a balance between those two, I don't think it's either/or. We were a little bit slower, against Japan with our speed of play, than we planned and wanted but we went in that game to dominate. So for tomorrow, we want to go out and try to dominate.
On Canada's coach Bev Priestman knowing many of the Team GB players as former England assistant coach [to Phil Neville]: 
Rhian Wilkinson has the same view on Canada and knows those players as good. So I think these are two teams that know each other quite well. So it's no secret. We'll go into that game to to look for the weakness of Canada and our strength. I guess Canada will do the same.
On whether having travelled to a different city, hotel and training/playing facilities might freshen things up for the group:
Yeah, absolutely. We we stayed in Sapporo for quite a bit. And we couldn't do much. So it was a good time for us to move now. Get into different hotel, a little bit different environment, and it helps us breathe a little bit and, and learn about the new hotel and new rules. 
On being fully in the rhythm of the tournament now:
Yeah, and the games come so quickly. So we don't have too much to time for downtime. So it's like review the game, look at the next opponent, then it's training, then it's match day minus one and then the game and we travel on one of those days. So it's only almost one and a half day's preparation. And then ready. 
On the potentially wet/stormy weather for the game:

We don't spend too much energy on conditions. We know like the weather forecast says it might be raining, might be a thunderstorm… We know that if they happen we will manage to perform as well. And we know that FIFA and the IOC have rules or if something were to be cancelled or delayed, that's protocol that we trust. 
On whether her team can use inspiration from other British medallists to excite them:
Absolutely. I know we had the schedule for every event where the GB athletes race [or compete] so I know the players follow as much as they can. And of course when someone wins a medal that's confidence to the GB team and for us as well. We want to be just as good and we want to be in the same rhythm.