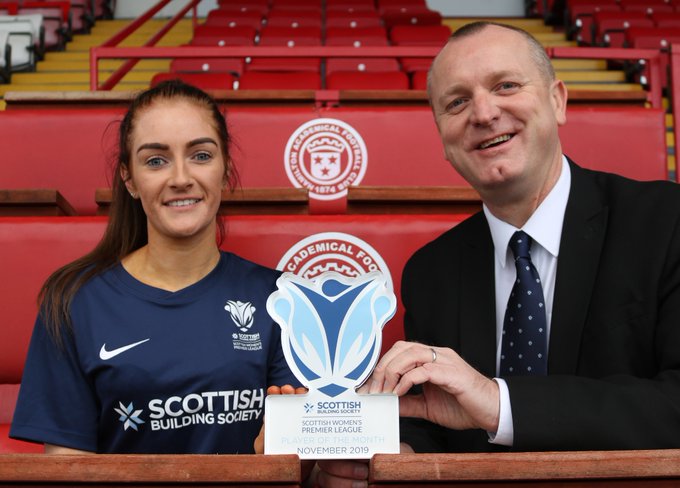 Amy Anderson of Hamilton Academical has been voted as the winner of the SBS Scottish Women's Premier League Player of the Month for November 2019.
She previously won the award in October 2017 and was nominated earlier in the season for the March 2019 award.
Anderson captained her side for both league matches in November, scoring once and playing a role in a further two goals. Despite her impressive performances, her side came just short in the Scottish Building Society SWPL 2 title race as they fell six points short of Heart of Midlothian.
Speaking from the Fountain of Youth Stadium, Anderson said: "I'm really pleased to win the award and a massive thank you to everyone who voted for me. It means a great deal to be recognised for this award and it is also a reflection on how good my team mates have been at Hamilton.
"While it was a disappointing season, we will be doing everything next year to make things right.
Hamilton Academical finished as runners-up in Scottish Building Society SWPL 2 after Heart of Midlothian confirmed the title with a victory over Partick Thistle. Hamilton knew they needed results to go in their favour and to beat FC Kilmarnock, a game they lost 1-0 at Rugby Park.
"We need to improve our away form and be better at grinding out results when we aren't playing well" said Anderson. "We have a talented squad, a brilliant staff and we have already started the work and recruitment for 2020."
Nigel Hammonds, Business Development Manager for Scottish Building Society, said: "Congratulations to Amy for winning the November award. Having won the Player of the Year award for this league, she's clearly a top player that the public felt deserved further recognition."
Also nominated for the November award was Sarah Ewens (Celtic), Lauren McGregor (FC Kilmarnock), and Claire Petersen (Stirling University).