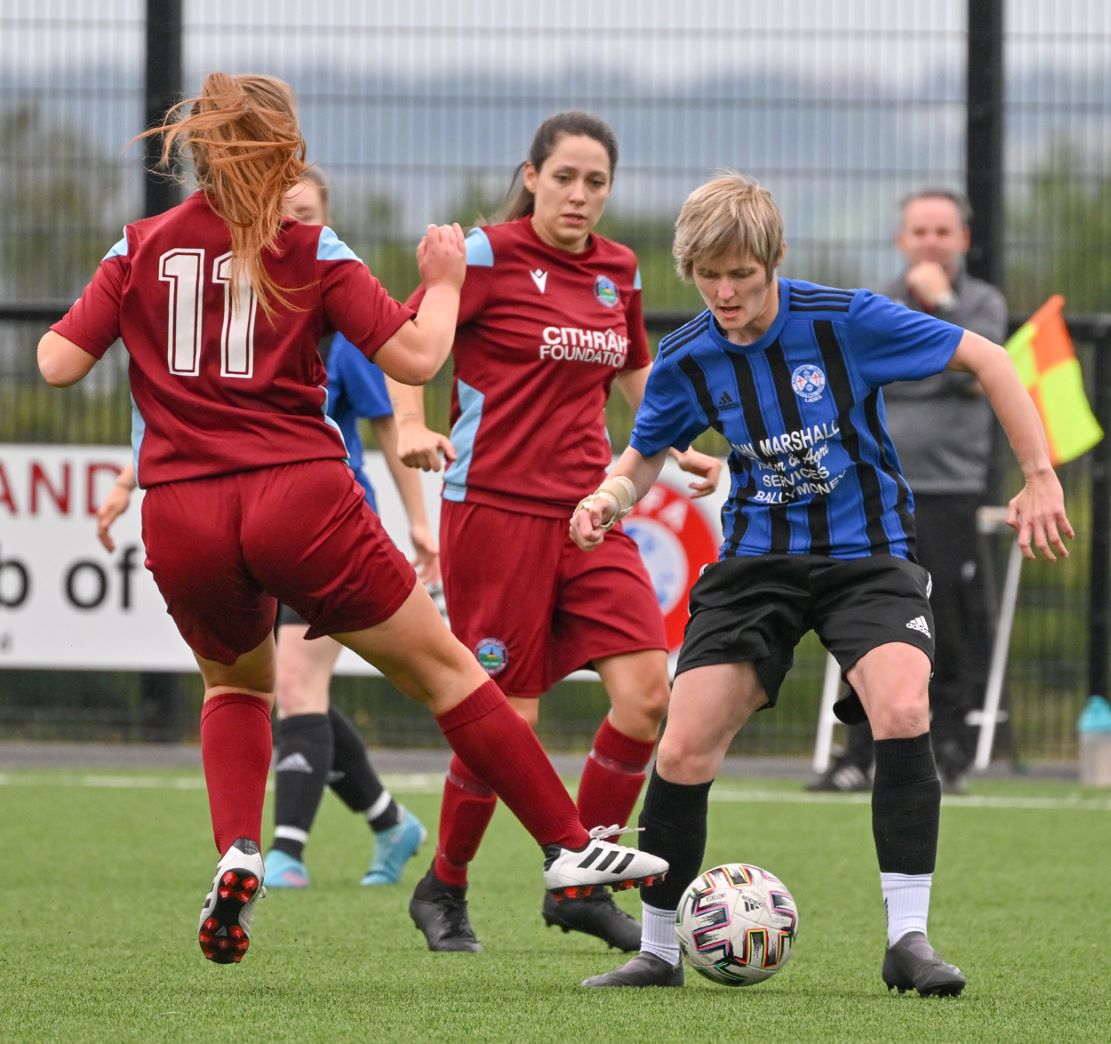 The return to NIWFA Electric Ireland Championship threw up a massive shock as leaders Ballymena United were trounced 7-1 by St James Swifts.
St James were in devastating form as they inflicted United's biggest league defeat of the season, Cathy Kelly and Siobhan Bell with two goals each.
Larne moved level at the top after defeating fellow league challengers Foyle Belles 4-0, Leola McErlane with a couple.
At the other end of the table, Coleraine continue to struggle in losing 0-4 to Ballymacash Rangers, with Tracy Orr at the double.
Killen's long journey to Comber Rec was worthwhile as they won 2-1, thanks to a late strike from Emma Kee on 85 minutes.
ELECTRIC IRELAND DIVISION ONE
Leaders Lisburn Rangers had no game this week, Ballyclare Comrades making the most of this situation to close the gap at the top of the table to three points following a comfortable win over Crewe United. Belfast Celtic won at home to Armagh City, with Bangor also picking up three points after a win over strugglers Portadown.
ELECTRIC IRELAND DIVISION TWO
It's as you were with the two pace setters Kilmore Rec and Camlough Rovers both winning their respective games against Ballymena Utd Reserves and Ballyclare Comrades Reserves. The top two meet one another this coming week.
ELECTRIC IRELAND DIVISION THREE
Ballymoney United continued to show their class with a thumping win over Greenisland and their week was made even better as nearest challengers, Antrim Rovers and Rosario, could only pick up one point each, as they battled out a 2-2 draw. Elsewhere, there were comfortable wins for Belfast Ravens and Ambassadors.
ELECTRIC IRELAND DIVISION FOUR
There were wins for each of the top three as Craigavon City defeated Ballymoney Reserves, Lisburn Ladies Swifts beat Moneyslane and Strabane were awarded a walk over victory. Craigavon now lead this division by nine points, although second placed Strabane do have a game in hand.
ELECTRIC IRELAND DIVISION FIVE
Returning with a new format, the top three sides from the Eastern and Western sections combined to form Division A, with the lower three sides making up Division B. The sides now play each other once more to decide the eventual league winners.
Getting off to a great start in Division A were Lisburn Distillery, Lisbellaw and Maiden City, all of whom picked up three points. Lisbellaw and Distillery are both unbeaten so far in their respective leagues this season but with the two sides due to meet next week, something will have to give.
Meanwhile in Division 5B there were wins for Draperstown Diamonds, Comber Rec Reserves and First Bangor.
PWC SUPER CUP QUARTER FINALS
There were also two quarter finals played, with all credit to Third Division Antrim Rovers who pushed Championship side Foyle Belles all the way to extra time, before eventually succumbing to a goal from Ellie Redden in the 103rd minute. Larne defeated St Oliver Plunkett 3-1 for a semi-final at home to Foyle, with Lisburn Rangers at hosting St James or Ballyclare Comrades in the other tie.