In just eighteen months Alnwick Town Ladies have caused somewhat of a stir in the women's game, and, having drawn Leeds United Ladies in the Second Qualifying Round of this season's SSE Women's FA Cup, the side who reached the First Round Proper in their debut season, are dreaming again, writes PETER MANN.
And rightly so as well.
That inaugural 2017-18 campaign, following the disbandment of Lowick and the majority of players, led by Peter and Amy Hately et al, landing in Alnwick, would see them not only have that cup run, but complete a Northumberland County League and Cup double, as well as winning their local Sports Personality of the Year Award.
Last time out, nationally, Alnwick's Ladies overcame Washington (3-2), Redcar Town (1-0) and Rotherham United (5-0) before finally succumbing to Burnley in the First Round, one of only four sides from the seventh tier, along with Ashford Town, New London Lionesses (who fell in the Second Round) and Godalming Town, to go this far.

This season they're planning on more of the same, especially having overcome a tough Durham Cestria 2-1 in the last round – confidence is high with thoughts on another history-making season flowing through the ladies veins.
Ladies captain, Georgia Thompson, said: "We went into that cup game with Cestria knowing they were a team higher placed than us.
"Kirstie (Tang) scored a brilliant free-kick though and we managed to keep them at bay.
"We worked our socks off to get that win which was massive and we were hoping for a big team in the draw, and at home and there's nothing more we could have asked for really, so let's see what we can do."

Having left Lowick, Thompson and the girls enjoyed a season to remember and will now ply their trade this time around in the North East Regional League Northern Division alongside that of Boro Rangers, Chester le Street Town SC, Consett, Cramlington United, Norton & Stockton Reserves, Prudhoe Town, Redcar Town,  Sunderland West End and Washington Association.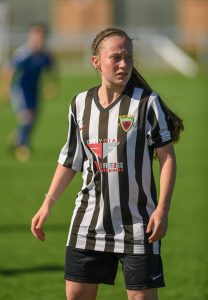 "We left Lowick and set up in Alnwick but never expected to do as well we did, let alone go as far as we did in the FA Cup," continued Georgia.
"The game against Rotherham (Alnwick winning 5-0 with goals from Jade Barrett with 2, Amy Hately, Georgia Thompson and substitute Mel Darling) we were playing as heavy underdogs and managed to have it wrapped up early.
"That was a great game for us, whereas against Burnley, we did our best, but weren't expecting to win against Rotherham so to have those two games, we fought to the end and gave everything we had."
Manager Paul Hately is aware of the challenge ahead and, having overseen the girls' transition over the past eighteen months is delighted, but cautious of opposing Leeds, adding: "We honestly believe that we've got half a chance and that this isn't the walkover people may expect it to be.
"It's all about building momentum in the women's game and building the profile of the sport, and of Ladies football here in Alnwick at the same time.
"We know it's a challenge but we're up there with some of the best in the region so let's keep the momentum going.
"When we left Lowick it meant there was no (Ladies) team on the Borders so we had to do something, and ended up having a great first year."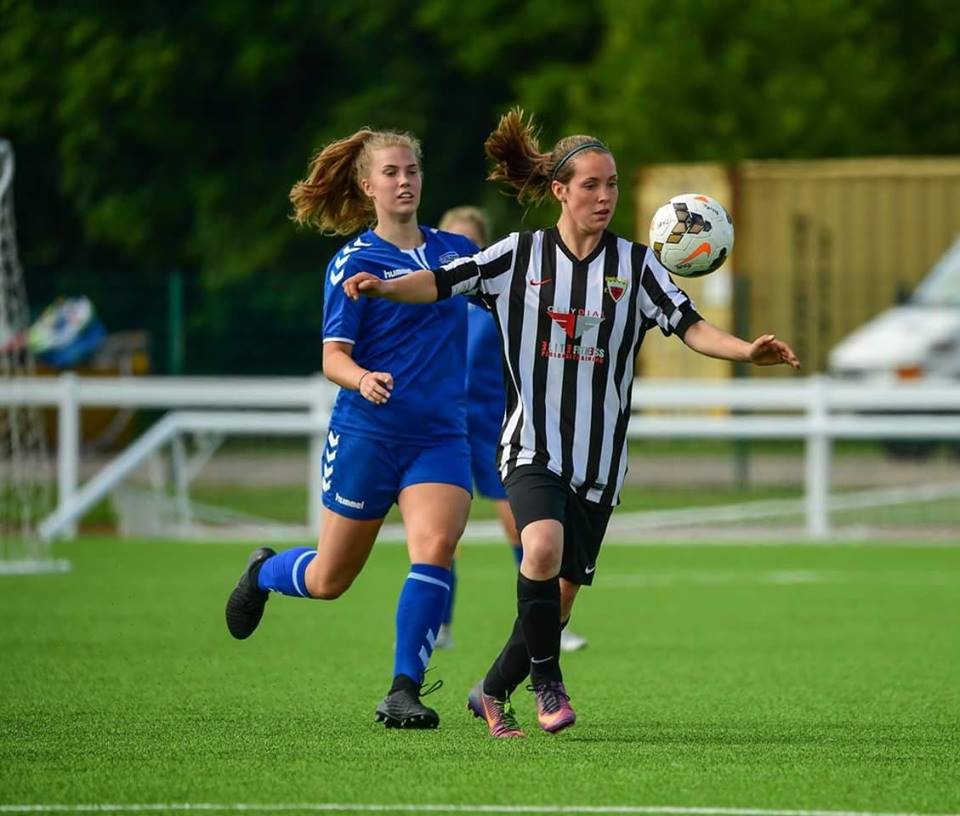 Now it's all hands to the pump for this season and seeing what they can do again, with dreams of more silverware with the carrot of another cup run in the offing as well as the league outings, but they're going for it, they sure are.
"It's a really hard league and only the champions will be promoted," added Georgia.
"But we're going to try our hardest to get out of the league straight away – we've added players, got some good strength in depth and had a good pre-season which we'll take forward, we've played teams of higher calibre before and shocked them, so let's see what we can do here."

Alnwick Town Ladies host Leeds United Ladies  in the Second Qualifying Round of the SSE Women's FA Cup at St James' Park, Alnwick on Sunday September 23, kick-off 2pm.
Facebook – https://www.facebook.com/alnwickladiesfc/
Twitter – https://twitter.com/AlnwickTownLFC